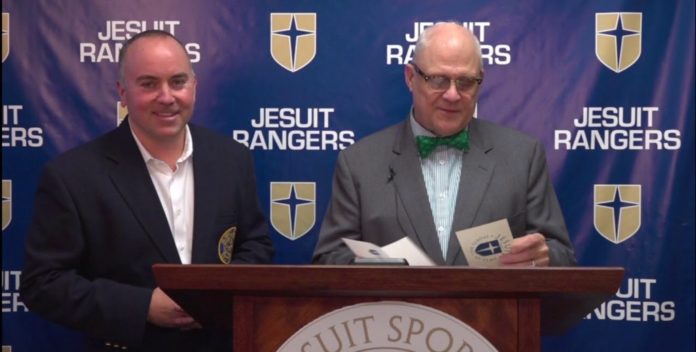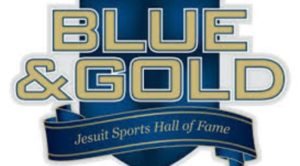 Represented by president Michael Earsing and Jesuit's Dallas Sports Hall of Fame Selection Chairman Jimmy Archie '93, Jesuit Dallas welcomed four new members to the privileged Hall of Fame, a significant title which only the most dominate Jesuit athletes receive.
Here's a question of the recipients.
Jeff Fellows '97
A two time all district and all state selection, Jeff Fellows was one the first prominent lacrosse players to play for the Rangers. As a senior, he was named captain of the elite travel squad Team Texas and was named a U.S. lacrosse All American. Paired with that was his highly honorable TOP75 Lacrosse Camp selection, eventually leading him to be a four-year starter and letter winner at Navy, to go along with being the LT. J.G.Frank McKeone Award recipient. Mr. Fellows said being inducted made it " really fun to revisit some of those memories.  I have been removed from my high school playing days for a little bit, and my beautiful wife Courtney and I have been busy raising our family.  To be able to share this honor with them, have them at the ceremony, was very special. It means that hard work does pay off.  I worked very hard to become a good lacrosse player.  It was worth it. I am so proud to be from Jesuit, and will wear my navy blue blazer proudly!
Matthew Thompson '09
A highly decorated swimmer, Matthew Thompson competed at the high school, collegiate, and pro level. In high school, while twice being named the best swimmer in Texas, he set the national record in the 200 I.M., was a two-time UIL state record holder, and a seven-time Junior National Champion. He attended college at Stanford, where he was a five-time NCAA All-American and was the 2011 Pac-12 champion in the 400 I.M. He was also a two-time U.S. Olympic Trials Semifinalist.
Matt Delzell '99
A two-time state champion point guard for the Rangers, starred at the University of San Diego, joining as a walk-on initially before becoming a four-year starter. While there, he was the USD's student athlete of year twice, and in 2003 was team captain and Co-MVP in the WCC all-tournament. He also was 5th in the nation in 3-pt. shooting during the year, and capped off his impressive collegiate life with being named to the WCC all-academic team all four years. Delzell said he was "honored to be in a group of men whom I admire and respect.  It also means I had great teammates and great coaches to help me get here".
Kenny Cooper '03
A dominant forward for Jesuit's soccer team, Cooper experienced success at the highest levels of soccer in the United States. After being named a 2003 McDonald's All-American, he was signed by Manchester United, and eventually found his way to the U.S. National team from 2007-2009. Furthermore, in 2008, he was a MLS All-Star and was the MLS. Comeback Player of the Year. Over his entire pro career in the MLS,  Cooper had 88 career goals, and as recently as 2014 was the Lamar Hunt U.S. Open Cup Champion.
Congrats to these four stellar Jesuit athletes!