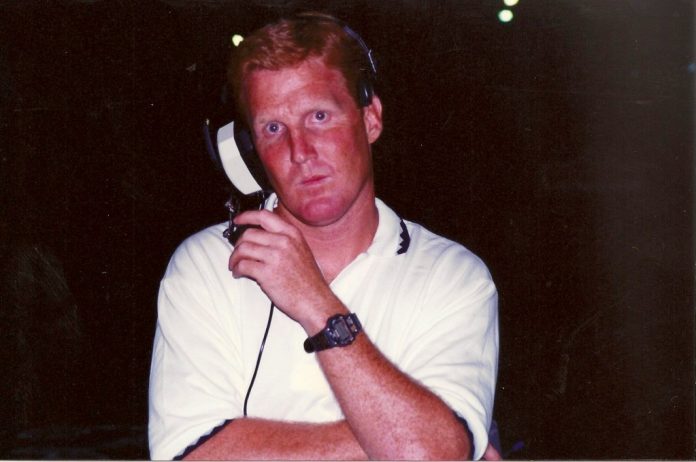 It's safe to say that everybody at Jesuit knows Coach Wunderlick. After coaching football for a number of years, he's a local celebrity at Jesuit. He's won a state title and many other awards, and now he can add one more to his repertoire: the 2016 Gold Ranger Award.
Awarded for his time as both a player and coach, Coach Bob Wunderlick '84 is set to receive the Gold Ranger Award, given to a letterman who has made contributions that have led lasting, positive effects on his fellow colleagues and has made a significant contribution to the Jesuit community. There is no doubt Coach Wunderlick has done all of the above.
While he is known for his success on the football field, Wunderlick was a multi-sport athlete. He played football for all four years at Jesuit, basketball for two years, and track for only one year. In his first couple years at Jesuit, he was the Quarterback but later moved to Wide Receiver and Defensive Back for his junior and senior season.
Wunderlick enjoyed much success on the field, with his fondest memory coming from when he won a TCIL Championship his junior season in football. He recalled some bad memories as well, stating, "being responsible for five turnovers in a game early in my senior season was a bad memory."
Coach Wunderlick also explained his love for the game as a player, explaining, "I think I was always a 'coach on the field,' and I know I have always been a student of the game, even when I was young." Wunderlick went on to add that "I enjoy the sport, and I believe coaching is a great way to give back to the sport and to the players." Wunderlick had the pleasure to play under some of the great coaches Jesuit had, including the late Gary Pasqua, Charlie DeLong, Jack Fitzsimmons, Pat Carter, and Dave Finegan.
After graduating in 1984, Coach Wunderlick attended Holy Cross, where he played rugby for three years. In 1988 after graduating, Wunderlick decided he wanted to come back to Jesuit and began coaching football in the fall of 1988.
As a coach, Wunderlick has encountered a tremendous amount of success. In 1997, his first season as head coach, the football team won their first TCIL championship. That was not the end of his success, however; Wunderlick took home state in the following two seasons, as he won state in each of his first three years, a feat no other Jesuit coach has accomplished.
Those three seasons were not his fondest memory, however, he explained, "a huge win against Lake Highlands in 2004, our first season competing in the UIL, would be at the top [of his list]." Wunderlick went on to explain that "we won in two overtimes in a game for the district championship, and if we lost we would not make the playoffs. There was a huge crowd, and it was great to see the players' reaction."
Wunderlick was at the helm for some of Jesuit's biggest football years, including the historic transition into the UIL, the conference the Rangers play in today. After the TCIL folded, the Rangers were not in a district or a league, so Wunderlick had to work overtime to try to find ten games for the team to play before the team would later join the UIL. Wunderlick recalled, "one season, our last four games were against teams from Missouri, Mexico, El Paso, and Houston. We even flew to Monterrey, Mexico, one year to play a high school game."
Since 1988, Wunderlick has coached football at Jesuit, with this year marking his 28th season. He has coached everything, from football to basketball to baseball. He has had the pleasure of coaching many great players, including Brian Hall, who he explains was a great dual threat QB; Omar Jenkins, a fine WR and a classy human being; John Wall, a great RB and an even better person; Kevin McMyler, a superb all-around athlete and one of the goofiest players he has ever coached; and Charlton Messer, the best OL he ever coached and one of the toughest players he knows.
Currently, he coaches freshman football, which he loves, explaining, "we have some real characters each season, including one Jack Durham '16, who was probably the finest player I have ever coached." Wunderlick joins the company of many other Jesuit greats who have received this award, including Jack Fitzsimmons and Gary Pasqua.
Michael Musso '19, one of the freshmen football players coached by Coach Wunderlick, expressed his gratitude for his experience of playing under a great coach like Coach Wunderlick, saying, "He really helped me become a better football player and a better person through his positive encouragement and his friendly personality."
There is no doubt that nobody is more deserving of this award than Coach Wunderlick. From the countless hours he spends at Jesuit to the relationships he has built with all his former students and players, Coach Wunderlick has had a lasting impact on everybody he has encountered, and The Roundup congratulates him on this award.