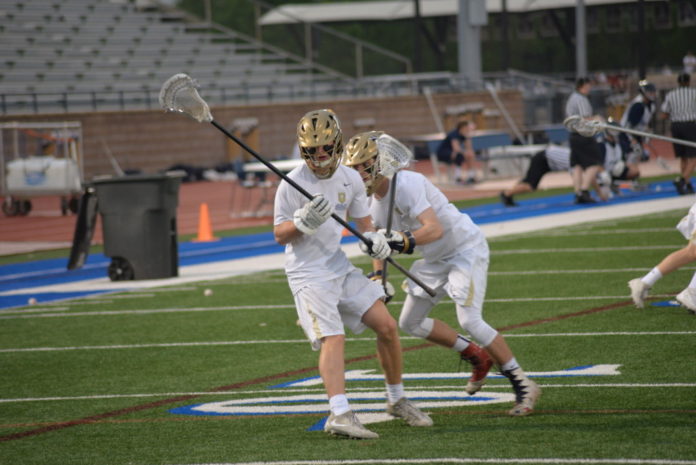 After dominating the first half of their season, the Varsity Lacrosse team has continued their great play with a record of six wins to St. Marks, Plano West, Keller, Flower Mound, MICDS, and Southlake Carroll and one loss to the Woodlands.
St. Marks
The boys dominated St. Marks away from home with a score of 9 to 3. Senior Jack Tabor and sophomore Tommy Hovivian both scored hat tricks, and Hovivian also had two assists. Junior Zach Riley and seniors David Sprock and Grayson Hassell also added to the score. Compared to St. Mark's 13 ground balls, the team had 24 as David Sprock, juniors Matthew Priddy and Will Moran, and freshman Henry Suarez all had three ground balls each. Moran had an amazing night in the cage with 10 saves.
"The defense came together and make some big plays. The offense rode off of their energy and put the ball in the back of the net. Our team really clicked," commented senior Jack Tabor.
Plano West
The team beat Plano West in the final quarter of the game to secure a 6 to 3 win. Senior Marshall Ellison and sophomore Tommy Hovivian both had two goals apiece and junior Peter Buell and senior Grayson Hassell both had a goal. Freshman Henry Suarez was dominating on faceoffs with seven faceoff wins and seven groundballs. LSMs Marshall Rodegast and Drew Martin each had 3 ground balls as well. The Rangers secured 24 groundballs compared to Plano's 10.
"We started slow and the game began to get physical. We executed at a better rate in the 4th Quarter and it paid off," said senior Thomas Nolan.
Keller
The Rangers wiped out Keller with a blowout win of 22 to 2. Senior David Sprock tied his career high of 5 goals in a game, and Jack Taber along with Zach Riley both scored three goals. Marshall Ellison, Tommy Hovivian, Brogan Neagle, and freshman Sam Teachout had one goal apiece. Meanwhile, Hank Clements, Grayson Hassell, and Matthew Priddy each added a goal to the score. Freshman Henry Suarez added a team-leading six groundballs.
Junior Brennan Louviere and freshman Alex Chen caused two turnovers apiece.
Woodlands
The Rangers lost to the Woodlands 4 to 11.
MICDS
The boys beat the Mary Institute and Saint Louis Country Day School (MICDS) 10 to 9. Senior David Sprock had two assists and three goals to his name. Grayson Hassell had a hat trick as well and junior Peter Buell scored two goals. Teddy Wagner and Matthew Priddy each added a goal to the score as well. Aidan Johnson caused seven turnovers and had four ground balls. William Moran had a great night with eight saves in the cage.
Southlake Carroll
The Rangers had a great game and beat Southlake 17 to 6 on a stormy night.
End of 1st Jesuit 6 – Southlake 1 Goals: Teachout, Hassell, Priddy, Wagner x 2, Hovivian
At the Half Jesuit 11 – Southlake 3 Goals Sprock, Tabor x 2, Hovivian, Wagner
End of 3rd Jesuit 17 – Southlake 5 Goals by, Tabor x 2, Hovivian, Metz, Buell, Teachout
Final Score Jesuit 17 – Southlake 6
Make sure to stay tuned to the Roundup for the latest Jesuit lax news.