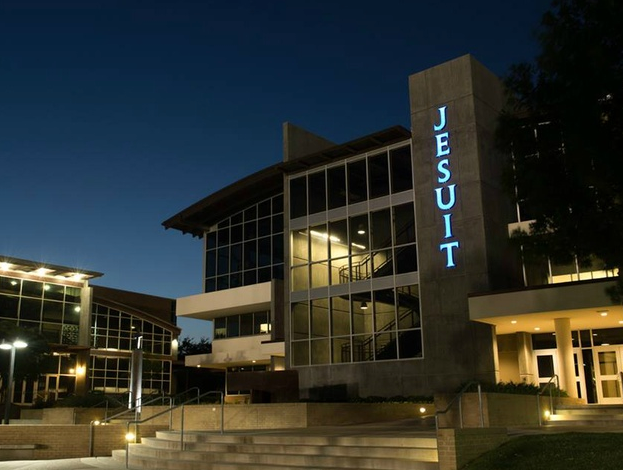 The junior varsity basketball teams for Jesuit have burst out of the gates to start the 2020-21 season, as JV blue has gotten off to a 4-0 start and JV gold has gotten off to an equally impressive 3-0 start. And while the freshman teams have yet to tip-off this season, with both teams' first games coming on December 11 against Rockwall, there still was plenty of exciting game action to witness for both JV teams in the past couple of weeks. So, let's get into it!
JV Gold
The JV gold team has gotten off to a promising 4-0 start with no losses in the losing column thus far, having notched wins over South Oak Cliff on the road, and over R.L. Turner, Mesquite, and Mesquite Horn all at home. The JV gold team this year is filled to the brim with promise as it consisted largely of sophomores, and they are looking to make a splash this season with some big team success.
Looking ahead, their next three games are against Arlington Martin on December 4, against a challenging Allen team on December 5, and against Garland on December 8. Those games, I believe, are all winnable, but the thing that sticks out to me as an analyst is the back-to-back against Arlington Martin and Allen. The JV gold team will have to get back up on their feet after what is likely to be a challenging bout against Arlington Martin to face off against Allen, and that could take a toll on the team. However, I believe that they can do it and it's more than possible that they take all three and get off to a 7-0 start.
JV Blue
The Jesuit JV blue team has also started fantastically, getting off to a 3-0 start with wins over Williams, R.L. Turner, and Prosper. What was supposed to be their fourth game against Highland Park was unfortunately canceled (I think we already know why it was canceled), but the JV blue team will have an opportunity to improve to 4-0 tonight against Ranchview at Postell Stadium.
Each of the three wins for the team was all by at least a decently comfortable margin, as they piled up on Williams by a score of 66-50, dispatched of R.L. Turner by a score of 61-44, and beat down on Prosper by a score of 60-35 in what was, in my opinion at least, the biggest win of the season so far. To see the Rangers walk into Prosper HS and just dominate their opponent was surely incredible to see for the Jesuit coaches and demoralizing to see for the Prosper coaches.
Looking ahead to their next two games after Ranchview, the JV blue team takes on Highland Park on December 7 to make up for their earlier canceled matchup and takes on Rockwall on December 11, both road games. If Jesuit were to take these two after the Ranchview game on the road, that would surely elevate the team and send them into a road showdown with Shepton with a ton of momentum.
That's all I've got for this article, but stay tuned to The Roundup for more Jesuit basketball and sports news!