Setting the ball perfectly over the net, the receiving senior jumps high above his teamates for a spike. His hand readies to strike the ball down to the opposing teams floor. Repeating these actions, the team surges ahead towards immenent victory.
Jesuit Volleyball has gone 4-3 against some of the best teams in the state. The team faced off against Rockwall on April 23rd with a 3-1 win after losing to them earlier in the season. The Rangers also won over Keller, Steele Accelerated, and Byron Nelson in 3-1, 3-0, and 2-1 wins respectively.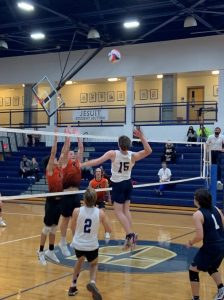 Interview with Coach Ian Fryers
How is the Volleyball season looking for Jesuit?
"Its looking pretty good, right now we are one of the top 3 teams in the region, Plano West, Plano Senior are pretty good, and Rockwall is up there as well. We are around the middle of the pack but we should be very competative coming into the end of the season."
How far do you think the team will go in the playoffs?
"We have a pretty good chance at making it all the way to the finals, we will definetly make it to the semi finals, and then it would be more difficult from there. If we have our whole squad there and everyone is healthy we should be able to make it to the finals."
As a coach what is your outlook on the team over the next couple of years?
"Definetly need to work on the youth, work with the DPL schools trying to get the younger kids going so we can have a better base and foundation in the fundamentals when they come in. That way we aren't teaching freshman kids who have never touched a volleyball before."
What will the team lose as the current seniors graduate?
"Leadership and knowledge of the game, good fundamentals of volleyball. We are also losing our best setter, two good liberos and an outside hitter."
What has been the most challenging effect of COVID-19 on the season?
"Scheduling of practices and games has been difficult, as well as if one player gets sick, anyone in contact with him also has to quarantine which may throw off the entire roster. It sometimes means we arent playing with our best six players."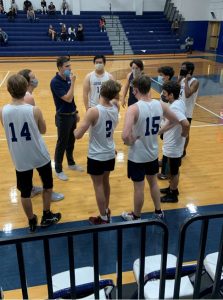 Thank you so much to Coach Ian for the great insight! The volleyball team has shown a great deal of promise and looks to continue to charge ahead as their season comes to a close and they enter the postseason soon.
Stayed tuned to The Roundup for more volleyball news!