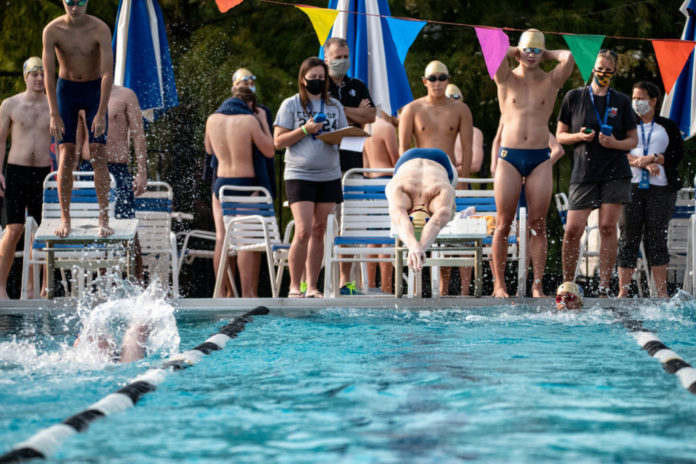 Stepping up behind the blocks, the swimmer removes his mask, pulls on his cap, and tightens his goggles. The whistle sounds, queuing the team and signaling the swimmer to step up. His legs twitching, he places his feet on the rough surface and locks his eyes on the rippling water. The official announces: "take your mark," the swimmer's hands firmly grip the edge of the platform ready to start. BEEP! He launches off, hands tight together with his body in a streamline, ready to win his race.
The Jesuit Swim team kicked off the season at the Knights of Columbus pool, going 3-0. The rangers defeated Bishop Lynch on September 19th, and Plano East, and Plano Senior high on September 26th.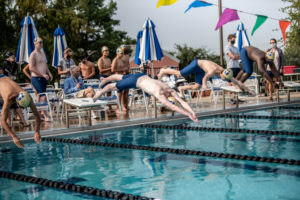 Bishop Lynch
Traditionally starting every season with this meet, the Rangers beat the Friars 133.5 to 35.5. The 200 Medley Relay began with brothers James Savarese '22 and William Savarese '24 in the first two legs and ended with captain Will Mckinney '21 and Jackson Summers '22. The finished the Relay with a time of 1:43.93, a full 12 seconds faster than Bishop Lynch. Other standout swims would include Alex Hung's '22 performance in the 100 fly, dominating the competition, and beating BL by over 8 seconds. With every single event won, this meet marks a promising start to the season.
Plano East and Plano Senior
Challenging some of the fastest swimmers in the state of Texas, Jesuit defeated Plano East 96 to 74, and Plano Senior 128 to 42. Though unable to win every event, Jesuit dominated in the 200 IM with Will Mckinney '21 and William Savarese '24 taking first and second. Juniors Jackson Summers, Alex Hung, and Blake Butz each placed top 5 in the 50 free, earning 2nd, 3rd, and 5th respectively. Given the top tier talent at Plano East, Jesuit's victory by such a margin underscores the early dominance of the swim team in the 2020-2021 season.
Conclusion
Kicking off the season with a 3-0 record, the Rangers continue their undefeated record from last season with a 15-0 record. This is a promising start for the growing team as they continue to dominate the competition despite only being able to practice two days per week.
A special thanks to Coach Doug for the times and Mr. Chamblee for the pictures!
Stay tuned to The Roundup for more sports-related news!