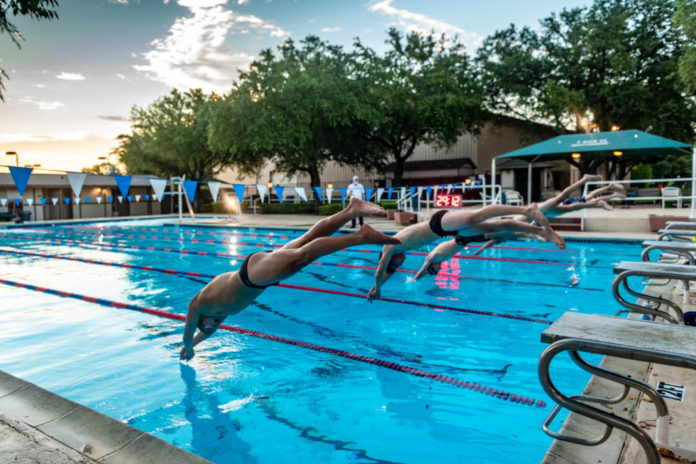 Alarm clock beeping, the swimmer blindly reaches for the light, waking up at 5:00 am for the first day of practice. His bags packed with a suit, goggles, water bottle, and mask, the swimmer drives to the pool for his first Jesuit practice in over six months.
The Jesuit Swim Team began practice August 27 for the Gold Cohort and the 28th for the Blue Cohort at the TbarM Raquet club pool. One of the few teams to continue practicing during this uncertain time, swimming and diving look to be center stage, competing for honors at all levels. Before the season starts, I will give you guys a brief pre-season preview.
Goals For The Season
Coming off an undefeated regular season the Jesuit Swimming and Diving team prepares for another great season amid uncertain times. Captain Alexander Chong 21′ commented, "I think our first practice was a good indication of how badly the quarantine affected many of the team members, but I know it's the very start of the season so I'm not too concerned. Many of the team members are near their prime as swimmers, so I know we are going to have a good season despite the challenges"
Coach Doug Moyse lays out the goals for the season, "We want to win the district championship, be in the top of three at the region meet, and be undefeated. [Al]though  [it is] not necessarily a goal, if it happens, it happens. Ultimately, my goal would be prepared for the championship season even if it means a loss against someone to help tighten things up. Maybe it's not business as usual but things have changed a bit and we have to take advantage of our strengths."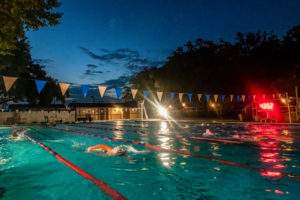 Safety
Coach Moyse stresses the importance of the safety of the team, stating that "We are following a very rigid protocol suggested by USA Swimming where we do a digital temperature check, screen questions, and keep the guys separated and masked from the time they come into the time they get in the water. In the water, they are on opposite ends of the pool. We are doing a lot to keep everybody apart, and even when leaving they go directly to their stuff and put on their mask first. This is tried and true stuff that has been very successful in club teams with literally thousands of swims without any positive cases. This will be very safe for us here at Jesuit, and probably the safest Jesuit interaction you will have. The more serious everyone takes it the safer it will be."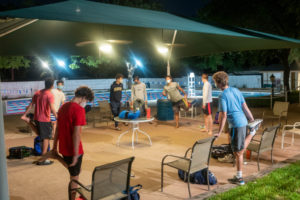 What Are You Most Excited About for the Season?
Coach Doug Moyse: "I'm excited for the possibility that we get to complete the season, also we have a very good group of guys returning from last year and we are at least as strong if not stronger than we were the year before and I look forward to testing that out against some of the other teams in North Texas. I also look forward to finding out if we are going to have some stability in terms where we practice because that has been a big if, but everyone has been having the same challenges so I don't feel we are excessively burdened. We are blessed to be in the water right now even if it's only a couple days a week."
Antonia Vela 22′, a returning varsity athlete, noted, "I'm excited to back swimming with my Jesuit brothers and getting back to it after a long break. I hope we will be able to repeat our dominant performance from last season."
Jackson Summers 22′ remarked, "We're all extremely grateful to be able to attend school part-time and practice with one another, and I think that newfound appreciation fosters a great deal of excitement and motivation for the upcoming season."
Check back to The Roundup for more coverage of Jesuit swimming and diving!