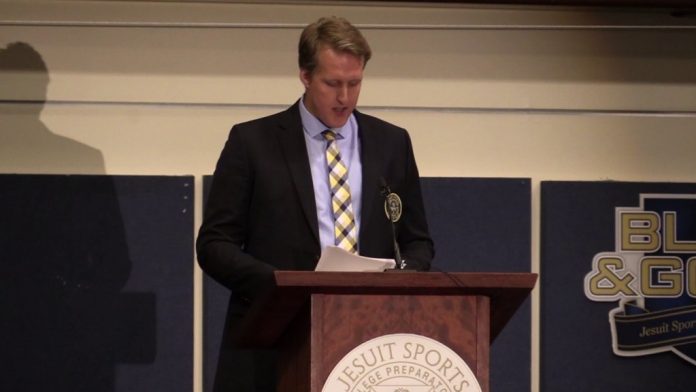 This past year, Jesuit Dallas inducted four alumni into the Jesuit Dallas Sports Hall of Fame to recognize their contributions to Jesuit's sports programs and their achievements after graduating from Jesuit's halls. One of those inductees was Kyle Wilson, Class of 2002.
Kyle Wilson was a basketball player during his time at Jesuit and helped lead the Rangers to their last state championship when it still competed in the TCIL. As a varsity basketball player, Kyle earned numerous honors, such as being a finalist for McDonald's All-American honors as well as being named to the USA Global Games team in both 2001 and 2002.
After graduation from Jesuit, Kyle continued his basketball career, playing his freshman year of college at Illinois and helping lead his team to a Big 10 title. However, he transferred to Wichita State for the remainder of his college career, where he served as team captain on the top-10 ranked Shockers in 2007. After his college career, Kyle continued to play basketball in Germany, Austria, Hungary, and Israel. In 2010, he helped lead his team to the Hungarian National Championship.
The Roundup reached out to Kyle Wilson to learn a little bit more about Jesuit career.
Kyle was born in Wichita, Kansas and his family moved around several times before they settled in Dallas when he was in the 5th grade. He attended St. Mark's Catholic School from 5th to 8th grade, leading up to his decision to become a Jesuit Ranger.
When asked why he chose Jesuit, Kyle remembered that "A buddy of [his] invited [him] to a Jesuit basketball game when [he] was in 6th grade. From that point on, [he] knew where [he] wanted to go to high school." He continued that he "fell in love with the culture, brotherhood, & people that make Jesuit what it is. One of [his] first real dreams, was not only to get in to Jesuit, but to play basketball for the Rangers."
During his freshman year, like many others, Kyle played football. However, he decided after his first year that he would focus on basketball. Interestingly, he noted that "I was told by people that if I wanted to play a D1 college sport, it would have to be football." However, that's not how things turned out.
About how Jesuit affected his life after graduation, Kyle commented that "The Jesuit experience is unique.  [He believes] it shaped [his] character and gave [him] a strong foundation to achieve success in life.  Beyond what [he] was able to achieve in basketball, [his] time at Jesuit has influenced [his] faith, [his] family, [his] friends, & [his] work.  [He is] very grateful for those 4 years."
Even with his incredible athletic achievements on the court, Kyle still believes that his biggest achievement was being able to graduate from Jesuit Dallas. He elaborated that "Until you've walked the halls of Jesuit, and put on the blue blazer, you don't realize the work, discipline, & sacrifice it takes to get that Diploma from Jesuit.  [He's] very proud of that."
About mentors that he had while at Jesuit, Kyle specifically named Mr. Fitzsimmons as a standout role model. Kyle played for "Coach Fitz" for 2 years and learned a lot about basketball from him. However, more importantly, Kyle noted that "[Coach Fitzsimmons] cared for [him] as a person. [Kyle] will always be grateful for [Coach Fitzimmons'] contribution in [his] life."
Finally, Kyle Wilson described the experience of learning that he had been inducted into the Jesuit Sports Hall of Fame. He described how he "received a phone call from Coach Fitz and he let [him] know [he] had been inducted into the Hall of Fame. [He] was (and still am) incredibly proud and humbled by the honor."
Remaining humble, Kyle continued that "In [his] view, it's not so much about [him] or anything [he] was able to accomplish in basketball.  To [him], it's about Jesuit Ranger basketball, where [his] dream first started, coming to a game in 6th grade.  To [him], it's about [his] teammates, guys that were right beside [him] through most of [his] Jesuit experience.  To [him], it's about [his] coaches, people that not only had a great influence on [him] 'between the lines,' but also in life. [He wants] each of these groups of people to take a little of the recognition as well!"
No matter how humble he is, Kyle Wilson '02 still deserves all of the recognition and credit that he received for being inducted into the Jesuit Sports Hall of Fame. The honor certainly attests not only to his athletic skills, but also to his commitment to upholding Jesuit ideals, on and off the court, during and after his Jesuit career. He certainly embodies the profile of the Jesuit graduate and acts as a role model for the current and future Jesuit community, and for that he rightfully deserves all of the recognition.