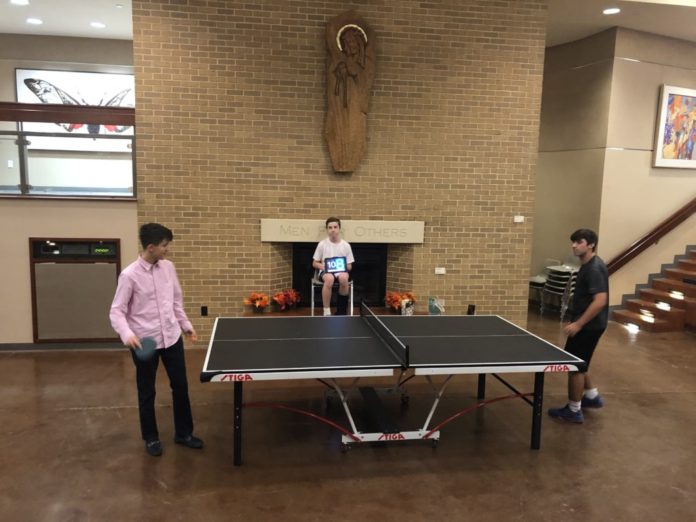 Ping pong is not just one of those games you play at your friend's house, but rather than an Olympic sport with competing athletes all over the world. Especially in Olympic games, the players, eyes fully concentrated on the ball, rapidly swing their paddle left and right, sending the ball over every second until it comes right back. The speed of the ball moves rapidly at the Olympic level, as a spectator's eye can barely keep its full attention on it.
While the ball might not move at lightning speed at Jesuit intramural ping pong, the sport is still enjoyable for students. This December, eight Jesuit students competed in a ping pong league to determine the paddle champion of the school. Every Monday and Wednesday, they would compete to become the best in the league. Let's take a look at how they performed:
A Look At The Standings
Drew Zang '23 has proved unstoppable and undefeated in his first six games, beating opponents left and right. Despite facing a severe injury last Wednesday, he had a trio of victories against Max Davis '22, Harrison Kircher '21, and Sergio Lopez '21 on Day 3, and looks to not lose a game this entire season. Kircher, despite recently facing an upsetting loss, follows close behind in second. Their quick serves and excellent hand-eye coordination allow them to be spectacular players at

the top of the table.
Johnathan Ardoin '21 and Andrew Sherman '21 finished with decent mid-table finishes. To be fair, they are relatively inexperienced players to ping pong, but found a way to defeat some of their opponents.
Games of the Season
Kircher vs. Ardoin (15-12, 15-7)
One of the first games of the season, Kircher showed his competitors what it's like to actually be good at ping pong. His second set really cemented his contingency for the title, defeating Ardoin 15-7. This game established Kircher's masterful dominance in ping pong, conquering Jesuit varsity tennis player Johnathan Ardoin. The institutional irony does, in fact, apply here.
Ardoin vs. Sherman (15-11, 15-12)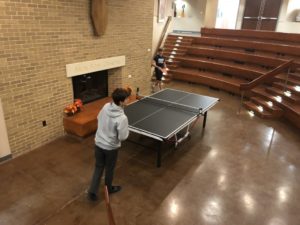 After facing a tough loss to Kircker, Ardoin was able to rebound to prove his tenacity and resilience. Ardoin seemed to have more control in this match, really setting a more rapid tone for the game that Sherman ultimately could not handle. This win helped keep Ardoin in the running for the title and boost his confidence, allowing him to steal some other wins from his opponents to have a solid finish.
Zang vs. Kircher (10-15, 15-12, 18-16)
Clash of the Titans. Coming into this heavily-contested matchup, both players were 5-0, but one was soon to face their first defeat of the season. After dominant sets by both players, the game was forced to go into "win-by-2" overtime to determine the winner after a tied score of 14-14. Zang was able to pounce on Kircher's mistakes to get win the final set and stay undefeated at the top of the table.
Playoffs
After an arduous season the competitors competed in the playoffs in the last weeks of December, producing some fascinating results. Kircher, despite an outstanding season performance, ultimately got knocked out early. Drew Zang and Johnathan Ardoin reached the finals and went into a three game sudden death game to 15. After Ardoin had a good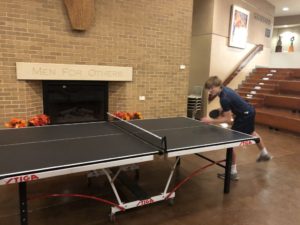 start, winning the first game, Zang finished strong, winning the final two games to take home the tournament.
Champion Drew Zang '23 remarked, "I liked the overall experience to meet new people and playing ping pong. If only the people who signed up went to every meet so the tournament ran smooth and everyone could play more games."
Stay tuned to The Roundup for more intramural coverage!