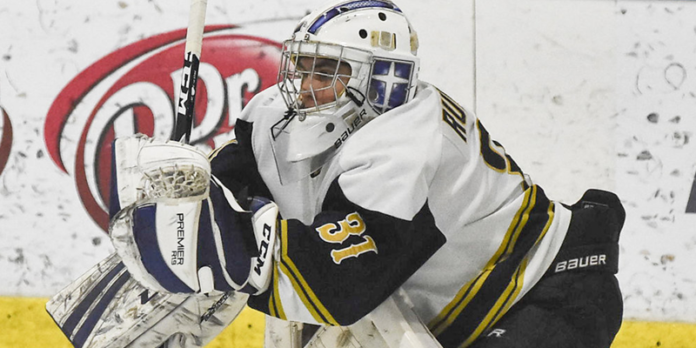 Speeding on the ice, the puck glides rapidly towards the boards. It is a sprint to get there first. Each player racing against the other, leaving there trails behind them carved into the ice. Nearing the puck, the player extends his stick and whacks it towards his team mate, barely reaching the puck before his opponent. Moving forward, guarding the puck with his stick, the player has his target set on the goal. He swings his stick backwards, and in the blink of an eye, swings it forward again, launching the puck towards the goal. The puck slams into the back of the net, and the crowd yells in joy.
The Jesuit varsity hockey team recently had a big win against Southlake, 6-2. Jesuit faced Southlake in the championship game this season and lost, but this time they were able to pull out the win.
Junior Nicholas Zang, a right winger, had a great game, scoring his first varsity goal of the season and helping to solidify Jesuit's lead 4-2. Anthony Calebrees also had a stellar performance, scoring an empty net goal to help secure the win.
"This was my personal favorite game of the year that we played because not only did we finish the season strong after losing in the state championship, but we had a very poor season all together, yet we beat the team that we lost to in the championship," said junior Nicholas Zang.
Coming off of a shaky season, Nicholas believed that this game was the best they played all year, not only in terms of his own success, but the team as a whole.
Although Jesuit's varsity hockey season may not have been all that they hoped it would be, they were able to beat the team that they lost to earlier in the championship game, a win that provided a major morale boost to the players and coaches.
Sam Sudderth '20