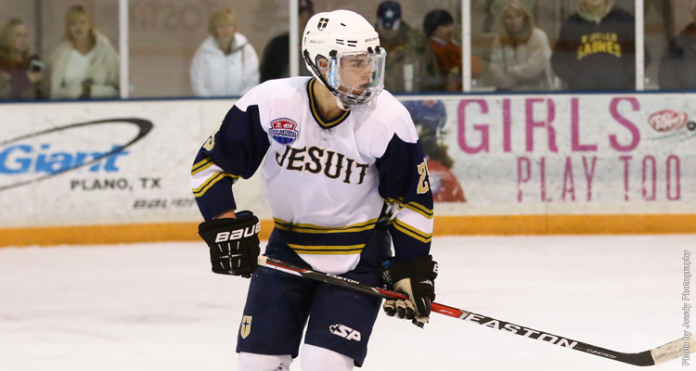 The carbon fiber stick rises high in the air before coming back towards the ice and sends the rubber puck flying towards the net. It smashes against the the the back of the net after sailing over the goalies shoulder, and the wing pumps his fist in victory.
The Jesuit varsity hockey squad has been hard at work the past few months, playing 7 games against the likes of Allen and Coppell and improving with each one.
In their first game since falling short against Denton County, the Rangers faced off against Frisco on November 3rd, but were shut out 0-4. Following this performance, they lost in a heartbreaker to Grapevine Colleyville, 2-3, a week later on the 11th. Their next game was against Allen on the 17th and use despite a valiant effort, lost in another close game, 5-6.
Next, the squad took on Coppell, but after two goals by the opposing team in the first period, they were not able to recover. Mckinney was their next target, and, snapping a six game slide, the Rangers took out the Lions 3-2 on the back of Andrew Ngov's '19 two goals. On December 15th they battled the Plano West Wolves and thanks in part to two early goals, won 3-1. In their first game following the winter break, the team faced a strong Keller team, and after tying the game 3-3 early in the 3rd period, they couldn't hold off the Keller attack and lost 3-5.
Anthony Calabrese '18 commented that the team is "starting to turn things around." He mentioned a few injuries on the team and concluded by saying, "When we get our full roster back and get rolling, we will be hard to stop."
"The varsity gold team wasn't going so well at the beginning of the year," said sophomore Marco Campioli, "but as we have started practicing more, we have been playing better and winning more games."
Agreeing with his teammates, Carson Platt '17 said, "We started off the season very slow as our team culture hadn't really been defined yet." He continued with a positive outlook mentioning how "something clicked a couple weeks before the beginning of Christmas break," and how the team "has been hot." He certainly looks forward to his last season as a Ranger and concluded with, "I definitely think the second half of the season will be one I will remember for the rest of my life."
The varsity squad will continue to look for success as they face off against Southlake Carroll this Thursday.