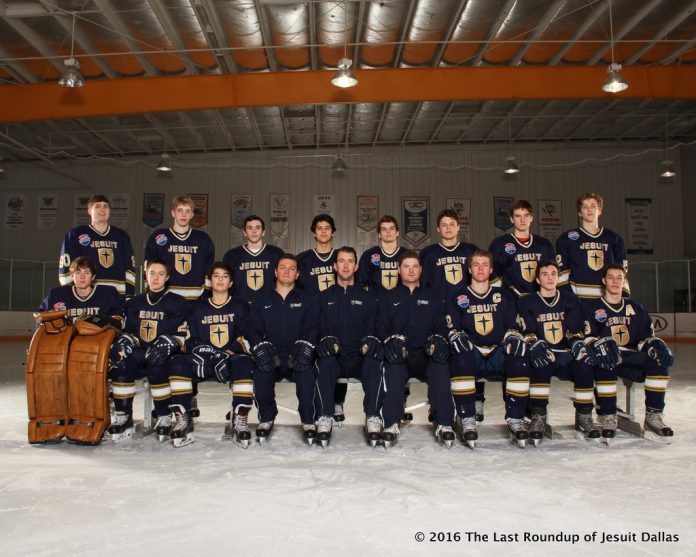 ---
The varsity Jesuit hockey team looks toward a new season, coming off an impressive 2015-2016 campaign with a slew of veterans ready to lead this year's team.
The Rangers were very impressive last year, earning a formidable record of 10-6-4 in thick competition.  The Rangers made the playoffs but sadly lost in the city semifinal match against Frisco.  Even with Jesuit playing against new teams in District 6A this year, Coach Kevin Smith believes there won't be any "change in plan for this season."
Coach Smith told The Roundup that his goal for this season is "to get to the National tournament," and he believes the Rangers will be playing their toughest matches in the later part of a grueling season.  When asked about the impact of valuable seniors leaving the team, Coach Smith understands graduating seniors "are always tough to lose as they have poured 4 years of their heart and soul into the program and have been through the battles in big games." He concluded by saying, "We will be ready to go into battle this year with our upperclassmen."
Elaborating on the importance of this year's upperclassmen, junior Jacob Berg believes "Carson Platt '17, Andrew Ngov '17, and Anthony Calabrese '18 are all going to be huge parts of our team this year." Berg stressed their importance leading the team offensively, while Royce Allred '18 will be a centerpiece as he protects the goal.
On any championship team, chemistry is an essential aspect and can make the difference between champions and runner-ups.  In the sport of hockey, many players participate on very competitive club teams, making high school team cohesion difficult. However, Berg isn't worried about the chemistry issues with this year's team, expressing his confidence in their abilities that could maybe lead to a city and state championship. Berg believes that "when every club player is there, the Jesuit team would be the best in the state, with the only real challenge coming in the Frisco combined team."
Anthony Calabrese '18 wholeheartedly agreed with his teammate, sharing, "These guys have gotten closer together as a team and we should have a better season this year than we did last year.  Don't be surprised if you see 'Jesuit Hockey Wins State Championship' this year."  Calabrese did agree with Coach Smith on the value of last year's seniors, such as George Mcbey '16 and Louie Helsen '16, but Calabrese believes this year's depth is a lot better than in previous years.
The hockey team kicked off the new season on September 29th, 2016 with a match against the McKinney Lions in the AT&T Hockey League opener.  Despite a valiant effort, Jesuit lost 4-1 with the lone goal coming from sophomore Jon Michael Dragojevic.  Jesuit's next opponent will be the Plano West Wolves on October 6th, 2016.  The puck will drop at 7 pm at the Richardson StarCenter.  Come out to support your Rangers!