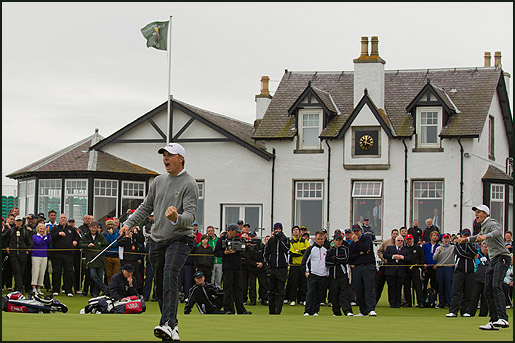 This year, Jesuit alum Jordan Spieth, '11, attained one of the highest honors an amateur golfer can earn when he was selected to play in the Walker Cup. In Aberdeen, Scotland, Spieth represented the United States in the tournament, which pits the top ten male amateur golfers from the US against their counterparts from Great Britain and Ireland.
The Walker Cup occurs every other year, dating back to 1947. The golfers play 36 holes a day, 18 in the morning and 18 in the afternoon, with doubles matches in the morning and singles matches later in the day. Teams earn points by winning one-on-one matches, with each match worth one point. The match winner is determined by tallying up the number of individual holes won; in the case of a tie, each team is awarded half a point. Each golfer competes in two singles matches and at least one doubles match in the tournament.
Spieth, though the youngest golfer on the U.S. team at 18, led the Americans with an undefeated record and 2 ½ points. He won both singles matches, including a payback victory over Britain's Jack Senior, who had recently beaten Spieth in the US Amateur. He also tied his doubles match, which he played with Stanford University's Patrick Rodgers. Despite Spieth's excellent play, the U.S. team fell to the Great Britain and Ireland team, 14-12, in an upset that ended the U.S.'s three cup winning streak dating back to 2005.
Spieth now returns to school at the University of Texas where he will compete on their golf team. Having missed a lot of school for the U.S. Amateur and Walker Cup, Spieth will have to skip Texas' first tournament  to catch up but will be back on the greens soon. With an excellent start to his season, we can all expect great things in the future from one of our most promising Jesuit brothers.