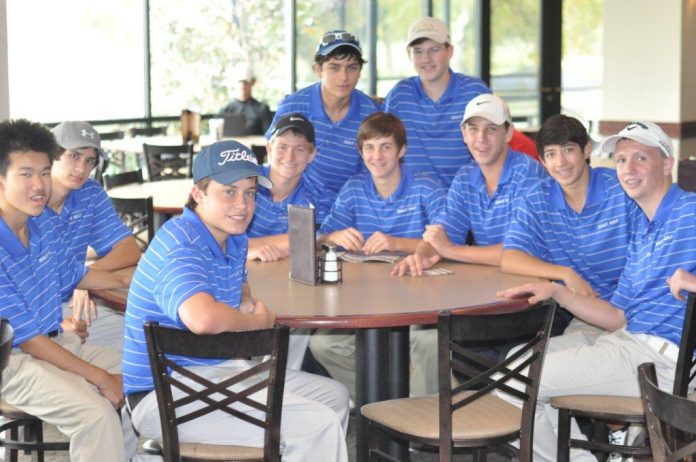 On Tuesday, October 24, 2011, the Jesuit Junior Varsity Golf team won the Frisco Liberty Red Hawk Shootout. The event marked the team's second consecutive tournament win, with golfers placing 1st, 2nd, and 3rd.
Earlier in the month, the JV team came away with the first prize at the Creekview Invitational. Byron Song '15 won it all, followed by Clayton Caldwell '14 in 2nd, Barrett Granger '14 and Chris Galvin '13 tied for 4th, and Jimmy Bucklar '14 in 6th. In order to decide on a team winner, the scores of the top 4 golfers out of 5 are added up and then compared to those of the other teams. With 4 golfers placing in the top 5 overall spots in the tournament, Jesuit easily came away with the team victory. Granger commented on his performance, "I could've done better, but Jesuit played very well."
Jesuit JV golf sent another team out to Liberty High School last Tuesday to compete in the Red Hawk Shootout. Caldwell came away with the individual victory, followed by Granger, who ended one stroke behind. Joe Velasquez '14 finished behind Granger in order to secure the top three spots in the tournament, and therefore the team victory. The tournament took place at the Twin Creeks Golf Course in Allen, so Granger, having grown up a few miles from the course, was able to defend his hometown turf. The next tournament that the golf team will compete in is a second Creekview tournament on November 8th, 2011. Jimmy Bucklar '14 has high hopes for this next round of competition. Along with the rest of the team, Bucklar plans on improving his game by "going to the driving range and practicing putting almost everyday."
Check out the golf link under the Athletics tab on the Jesuit website to get more information about the results of the golf team and the upcoming tournaments.