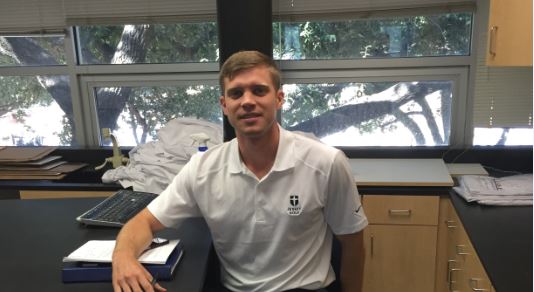 As Jordan Spieth continues to gain publicity, so does Jesuit. With the golf program getting stronger and stronger, there has been a demand for another coach to assist Coach Marino with the growing team. So this past summer, Jesuit hired Nate Dombrowski, Jesuit Alumnus and dental student, to help the team.
Jesuit's newest addition to the golf coaching staff graduated from Jesuit with the Class of 2009. Just two years older than fellow Jesuit alumnus and PGA Tour World Champion Jordan Speith, Coach Dombrowski was a star on Jesuit soccer team for all four years of his high school career. As a senior, Coach Dombrowski helped lead Jesuit to be ranked the number one soccer team in the country. Now, he returns as a coach to contribute even more to the school.
Halfway through dental school at Baylor College of Dentistry, Coach Dombrowski suffered a shoulder injury. This past December, Coach Nate underwent surgery, but due to issues with how his shoulder was healing, he made the intelligent decision to take a break from dental school to allow his shoulder to heal correctly. Feeling down and under pressure, Coach Dombrowski decided to seek a job at Jesuit.
Dombroski stated that "I walked into Mr. Earsing's office and had a talk with him and literally not fifteen minutes later he called me back with something." Mr. Earsing had given Nate the opportunity to return to Jesuit as a golf coach, a job he had little experience in and a sport that he knew next to nothing about. Nate showed up to his first day of work as a coach, but also as a student to Coach Marino.
Speaking of the team, Coach Nate noted that "There are… a lot of young, great players on the team." With varsity teams largely consisting of returning sophomores, the young team is "very motivated" as they seek to win a state championship with the coaching of Coach Marino and Coach Dombrowski.
On Coach Dombrowski, sophomore and Varsity Golf member Luke Harrison stated that "Coach Nate is a fun guy. He really brings a sense of happiness to the team, and all of my teammates can agree that he was a great addition to the team." The reflections of the players really demonstrates Coach Nate's positive attitude and his significant presence around the team.
The varsity teams started off the year strong with a first and second place finish at the Forney Invite. Later, varsity finished sixth at the Fall State Preview at Wolfdancer Golf Course. With a promising start to the season, the team looks to continue their solid performances at Woodbridge Golf Club on October 19.
"We have some great seniors to lead the team," noted Michael Bradley '18, after returning to school from a solid performance at Wolfdancer with the team. With seniors assisting the coaches and players, the team practices harder than ever and focuses their attention on reaching their goal of winning the State Championship next spring.
With the pressure building onto the team to live up to the reputation as the high school that Jordan Spieth attended, the coaches require the assistance of the five seniors on Varsity to help inspire the players. "We have some great seniors to help lead the team," noted Michael Bradley '18, after returning from a solid performance at Wolfdancer. With the coaching of Coach Marino and Coach Dombrowski and the leadership of the seniors, the Jesuit Varsity Golf Team has their sights set on a victory at the UIL State Championships next spring.