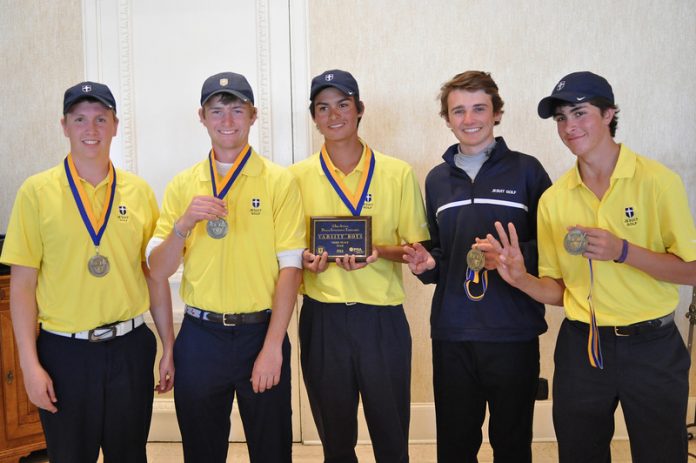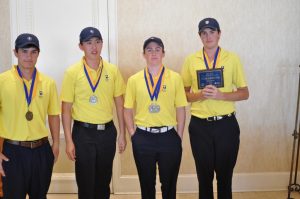 Battling biting winds and defying the harsh freezing temperatures, the Jesuit Golf Team resumed their intense practice regime, looking to continue their success from the fall season. Despite the eccentric weather conditions throughout the winter, the golfers are prepared to finish the 2013-2014 season strong and bring home a state title. Holding high expectations for her players, Coach Cathy Marino wants to "build momentum leading up to districts" by competing against some of the top teams across North Texas over the course of the spring season. One of her main goals is for the team to "play good golf at regionals and make it to state," a goal that will only come to fruition with dedication and perseverance. Playing two to three times a week at courses including Brookhaven, Stonebriar, Sherrill Park, Northwood and a few others, the golfers have conquered some of the nicest and most difficult courses in Dallas. Competing with each other in weekly qualifiers allows the players to earn spots in the top tournaments. On days when the team does not play, they usually head to Golden Bear Golf Center to hit on the range and improve their short game. This arduous practice schedule is designed to prepare the golfers for their true test during tournament season.
For the first tournament of the spring season, the Jesuit JV golf team traveled to Garland to play the Firewheel Old Golf Course. Competing against teams from Plano, Rockwall, Sherman, Bishop Lynch, and Wakeland, the Rangers managed to score well enough to take third place out of thirteen teams, even though Jesuit was one of the only teams to have a primarily freshman lineup. Led by freshmen Max McLeod and C.J. Moucka, who both shot 84 (+12), Jesuit edged out Sherman by one stroke to take third and missed out on second by only a few shots.
Next, the JV team traveled to Cowboys' Golf Course to participate in the Grapevine Faith Varsity tournament. Finishing 4th out of 13 teams, the team combined to shoot a 331 with freshman David Seagram shooting a 74 (+2) to finish 2nd individually, only 1 shot behind first place. In a tournament with many varsity players, the Jesuit JV team managed to score and place exceptionally well, displaying their promising potential for the future.
The next tournament, hosted by Lake Highlands at the Dallas Athletic Club (Blue Course) on February 14th, was an "exciting tournament" because "[Jesuit]  [brought] the entire varsity," Coach Cathy Marino exclaimed enthusiastically. Taking on teams such as Plano West, Highland Park, Rockwall Heath, and several others, Jesuit Varsity A placed 2nd with a 311 and Jesuit Varsity B placed 6th with a 330. Two Jesuit players placed in the top 6, with JC Campell coming in at 6th with a 76 and Mac Corbin coming in 1st overall with a 72!
On February 26, the Jesuit JV traveled to Pecan Hollow GC to to participate in the tournament hosted by Plano ISD. However, due to the extreme cold  (temperatures hovering around freezing) and winds, the tournament was cut to 9 holes. Braving these harsh conditions, Jesuit Gold took home a 1st place victory, winning by 5 strokes with a 157. In the individual category, Sean Dougherty (Gold) shot a 35 (-1) to place 1st overall!
One of the major tournaments Coach Marino had been looking forward to was the Jesuit DIT (Dallas Invitational Tournament.) With 50 teams (Varsity and JV) and over 260 players registered, this tournament was one of the largest of the season, showcasing teams from around North Texas. Finally, on March 18th, as sleet was nowhere to be found, players teed off on the Brookhaven Masters Golf Course, a course that would challenge everyone's game. The Jesuit Varsity Gold had a solid outing, placing 3rd overall with a 320. Some standout players include Chase Fetrow, who placed 5th with a 77, and Bobby Lovin, who placed 6th also with a 77. On the JV side, the team took home a second place victory with Austin Holtz, who shot a 79 to place 4th, and Byron Song, who shot an 80 to place 5th.
To end the season, Jesuit golf will participate in the District 9-5A Championship held at Sherrill Park Golf Course (#1) on April 7-8, the course where the Jesuit Golf team will start their run to the state championship. After a solid start to the spring season, Coach Marino has confidence in her players, claiming that the "sky's the limit" for this talented team.