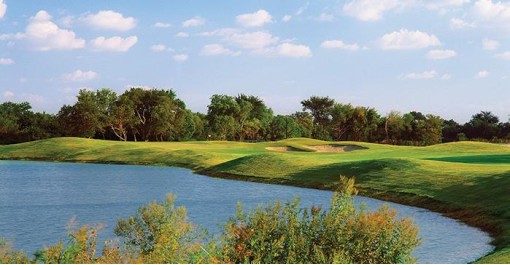 On Monday, October 20th, five members of the Jesuit Golf team traveled to WestRidge Golf Course in McKinney, TX to compete in in the Coyote Fall Classic Varsity Tournament. Finishing up with a combined team score of 319, Jesuit finished in second place, only 11 strokes behind Frisco Wakeland.
Competing against fifteen teams from across North Texas, Jesuit Golf put on a strong showing with all five team members placing inside the top 20 in a large field consisting of 78 players. Seniors Patrick Tehan and Austin Holtz, both four year members of the golf team, fired rounds of 79 to lead the team and place 11th individually. Following up their solid play from the Richardson Invitational in which Tehan shot 78 and Holtz shot 79, these seniors displayed their consistency from one tournament to the next, contributing greatly to the success of the team.
Despite a few bad holes in the beginning, Holtz finished strong, closing with "an eagle and a few birdies to finish with a 79." Although he stated the "varsity's overall performance was not at its best", Holtz explained a strength of this year's team is, "our commitment to get better" shown through extra preparation such as, "practicing putting and playing many rounds." Overall, the team hopes to "stay positive" and "keep trying to get better" in its road to the UIL District, Regional, and State tournaments.
Reiterating this point, Junior Chase Fetrow explicitly highlighted the, "work ethic" as a major strength of this year's team, praising the drive everyone has, "to make it to state." The High School Golf Scoreboard team rankings were posted last week with Jesuit ranked 18th in the state! The resilient Jesuit golfers are determined to put in the effort required for them to rise to the top of the rankings.
The other members of this team finished only one to two strokes behind Tehan and Holtz with Fetrow posting an 80, and Senior Joe Velasquez and Junior Sean Dougherty shooting rounds of 81, demonstrating the depth and talent of the Jesuit Varsity golf team on a difficult course with fast greens and several challenging holes.
Overall, Holtz and Fetrow have high expectations for themselves and for the team in future tournaments, expectations the team looks to achieve through their perseverance and determination to get better. Maintaining a positive attitude, the team looks to replicate their success in the spring season in tournaments such as the Jesuit District Invitational Tournament at Brookhaven Country Club, the Regional Preview Tournament, and the UIL District 9-6A tournament.
Jesuit Individual Results
| | | |
| --- | --- | --- |
| Patrick Tehan | 79 | T-11th |
| Austin Holtz | 79 | T-11th |
| Chase Fetrow | 80 | T-15th |
| Joe Velasquez | 81 | T-17th |
| Sean Dougherty | 81 | T-17th |
Team Results
| | | |
| --- | --- | --- |
| 1 | Frisco Wakeland | 308 |
| 2 | Dallas Jesuit | 319 |
| 3 | North Texas Titans | 322 |
| 4 | Lewisville The Colony | 326 |
| 5 | Frisco Lone Star | 329 |
| 6 | Frisco Liberty | 330 |
| 7 | Prosper | 333 |
| 8 | Frisco Centennial | 334 |
| 9 | Frisco Independence | 340 |
| 10 | Frisco Heritage | 346 |
| 11 | McKinney (A) | 352 |
| 12 | Lucas Lovejoy (A) | 374 |
| 13 | McKinney (B) | 382 |
| 14 | McKinney (C) | 434 |
| 15 | Lucas Lovejoy (B) | 456 |