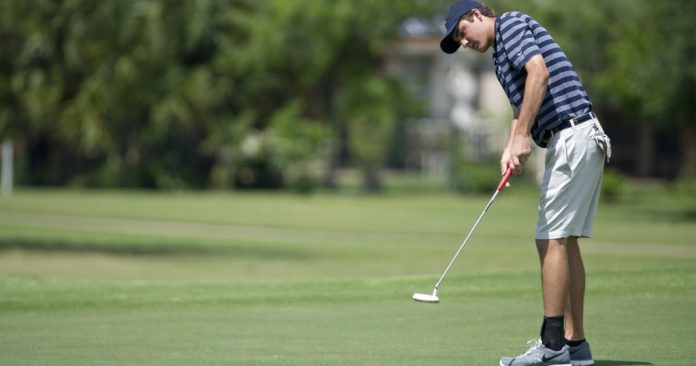 The ball rolls down the green, breaking with the slope of the terrain, now heading straight for the hole. It catches the lip of the hole and slides in, keeping Jesuit's championship hopes alive.
On Wednesday, April 5th and Thursday, April 6th, Jesuit golf competed in the UIL District 9-6A Golf Championships at Sherrill Park Golf Course in Richardson, Texas. Jesuit Gold finished second in the tournament behind Coppell, allowing the group to advance to the Regional Championship. Several team members from Jesuit also qualified to compete in the individual regional tournament.
On the final day of the two-day tournament, Jesuit Gold and Coppell finished tied for first with overall scores of 607 strokes. The Jesuit Gold team, consisting of sophomores Forrest Park, Mariano Barbosa, and Mateo Trevino, and juniors Luke Harrison and Jackson Houston had possessed an 8-stroke lead going into the second day before Coppell shot an incredible 295 team score on the day.
The teams began a sudden-death playoff. For three holes, Forrest Park sank three match-tying puts to force the teams into a fourth playoff hole. Coppell did hold onto a 2-stroke lead on this hole to become District champions, but Jesuit was still invited to compete in the regional tournament.
Afterward, Luke Harrison noted that "[he] is proud of how the team played, although [he] is disappointed that [they] were not able to win the District Championship. [He] is looking forward to competing in Waco and hopefully continue on to State." Luke shot a 161 as an individual to help propel Jesuit Gold to the regional tournament.
Jesuit Gold wasn't the only Jesuit team that competed well at the District Championship. Jesuit Blue did too, consisting of seniors Max McLeod and John Michael Trevino, and juniors Andrew Buckley, Brendan Nelligan, and Jake O'Gara. The team shot a final score of 626, and also finished one of the days with a score of 299 that was the second-lowest team score of the tournament.
Several Jesuit golfers qualified for the regional tournament as individuals; Forrest Park, Mariano Barbosa, junior Andrew Buckley, and senior Max McLeod each qualified for the regional tournament. The golfers will compete in regionals alongside Jesuit Gold in Waco on April 24th and April 25th.
After qualifying for the regional tournament as an individual, Andrew Buckley described how he has "been practicing a lot lately to hopefully qualify for the State Championships after the tournament in Waco. [He hopes] to just play well and represent Jesuit well at the tournament."
Both the individual players and the Gold team will be playing in Waco at Cottonwood Creek Golf Course on Monday, April 24th and Tuesday, April 25th for the regional tournament. Stay tuned for more golf coverage.