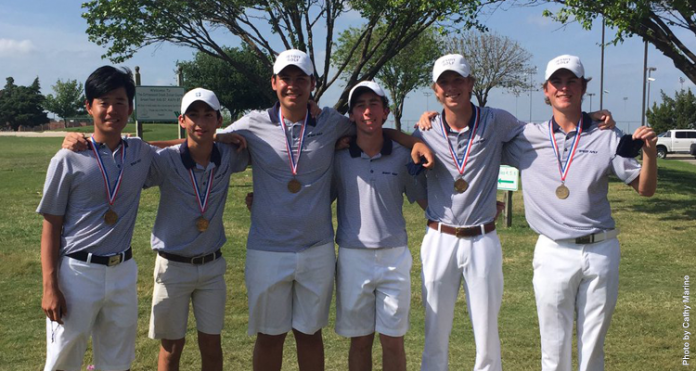 After an impressive finish at the district tournament in which the team earned a berth in the UIL Region 2-6A tournament, Jesuit varsity golf once again advanced to compete in the next and final round. Thanks to an impressive comeback on the second day of the two-day tournament, the team survived elimination for the second time on the road to state.
On April 24th and April 25th, Jesuit varsity golf competed in the UIL Region 2-6A tournament held at Cottonwood Creek Golf Course in Waco, Texas. Thanks to impactful performances from each team member, the team was able to recover from a poor start to the tournament and secure a powerful comeback.
After shooting a 317 team score on the first day, five strokes behind the state qualifiers, the team of juniors Jackson Houston and Luke Harrison and sophomores Forrest Park, Mariano Barbosa, and Mateo Trevino returned to the race for state with a score of 310 on the second day of the tournament. With the 310, the team moved into second place, tied with the Coppell Cowboys for the third consecutive tournament. The teams had previously advanced to a playoff in the 2017 Mustang Classic and the UIL District 9-6A tournament. Coppell edged out the Rangers in the playoff, but both teams still advanced.
Park finished 11th overall to lead the Rangers in their 3rd-place finish, shooting a 154 over both days. Harrison, Houston and Trevino were close behind with scores of 156, 158 and 159, respectively. Barbosa finished the tournament with a 171 total score. Aside from the team, junior Andrew Buckley qualified for the tournament individually and ended his run by finishing with a final score of 164 strokes.
After the tournament, Harrison '18 noted that "although we started off poorly, we were able to recover on the second day and catch up to the leaders. I was disappointed that we were unable to beat out Coppell in the playoff, but I look forward to competing against them and other schools at the state tournament."
Similarly, Houston '18 recounted that "the team did a great job overall. We all hope that we will be able to add yet another state championship to Jesuit's long list of recent accomplishments."
A victory later in May would increase the number of state championships for the 2016-2017 year from 2 to 3, adding on to the accomplishments of varsity soccer and, more recently, varsity lacrosse. Should the Rangers win on May 22nd and May 23rd in Georgetown, Texas, it would have been a great year not just for golf but for all Ranger athletics.
Stay tuned for more Ranger golf coverage.