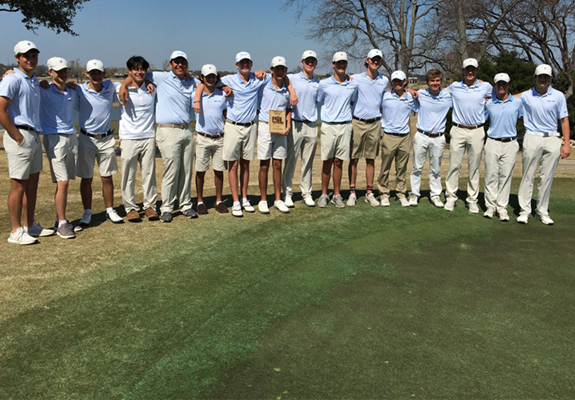 Overview
Jesuit Golf started this year's season strongly. They placed third at the Bart Granger Invitational in Fort Worth. They placed second at the Twin Creeks Invitational in Plano.
Bart Granger Invitational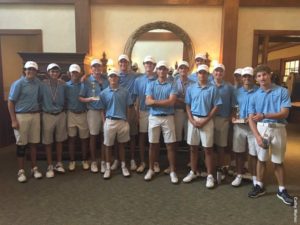 At the Bart Granger Invitational, Jesuit earned a third-place finish. They finished with a total team score of 880, besting Southlake Carroll by one stroke. The Rangers opened the three-round tournament with a 290 and advanced to the final round with a 296 in round two. Jesuit scored a 294 in the final round to finish in third. Ben Delarosa '23 led the charge with a 217 total score (72-74-71). James Farmer '21 (77-73-72) and Matthew Foster '23 (72-77-73) followed with a pair of 222 three-round scores. Tyler Lee '23 recorded a 224 final score (73-73-78). Gordon Schmerbeck '21 then scored a 227 (73-76-78) to round out the Jesuit lineup.
Twin Creeks Invitational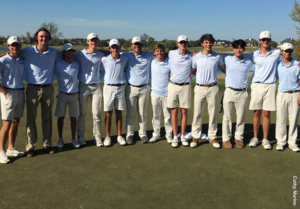 At the Plano Invitational, the Ranger varsity team finished second with a team score of 295, while the JV Gold team finished close behind with a 297. The Jesuit Blue finished the tournament at 319 to take third. Andrew Petruzzelli '23, who won his first-ever high school tournament with a three-under score of 69, led the charge at Twin Creeks. Max Reimer '21 added a two-under 70 to finish second as Carson Cusick '20 and Hunter Pratt '22 finished with identical 74's to place seventh.
Additionally, Sean Mello '22 and Jack Wright '20 tied for 10th with a 75 as Matthew Davis '20 and Chris Sweda '23 carded identical scores of 76. Michael Lohner '22, Oliver Naumann '22, and Josh Estes '22 tied with a trio of 77's. George Sweda '20 finished at 78 with Hayden Montpas '22 shooting 82 and AJ Adams '23 rounding out the Jesuit lineup with an 84.
Reflection
When asked to reflect on the strong performances this month, Gordon Schmerback commented, "we did pretty well. We did finish third, which is Jesuit's best ever in that tournament. The first day we had the low round so we were leading after the first round."  Moreover, when reflecting on the team's ambitions, he said, "we have a very good team this year, so hopefully we can be as competitive as possible in the coming tournaments.  Our long-term goal over the year would probably be to win the 6A state championship, but we need to work very hard for that."
Jesuit's recording-breaking finishes in both of these tournaments indicate the team is on an excellent track to reaching its goal. Moreover, Gordon ended the interview on a strong note, remarking, "this tournament definitely shows we are ready for the state championship because two of our main competitors in districts were in this tournament and we beat one by a good margin and tied the other, so if we can just play a couple of good shots better, we have a pretty good chance at making it to state."
The Jesuit junior varsity team will continue the season on Oct. 1 at the Marcus Invitational before the varsity squad will head to Texarkana on Oct. 11-12 for the annual Classic Tournament hosted by Texarkana H.S.
Stay tuned to The Roundup for more on Jesuit Golf!