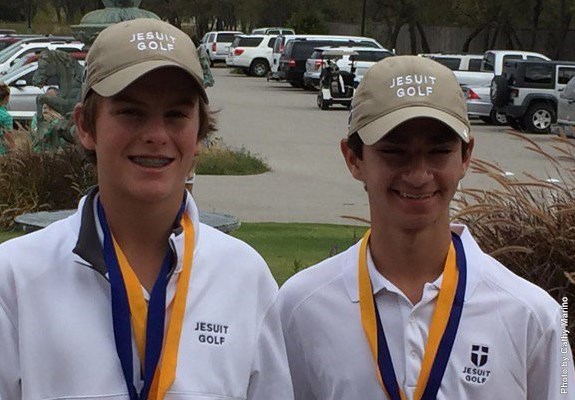 A speckled white ball soars through the air as a young Jesuit golfer watches the ball land right next to the yellow waving flag.
On November 3rd, both the Jesuit Ranger JV blue and Gold team dominated at the Plano ISD invitational. The Jesuit Gold team finished in 1st place with a total score of 318. This win marks the seventh time Jesuit has come in 1st in the fall season.
Coach Marino was very pleased with her team in the fall season: "The success we have had in the fall will give us great momentum and confidence going into the spring. Winning the last two tournaments of the fall gives the team confidence going into the next two months when we don't have tournaments. Our team has a lot of talent in every class, but I am really looking to our seniors Camden Suhy, Will Peavy, Ross Frick, Chase Fetrow and Cameron Johnson to lead the way for the team in the spring. I expect this talented group to provide great leadership and finish their Jesuit careers in style."
The Ranger gold team secured the 1st place finish with the leader Forest Park '19 shooting a 77 along with Forrest Moses '18 on the Blue team also shooting a 77. Other notable results include: Cole Morin ' 17 (Gold)- 79; Mariano Barbosa '19 (Gold)- 81; Kevin Currier '19 (Gold)- 81; Mateo Trevino '19 (Blue)- 82; Eric Pask '19 (Blue)- 88; John Stollenwerck '19 (Blue)- 89.
Freshman John Stollenwork reflected on his first season as a Ranger golfer: " I loved being on the team this fall. There was a great camaraderie amongst all of the team members… and I h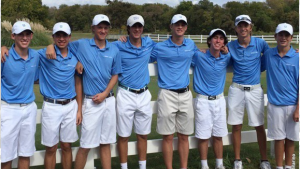 ope to continue to play golf on the team at Jesuit and hopefully in college. It felt great [to finish the season], although I was a little upset. I didn't play particularly well this final season, but the
team did well, and that's all that matters."
On the varsity side of things, the team did just as well. On their November 10th tournament, the variety team dominated and ended the fall season on a high note with a first place finish in the last tournament of the year. These Rangers were led by Junior John Michael Trevino who elevated the team with his second place finish, followed closely by Sophomore Luke Harrison who earned a 3rd place finish. The other two varsity participants included Chase Fetrow (8th) and Cameron Johnson.
Coach Marino is looking forward towards the spring season, commenting, "Golf is a year round sport with the spring season being the most important season. Our District tournament is on April 4th and 5th followed by the Region II tournament in Waco on April 13 and 14th."
While the golf team may not be breaking out their clubs to play in a tournament anytime soon, they will undoubtedly be on the course preparing themselves to carry their momentum into the spring time.