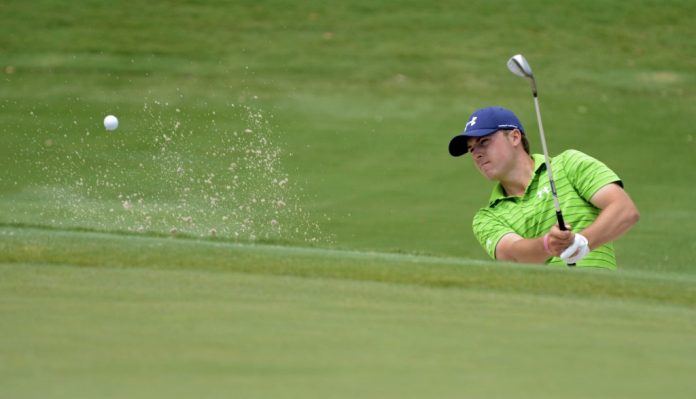 Before he was a Presidents Cup champion, before he was named Rookie of the Year, before he was ranked 20th in the world, before he was  the youngest PGA tour winner since 1931, before he turned professional at age 19, before he was a collegiate national champion, Jordan Spieth was a member of the 2011 class at Jesuit College Prep. Despite having a whirlwind of media events, sponsor obligations, and little time to relax on his schedule, the young pro still found time to visit with his old high school's newspaper and talk about the thrills he has experienced since turning professional.
Turning professional was the biggest decision Jordan Spieth ever had to make and he certainly made the right one. Looking at what has been an amazing rookie season for Spieth, it is hard to believe that the decision to turn pro was anything but a no-brainer for the then young sophomore at the University of Texas. When asked to describe the process of turning pro, Spieth said that "I didn't know what to expect … [I] was going out on a bit of a limb [by turning professional]." But what ultimately made the difference for Spieth was family and sponsors: "I had a lot of support … everybody close to me was one hundred percent behind my decision, which was really important in making it [and] I knew Under Armour was going to be my major deal." Despite it being a nerve racking process for Spieth starting out, the pressure melted away once he got back to playing golf. "Going back a year's time from first turning professional … it ended up being easier, [due to] feeling confident and comfortable [with] my decision … [which] ultimately lead to better results early," said Spieth.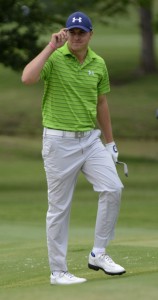 Once Spieth began his pro career, with the help of sponsor exemptions, he burst onto the scene, finishing with numerous top ten finishes within his first dozen tournaments. Then, with what he described to reporters as "the luckiest shot he [had] ever hit in his life," he won the John Deere Classic in a five-hole playoff against Zach Johnson and David Hearn, two of the world's greatest, at age 19, making him the youngest player to win a PGA tour event since 1931. When asked about the success he has experienced so early in his career, Jordan mentioned that "the key [has been] being able to adapt to high pressure situations just by learning … from minor setbacks and let downs," as well as his ability to "channel [that pressure and transform it] into positive energy." Such ability is nice for Spieth to have, but it does not hurt to have a few veterans looking out for you either.
When speaking about life on tour, one topic that came up was the amazing people. "Golf's a great game because … you root for your opponents [and] your peers are your friends," commented Spieth. Some of those peers that are especially close to Spieth are Zach Johnson and J.J. Henry. "Zach Johnson has been a great role-model for me. [He is] obviously a great player and … a super nice guy. He is always looking to help me out [and] he has done a lot for me." As for J.J. Henry, "he has just been unbelievable to me this year … I had known him before the year started and he helped make everything real simple for me," Spieth commented. Spieth needed to lean on Johnson a little bit more than usual last week, with them both being teammates in what turned into one of the most entertaining tournaments of the year, the Presidents Cup.
It was a nail biting decision that came from American Team Captain, Fred Couples, regarding the two players that would be selected to participate with the other renowned members of America's 10th Presidents Cup team at Muirfield Village Golf Club, but as the good captain mentioned to  USA Today "[T]here was no way [Spieth] wasn't going to be [there]." "To get the call was something I had only dreamed of," Spieth mentioned in the interview before the competition. He continued to say that, "to be considered by everybody who had a say in it as one of the best twelve American golfers is truly an honor … I think that is the greatest honor, to [be able to] represent your country … I'm certainly going to need to make the most of it" and he certainly did.  In his first Presidents Cup, Spieth earned 2 points for the U.S. team on its way to an 18.5 to 15.5 win against the international team. Though winning was a great end to the season for Spieth, some may argue that the highlight of the event was not hoisting the cup, but acing the 12th hole in the practice rounds Wednesday from 173 yds away, although he probably will not be admitting that any time soon. But even more astonishingly, despite the hype and the pressure from the outside world, Spieth has not forgotten what helped him get there.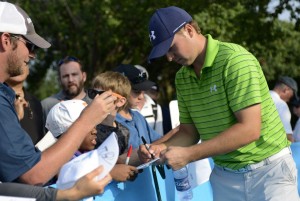 While broaching the subject of Jesuit and how it has affected him, the three-time UIL Class 5A State Champion and two-time U.S. Junior Amateur Champion could not help but become reminiscent: "I was at Jesuit twice the time I was in college, so when I [look back and] think of my education, I think of Jesuit." When specifically speaking about what the term Men for Others meant to him, Spieth stated that "I think that's the right way to live" and brought up the fact that he is currently going through the process of establishing a charity. "[I] am looking into establishing a foundation and doing charity work in the offseason and try[ing] to have a couple of events and do what I can to give back to, not only the people that have helped me get this far, but also to organizations that are dear to my heart" and continued to mention that he "thinks that is the right way to go about things." The foundation, which will be "centered around special needs kids," an area that is very important to Spieth, with his sister having special needs, will be the work that he will "want to do for years and years to come."
Whether he is competing against the world's best golfers or giving back to the community, Jordan Spieth represents the Blue and Gold of Jesuit well. He has fiercely taken on all that the life can throw at him and has emerged triumphant, stupefying golf's most seasoned veterans, while still remaining the same confidant, yet grounded, kid from Jesuit College Prep who drives the same car he has driven since high school. The Jesuit community is proud to call Spieth one of its own.
Check out additional pictures here!