Coming into this game, I thought the Rangers could (and would) capitalize off the momentum gained from their season-opening win over Flower Mound Marcus and potentially put it to Rockwall in their first road game of the season. I thought that, with all the talent on their roster, they could put it together on the road as they did at home and hand Rockwall a nice, fat L.
Turns out history doesn't always work out that way.
I know many people who are Jesuit Ranger supporters probably do not want to read this article since it will go into detail about how the team was, for lack of a better term, smothered against the Yellowjackets. But, football is arguably the most important sport that we cover here at The Roundup, and since yours truly is the sports editor this year, that's kind of my job. Anyway, away we go!
First Half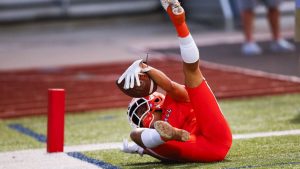 The Rockwall Yellowjackets received the ball to start the game, and they promptly marched down the field and earned the first seven points of the game off a 28-yard run for a touchdown. For Jesuit's first possession, their drive stalled out and the Yellowjackets again marched right down the field, although Jesuit's defense was able to stop them from scoring another six and they settled for three. However, it got even worse for the Rangers, as a blocked punt set up Rockwall deep in Ranger territory, and guess what? Yep, they scored another TD, putting them up 17-0 with just over five minutes left in the first quarter. And it wasn't until early in the second quarter, after not one but two more Rockwall scores, that Jesuit finally got their offense going. Quarterback Gage Roy '22 hit Robert Fitzgerald '22 from 35 yards out for the Rangers' first points of the night. They even went for two and successfully converted it, and the score was now 30-8 with 10:46 left in the first half. After that productive possession, the Rangers stuffed Rockwall on a 4th-and-3 conversion attempt and took over around midfield. And then, on what was arguably the biggest play of the night for the Rangers, Roy hit star receiver Hunter Krepp '22 on a 55-yard bomb for a touchdown to trim the Yellowjacket lead to 30-14. But after Rockwall got the ball back, they got down to Jesuit's 45-yard line and proceeded to launch a bomb for another TD, putting them up 37-14. However, the Rangers struck back, as Roy hit Fitzgerald for a screen pass that went for 49 yards which eventually set up a 3-yard touchdown run by Cameron Martin '23, and the Rangers trimmed the lead to 37-21. However, the Yellowjackets zoomed down the field and added yet another touchdown to their total, making the score 44-21 heading into halftime.
Second Half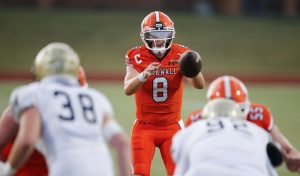 The second half started just swimmingly, with a Roy interception that led to yet another Yellowjackets touchdown (notice my sarcasm there). And the Jesuit offense just could not keep up, as they failed to get past the 21-point mark for several drives and the Yellowjacket offense essentially did whatever they wanted, as they put up two more scores before Jesuit could put up anything to make the score 68-21 in the third. The Rangers' offense finally did something as backup quarterback Charlie Schmidt '23 hit receiver Cooper Cutler '23 from 46 yards out as the Rangers tacked on seven more to their total, making the score 68-28. And after the Yellowjackets put the icing on the cake with another touchdown, the final score was 75-28, as Jesuit took home their first loss of the season after that impressive victory over Marcus in the season opener.
My Thoughts
Now, I can attribute a good chunk of this loss to the fact that Rockwall was ranked 13th in the entire state of Texas, in football, but the defense still did a porous job of trying to limit the offense, especially in the second half. Now, I get it, and I'll say it again: I understand that Rockwall was ranked thirteenth in the state. They likely far exceeded Jesuit in terms of overall talent. They were just the better team. I get that. But if this defense puts up that kind of performance against the opponents that are in their division (MacArthur, Nimitz, Berkner, Lake Highlands, etc)? Then that's when things may get a little…sticky for this team. I was thinking after the win over Marcus that this defense cannot give up 34 points and expect their offense to keep up. Sure, in that game they did because Roy, Krepp, and several others had fantastic outings, but you can't make that bet every time. And for the offense too, I kind of give them a pass because Roy did not play particularly well against a top defense in the state and he had little to no receiving help outside of Krepp, but if they can replicate how they played against Marcus in the future? They should be okay. But this is one where Rockwall was simply the better team. The team shouldn't really hang their heads on this one in my opinion, because this was a case of Rockwall simply being better and outplaying them, which was somewhat to be expected. Just regroup and focus on the next game against Choctaw.
That's all for this piece, but stay tuned to The Roundup for more Jesuit football and sports news! And come to Postell Stadium on Friday, September 10 for Jesuit's showdown with the Choctaw Yellow Jackets! Kickoff is scheduled for 7 PM!