A top-notch athlete has many different characteristics that drive his or her success on the field. Perseverance. Tenacity. Attention to detail. Drive. Character. These qualities take them above and beyond other athletes, allowing them to stand out in front of the crowd under great pressure.
E.J. Smith is clearly the perfect example of a top-notch athlete, as shown through his recent induction into the Under Armour All-America Team. To honor his greatness, we did a special issue, highlighting his prolific football career and gathering insight from around the school about his stellar play.
High School Career
As a sophomore, Smith was already making a big impact.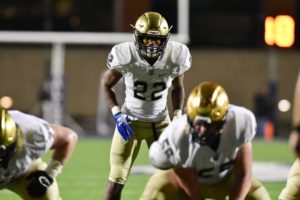 On his first year on varsity, he started and rushed for over 1,300 yards and scored 26 touchdowns. He finished with an average of 189 all-purpose yards per game and even helped on both the defensive and special teams. Smith secured a game-winning interception against Skyline and obtained 14 kick returns along with 7 punt returns. He rose to stardom, winning all these honors as an underclassman: MaxPreps Sophomore All-American, TSWA All-State Selection, APSE All-State Selection, Dallas Morning News Area Newcomer of the Year, and District 9-6A Newcomer of the Year.
During his junior year, he continued to contribute immensely to the Jesuit football team, rushing for over 800 yards and scoring 12 touchdowns. For example, during the home game against McKinney Boyd, he scored four all-purpose touchdowns and finished with 193 all-purpose yards. He rushed for 154 yards against Plano West and received for a record 129 yards against Plano East. Smith garnered Team Offensive MVP and All-District Second-Team last year and looks to grab more awards this year.
As a fan, what makes him stand out? Why does he deserve such a prestigious award?
Will Delaney '21
"I think what separates EJ from other athletes and drove him to receiving his All-American call up is his dedication and strong work ethic. Even just as a spectator, I can see the effort he puts in on the field."
Kyle Visintainer '21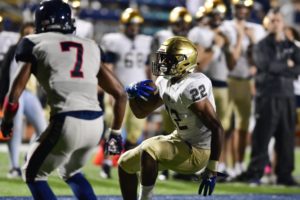 "EJ Smith changes the tone of the game with his offensive capability every time he touches the ball. Whether he's on or off the field, he's an inspiration whose work and leadership guide the entire team, a fact that is clearly visible even up in the stands."
                                             Joe Zagielski '21
"The energy he spreads to the rest of the team on each and every play is electrifying. He's incredible."
Check back to The Roundup for more coverage of Jesuit student-athletes!