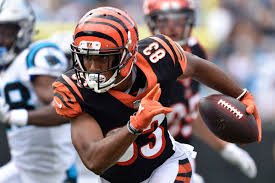 Week 3 provided a more accurate representation for how players will continue to perform, or not perform, throughout the rest of the season. It proved that many players can be consistent with their performances, and that others, despite what you may hope in terms of benefitting your team, are truly inconsistent players. Week 4 also brought upsets, a team's first win in 635 days (not to mention any names), breakout players, busts, and as always, injuries.
The Brown's Suffering is Over
The most notable game of the week for fantasy potential was the Brown's 21-17 victory over the Jets. The first pick of the 2018 NFL Draft, Baker Mayfield, entered the game in the second quarter to replace the Browns' ex-starting quarterback, Tyrod Taylor. Mayfield had an immediate impact in the game; he threw 17 out of 23 complete passes for 201 yards with no interceptions. He led the Browns to a comeback, scoring 21 points on 4 scoring drives. More importantly, Mayfield has been named the Browns' starting quarterback for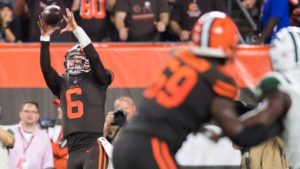 Week 4, which brings many upsides for fantasy players. Mayfield displayed the flare that he brings to the offense, which will bring a positive impact on all of the Browns' players.
Receivers like Jarvis Landry, Antonio Callaway, tight end David Njoku, and running back Carlos Hyde saw noticeably more receptions, yards, and overall points when Mayfield was playing than when Taylor was. Because of this, I would target these players, as their value can only improve in the fantasy world under Baker Mayfield. I don't recommend sacrificing vital starters to get a guy like David Njoku, but if these players are on the waiver wire or can be easily traded for, I highly suggest you target them, as they could very likely pay off in the long term.
Calvin Ridley and Tyler Boyd Displaying Potential
Atlanta's up and coming rookie receiver, Calvin Ridley, had an absolutely massive fantasy week in Week 3, catching 7 passes for 146 yards and 3 touchdowns. Ridley started the season in Week 1 with no receptions, but has only improved from there. He caught 4 passes for 64 yards and a touchdown in Week 2, and then followed up on that with his monster performance in Week 3. Ridley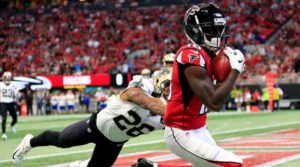 has proven to be a true threat to defenses, and with Atlanta's dangerous arsenal of players like Julio Jones, Devonta Freeman (if he is healthy), Mohammed Sanu, and Tevin Coleman, Ridley should continue to have many one on one matchups. Because of this, I think Ridley is worthy of having the flex position in 10 man leagues or higher if one of your players is injured or has a bye week.
Ridley hasn't been the only breakout receiver so far. Bengals' receiver Tyler Boyd has shown that he deserves to start on your team. Over the past two weeks, Boyd has caught 12 passes for 223 yards and 2 touchdowns. He has been the Bengals' undisputed WR2 ahead of rookie John Ross, and has been heavily targeted in the slot. Boyd has shown in back to back weeks that not only can he get touchdowns, but he can get heavily targeted, solid amounts of receptions, and lots of yards. Also, next week, Boyd faces the Falcons' atrocious defense, which only gives him a better opportunity at a solid fantasy performance. Because of this, Boyd is a must start at the flex position this week.
Jimmy Goatroppolo No More
The 49ers, who coming into the season I was pretty excited about, just had a significant setback in fantasy production when starting quarterback Jimmy Garoppolo tore his ACL.  Aside from the obvious fact of losing Jimmy G, The 49ers' passing offense will take a significant hit with backup quarterback C.J. Beathard. Speedy receiver Marquise Goodwin will take a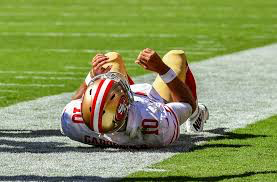 heavy drop off in fantasy value as well. Garoppolo was not afraid to take a shot downfield, which is what makes Goodwin such a great receiver. I think without Garoppolo, the 49ers will lose most of their opportunity for big plays. Other players like George Kittle and Pierre Garcon will decrease in value without Garoppolo, because Beathard just is not as good. If there is any upside to this situation, running backs Matt Breida and Alfred Morris will see more carries, and targets in the passing game, as Beathard loves passing to his backs.
Sleeper of the Week
This week's sleeper pick is Cardinals' receiver Christian Kirk. I know, when you hear "receiver" and "Cardinals" in the same sentence, you immediately want nothing to do with it, as the Cardinals have debatably had the worst passing offense of any team this season. Sam Bradford has been awful and the offensive coordinator Mike McCoy has been absolutely atrocious at designing pass plays for their star player, David Johnson. But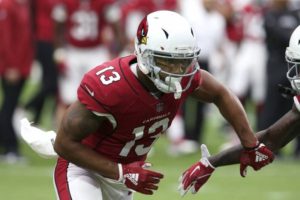 eventually, the Cardinals took a step in the right direction. The Cardinals' head coach Steve Wilks recognized how bad they were and decided to do something about it. Finally!
Steve Wilks named rookie quarterback Josh Rosen the starter and that is just the revival the Cardinals need to get back on track. We haven't seen much of Rosen yet in the NFL, but last week, Rosen completed 7 passes for 90 yards to Christian Kirk. This increase in targets, receptions, and yards brings Christian Kirk to the table in fantasy football. I think you should definitely pick him up in 10 or more people leagues, but don't start him yet unless you have to. Watch him for a game, see how he plays and if he maintains the same production, and then make you decision going into week 5.
Heading into week 4, many teams have had offensive adjustments, some for the better, and others for worse. The change in quarterbacks can bring glory to some players in fantasy, and tragedy to others. The best thing you can do this week is see how these changes impact the offenses, and then determine whether or not you start these players in the weeks to come.
Good luck and go Cowboys!