Belgium; a beautiful landscape in Europe where there is plenty to do and plenty to see. Many travel to Belgium for vacation, sometimes for work, other times to visit distant family.
However, Belgium is much more than a brewery of diverse people in the middle of a continent. It houses some of cycling's most elite riders, all the way from professional teams to outstanding junior racers, and gives life to some of the most intense bicycle racing in the world.
This summer, Hugo Scala '16, left the comforts of Dallas behind to race with some of the world's best cyclists in the scenic Belgium countryside. He spent around four weeks in Oudenaarde, participating in countless races.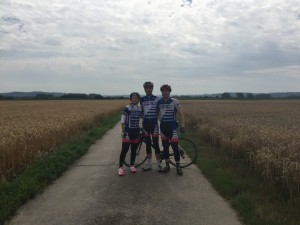 "Bike races in Belgium hold a very similar place in the local culture as high school football does across Texas," said Hugo's cycling coach, Mr. Andrew Armstrong. "Hugo had an opportunity to go race in these events and test himself against kids who have grown up racing in this culture," he added, nodding to the tough competition Hugo faced. He took on "as many as one hundred plus entrants from ten plus countries around the world."
A "cycling camp [which] caters to providing U.S. junior cyclists and the sponsor of Hugo's club team (Matrix Cycling)" gave him the opportunity to go. "Hugo did very well…he rode one particularly  smart and strong race finishing second place," Armstrong commended, "he then had a number of other top twenty finishes".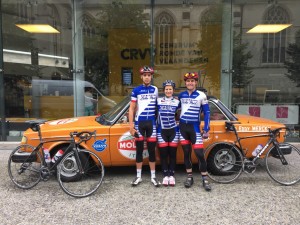 When asked what lay next for Hugo, Armstrong responded that "Hugo just upgraded to what is known as a 'category two' road racer," which puts Hugo in the elite amateur ranks of cyclists in the United States. In fact, Armstrong added, he may even "be in the same category as all the top amateurs and even any pros who show up."
"I wanted to race against the best in the world," said Hugo, "I chose to to travel to Belgium to race my bike because the best bike racing all over takes place over there."
Hugo decided to go "because I have been having a really great year and I was in the best shape of my life." He continued that "I believe that racing in Europe is key to the development of riders that are my age if they want to attain the next level in this sport."
"The races are called Kermesses and are usually small circuits of around eight kilometers long  the races I competed in were usually about ninety kilometers long," he shared. That's roughly fifty five miles a race!
He commented on his busy schedule: "we raced about three days a week, so on off days we usually went for a spin around towns, checking out some famous roads and cobbled climbs that professionals race through every year." He said he "raced about eleven times while [he] was over there."
"The races over there are so much different and harder and faster than the racing over here," Hugo said of the races. "They race much more often over here than here in the States and the fields are twice the size they are over here."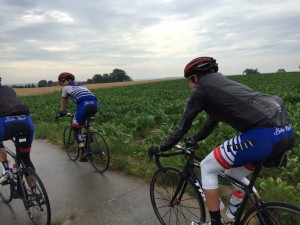 "The roads over there are also a lot smaller than they are here." Hugo pulled it all together: "imagine one hundred plus racers going upwards of thirty miles an hour on a road that is only four feet wide. Yeah, that statement pretty much sums up racing in Belgium."
Hugo finished it all off with a remark of foreshadowing of what's next for him: "Next, I hope to continue racing in college and hopefully return to race in Europe at the top level of cycling."
Wish Hugo luck this season and keep up with all the cycling details on the Roundup!