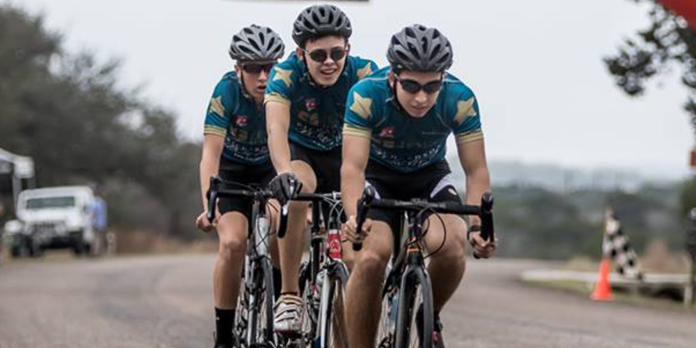 Hearts beating, pedals moving, cyclists from across the Lone Star State raced for 33 miles through U.S. army base Fort Hood in Central Texas. Passing by tanks on the ground and artillery ranges, racers pedaled across the hilly western portion of the base, enduring the challenging terrain at this unique setting. September 16 marked the conclusion of the Texas Bicycle Racing Association's (TXBRA) Texas Cup series with the State Road Race Championship.
Jesuit competed in the 15-16 and 17-18 age brackets at the championship race. Entering the day in second place in overall standings, the cycling team finished where they started, coming up just short of overtaking Northwest Cycling Club in the overall Texas Cup U19 bracket. Nonetheless, Jesuit put up a strong performance in the championship race, coming in first place for the day in the 15-16 bracket and sixth in the 17-18 bracket.
Sophomore Ethan Benedict '21 was the best-performing Jesuit cyclist in the 15-16 age bracket, coming in third. Coming in sixth place was Junior Donoven Francis '20, who finishes the Texas Cup overall in second place.
Athlete's Reflections
Junior Saul Cano '20, who secured an 11th-place finish at the state championship, noted the demanding terrain of the course that involved taxing hills, mile-long climbs, and steep descents. "It was a very challenging race given the location and the competition, but it was awesome to go up against some of the best cyclists in the state," he said.
Sophomore Luis Davila '19, who placed 14th, described the competition as "a very grueling and tough race." He said, "I am very proud of our cycling team and our performance this season. I feel like it was a strong end to a good season."
All things considered, Jesuit wrapped up the 2018 Texas Cup with a successful performance in Fort Hood. Stay tuned to The Roundup for more Jesuit Cycling news!