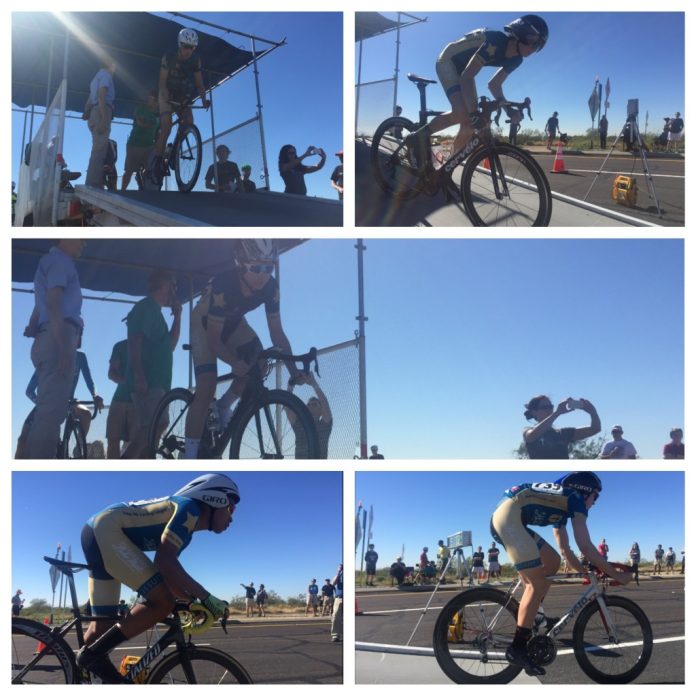 Boarding the team's inaugural flight to the out-of-state race, the Jesuit cycling team soared thousands of feet in the air, instead of their usual two wheels on the ground. The team traveled to the Valley of the Sun [VoS] race weekend, consisting of a time trial, road race, and criterium, on February 12-14 respectively in the Phoenix, Arizona area.
Wednesday
The team departed Wednesday the 10th immediately after school, arriving at the Phoenix Airport late Wednesday night. They quickly headed back to their Holiday Inn Express hotel to unpack their bikes from the travel boxes and get rested up for the following days of racing.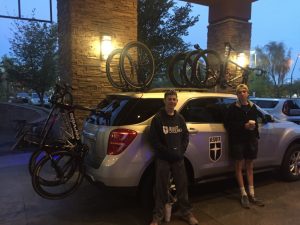 Category 2 racer and Jesuit Junior Jake Ingram stated, "It was really nice to finally head to a major race that's at a higher level than the Texas races that we're used to doing. I hope it's the beginning of a new era for the team."
Thursday
Usually on the day before a big race, such as VoS, good racers like to see their course in person and great racers ride the course and get a feel for the terrain. So the cycling team did what great racers always try to do. First, they went to the time trial course to see how factors like road quality, wind direction/strength, and humidity would affect them during the crucial TT the next day. The time trial course was a straight line for 7 miles up a gradual climb of 100 feet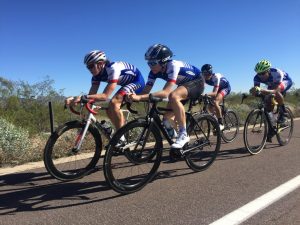 (which is negligible to the eyes, but will tax the legs slightly more come race day) followed by a U-turn and then heading back to the start of the TT, which means riders would go back down the gradient. Evan Bausbacher '17 described the course as "a real screamer. I wouldn't be surprised if we averaged over 24 miles per hour because it's almost flat and there's next to no wind." Dalton Walters '16, Thomas Whitaker '17, and Coach DesOrmeaux all noticed one key thing about the air in Arizona compared to the air back home in Texas: it's much drier and dust often kicks up to get in one's throat andlungs. The two teammates and their coach all fell with illness at one point during the week, with Walters feeling the worst of all on the day of his time trial, which inhibited his performance significantly. Teammate and fellow senior Hugo Scala reported that he'd "never seen someone who was as out of it" as Walters was, which was mighty unfortunate for him because it was arguably the biggest race of his life. After the time trial course pre-ride, the team drove along the road race course to get a feel for the terrain in a minimal amount of time due to Walters and DesOrmeaux's shared malaise. The team then headed back to the hotel, exhausted by a successful day and excited by their prospects.
Friday
The team slept in until 9 o'clock due to their late start time of noon for senior Hugo Scala and 2 pm for the other racers. Scala raced against the category 2 men instead of racing the same race as his younger teammates, because he no longer qualified as a junior cyclist (a junior is someone who is younger than 18, unless one turns 18 that year. In which case one would still be a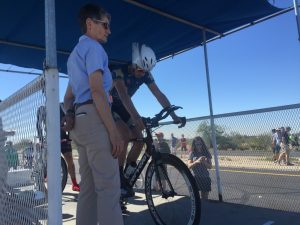 junior for the remainder of that calendar year). After their warm ups, the team performed quite well in their foreign environment, with Scala finishing in 35th with 32 minutes (26.2 mp/h average), Bausbacher finishing in 14th with 33 minutes (25.5 mp/h average), Ingram finishing in 33rd with 34 minutes (24.8 mp/h average), Whitaker finishing in 43rd with 34.5 minutes (24.5 average), and Walters finishing in 78th with 37.25 minutes (22.5 mp/h average). The racers competed in fields containing about 100 riders per race, to put their rankings into perspective. Bausbacher said that he was "ecstatic" about his finish, because it put him in position to do well in the overall scoring for the weekend, which takes the time to complete each stage and adds them together to find the fastest rider. Ingram was "disappointed with his time trial" because he "knew" he could've done better. Whitaker was happy with his time, but wishes that he had gone even faster because he had trained very hard for the time trial specifically. Walters, who is "always mad," according to his teammates, was angered by his results because he, too, had "trained really hard" only to tragically get sick on race day. Then, the band of cyclist dined on their usual race weekend meal at Olive Garden to load up on pasta and bread sticks before the following day's grueling road race.
Saturday
The team was blessed with a 2 pm start for the road race and Coach Andrew Armstrong '01 granted them another day of sleeping in. The road race course consisted of a 16.48 mile loop, mostly downhill for 13 miles and then a grueling climb up to the finish line for the last 3 miles. The junior racers did 4 laps for 62 miles and the men did 6 for 94 miles. The course favored lightweight climbers like Ingram, Bausbacher, and Scala and weakened riders less adept at climbing like Walters and Whitaker, both of whom got dropped on the 2nd and 3rd laps respectively. Evan Bausbacher '17 was the biggest winner on the day, finishing 10 th out of the entire junior field, with Ingram following shortly behind at about 20th. Whitaker completed the final lap alone off the back only 7 minutes behind the peloton and Walters limped in a few minutes later. Senior Hugo Scala endured the toughest race of the day by crashing 5 miles into the race and finishing the remaining 89 miles with a severely injured wrist. Bausbacher said that "Hugo's wrist looked really swollen and we weren't quite sure if it was broken or not. I've got to give mad props to him for finishing a race while hurt like that." Then team once more headed back to their beds and recovered while watching the NBA's annual Slam Dunk Contest (where Aaron Gordon was robbed by Zach LaVine) and eating Chipotle burritos.
Sunday
The final day of the trip started early for the junior racers, getting up at 5:50 am for their final criterium race.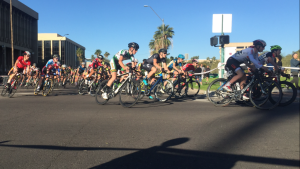 For those who don't know, a crit race is a race that goes on for a specific amount of time on a short-circuit that's usually less that 2 miles. The juniors raced for 45 minutes in a pedal to the metal race that averaged almost 28 mp/h!
Walters dropped off the back early in the race due to his worsening condition, leaving his three junior teammates to bring a solid finish home for Jesuit.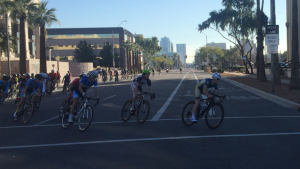 Both Evan Bausbacher '17 and Jake Ingram '17 broke away from the pack to make their own solo breakaways, but the dominant team, which was called Team Lux, sponsored by Specialized, would always pull them back in.
The race remained relatively tranquil for a crit, with few crashes for the first 35 minutes, but then once there was only 4 laps to go, the race got crazy.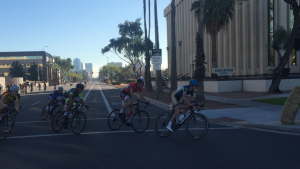 On the second corner, Ingram managed to make 10 riders behind him crash without actually falling down himself, which is a miracle for him, but he was unable to finish the race due to a mechanical malfunction with his bike. On the next lap, about 15 riders went barreling into the first corner too hard and there was a major pile up, including very Jesuit's own Evan Bausbacher '17 who luckily escaped with just scrapes and bruises. Just two corners later, another crash took out another 10 riders, one of whom Coach Armstrong helped up and before having blood gush all over him! Even with all this carnage, the Roundup's very own Thomas Whitaker '17 managed to stay upright and navigate through the wreckage to finish the race in the top 20. Whitaker called his bike "death proof" because he has impossibly avoided crash after crash on it and doesn't plan on crashing anytime soon. Teammate Evan Bausbacher '17, who also 'coaches' Whitaker, said that he's "very proud of his growth in the past months," with visible improvements such as a 30 watt increase in functional threshold power (the maximum amount of power that one can hold for 1 hour). And Scala decided not to race the criterium due to his injured wrist, as the "risk far outweighed the reward," in his own words. Then the team hurried back to pack their bags and get on their flight back home to D-Town, feeling content with their weekend of racing.
Stay tuned to the Roundup for more coverage of Jesuit cycling's 2015-16 season!