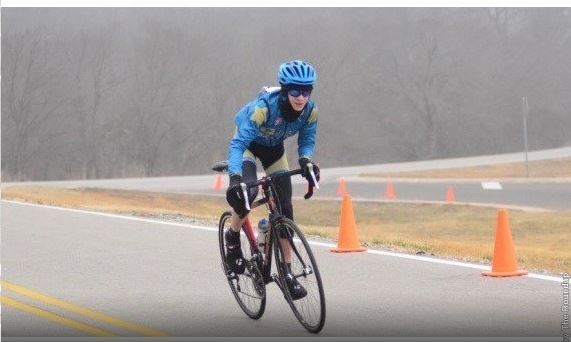 The crowd goes wild, cheering in deep downtown Houston. The bikes whiz by at speeds comparable to a car. They fly through the urban streets in a tight pack enjoying the beautiful Texas day. Jesuit cyclists weave through the bunch in the last race of the season.
On the weekend of May 2nd, Jesuit cycling traveled down to Houston, Texas to finish off this year's scholastic season with a road race. While in the area, they attended the Houston Grand Criterium, a race in the middle of downtown Houston.
Reflecting on the scholastic season, Jake Ingram '17 commented that "it's not the last race we're doing for the year, but yeah, we expected a good season and we got it." He added that the whole team "was on good form" and everyone "played a role in helping each other get stronger."
"Hugo Scala '16 did pretty outstanding work by commanding the group with his Cat 2 knowledge," Jake said, referring to Hugo's high skill and rank within the racing community. "There were a lot of team tactics involved, Hugo told us what to do and we did it."
Jesuit also took home the series win: "We won the high school cycling league overall series again, just like we did last year" added Jake. "The overall season was great, Evan Bausbacher '17 finished first in the overall Varsity series and I finished third," highlighting just some of the accomplishments of the Jesuit riders.
"The Houston race was a lot of fun" remarked Sam Olden '17, looking back on the event. Commenting on the camaraderie, he added, "It was a great team experience because of the racing and team bonding."
"In the Junior Varsity race on Sunday in Cold Springs, Jesuit swept the podium," Sam said. Although he didn't do well in the race, "I was personally impressed because I won the state JV competition."
"The JV and Varsity teams had great strategy and technique," he reflected on the team as a whole. Sam added, "But the novice team needs improvement, and are still learning, and this was a great learning time for them."
Ending with a comment on the team's successes for the season, Sam recounted, "Jesuit took home the state awards for all three divisions: novice, JV, and varsity." Sam concluded that "the season was overall outstanding and I'm looking forward to next year."