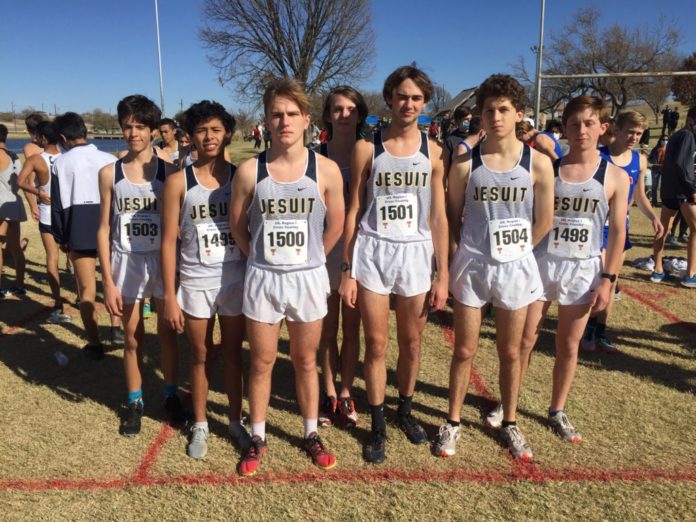 Last November, Jesuit's cross country team capped off their season by placing 9th at the Regionals meet. The team has exhibited great performances all year, but could not continue their season further. This was Jesuit's most recent meet at Regionals in three years, ending the season on a positive note.
Regionals Result
Firstly, Senior Kyle Kassen finished finished 42nd with a 17:09.40 time, being Jesuit's top runner. Furthermore, Junior Enrique Borrego ran with a 17:11.30 time, placing 45th overall. Senior Henry Domine placed 57th with a 17:32.0 time. Sophomore Ben McKinney finished the race at 73rd place with a 17:52.40 time.
Questions with Coach Robinson
How did you feel Jesuit wrapped up their season?
"Going into the final weeks of the season, I felt really good about the direction of our team.  Both Varsity and JV teams were performing at a high level–winning the final two meets going into district.  Likewise, Pearce HS was competing very well. At the District Championships, we didn't run to form and finished 2nd to Pearce. Despite the off performance, our team still qualified for the Regional Championships in Lubbock. At Regionals our inexperience showed and we didn't run according to plan; however, our guys gave their best efforts that day and never stopped competing."
How was this year different from previous years?
"I'm extremely proud of this year's team. They faced challenges unlike any other team of previous years has faced—a pandemic, illness, practice restrictions, competition limits. Yet, they battled through these obstacles and competed at a championship level every week.  Grateful for our senior leaders: Carter Williams, Kyle Kassen, and Henry Domine. They not only led our team in competition, but they also led by showing up and putting in the work it takes to be the best you can be. That's a great life lesson."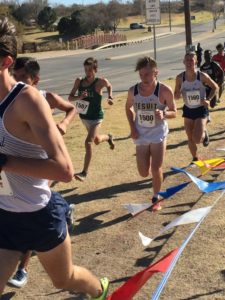 What did the runners think?
How did you think the team performed this season? How do you think you performed this season?
Sophomore Ben McKinney:
"1. The team overall had a great season. With JV athletes improving times from week to week and Varsity athletes stepping up to the challenge of difficult races. With Varsity especially, we made it to regionals as a team for the first time in 4 years and it was an amazing experience even with a relatively lower performance than expected. 2. Personally I made large improvements throughout the year. Moving to Varsity from being JV the previous year, dropping my race time under 18:00 to end at 17:21, placing near the top ten consistently across seasonal meets, and I had the opportunity to continue to prove myself as an athlete and as a representative of Jesuit's cross country team."
Junior Enrique Borrego:
"I think the team performed really good throughout the season especially for having to adapt to a different type of race schedule and practice. Every week the team went out to compete not knowing if it was our last race of the season. I thought I personally could have performed better, but I'm just glad I was able to have a season and compete with the team."
Final Thoughts
With a year of chaos and uncertainty, the Jesuit Cross Country team managed to prevail and triumph their way through the season. May they perform even better next year.
Tune in to The Roundup for more news on Jesuit's track and cross country teams!