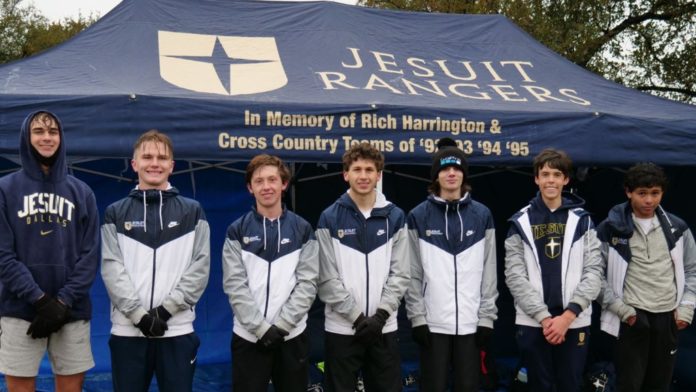 Well, hey! I'm here to answer the question in the title!
In all seriousness, the Jesuit cross country team advanced to the UIL Regional I-6A Championship, coming out with a very solid second-place finish in the District 7-6A meet. Furthermore, they finished in second by persevering through rough weather conditions. Yes, I'm fully aware that the cross country season did not end with this meet and that there were other meets that took place after this one. You can say this piece is late, which it is. And, not to mention, this is my first cross country article ever. So maybe cut me a little bit of slack. So anyway, you're probably wondering, "How did Jesuit do in this meet?" Well, let's get down to it.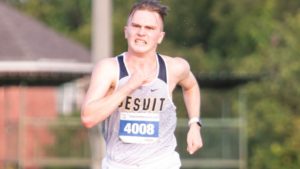 Key Performers
Several members of the cross country team performed well in this particular meet, starting with senior Henry Domine. Domine finished with an overall time of 16:50.27. An impressive feat that put himself on the list of just three runners that finished in under 17 minutes.
Jesuit's second-highest scorer overall was senior Kyle Kassen, a personal friend of mine, who crossed the line with a time of 17:11.04, not quite under the 17-minute mark like Domine, but still an extremely impressive time nonetheless.
Junior Enrique Borrego ran a total time of 17:27.39, which slotted him in at ninth place overall and he was the third-best runner for the Rangers during that meet. This is an excellent achievement for him, as his consistency as a runner brings joy and enthusiasm to the team.
Junior Ben McKinney finished with a time of 17:55.98, putting him in 13th place overall, and sophomore Jack Betz and junior Brody Pawsat rounded out the meet for Jesuit, finishing with times of 18:25.92 and 18:57.97 respectively.
Jesuit made impressive strides, especially in lackluster weather. Jesuit would go on to run at the UIL Regional I-6A Championship meets that took place in Lubbock, Texas, so the guys who chose to go up there got to spend two days in the sprawling metropolis that is Lubbock! Yay…
My Thoughts
Yeah, okay, I don't know a lot about cross country and running. But, I'll give it a shot. In my view, this was an excellent performance for the Rangers overall. The team was spurred on by solid performances from the two seniors Domine and Kassen. Borrego's consistent running didn't really surprise a lot of people, as he brings a steady presence to the team. Regardless of how the Regional I-6A Championship turned out for any member of the Ranger XC team, this meet was one to be proud of whether you're a runner or a coach of the team. In fact, Kyle Kassen '21 commented that "I thought it was a pretty good race. We were hoping for the win against Pearce, but the weather was pretty bad, so we weren't too hard on ourselves about our second-place finish." Even though Jesuit didn't come out on top in this last race, they have to feel good about braving such bad conditions and taking home a second-place finish in the meet.
Well, that's a wrap on my first-ever cross country article. I hope everyone likes it, and stay tuned to The Roundup for more cross country and Jesuit sports news!