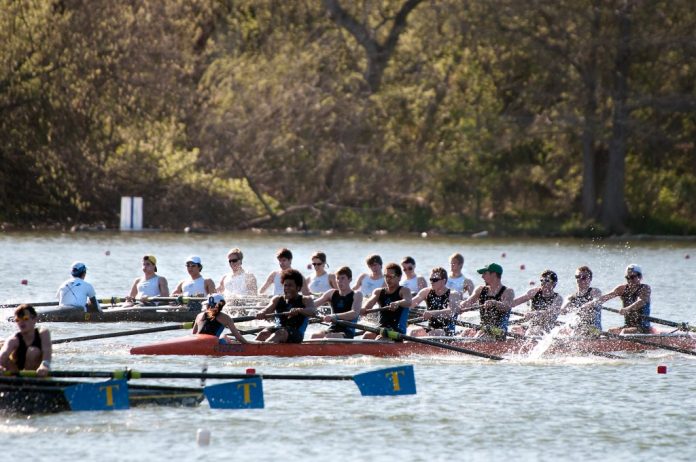 The Crew team returned from Austin last week with heads held high after what can only be called a stunning victory at the Heart of Texas Regatta.  Jesuit showed superiority through its first-place wins in the Varsity 8, the Freshman 4, and the Varsity 4.
Jesuit Crew was also able to pick up a second place in the Varsity 4, complimented by an assortment of medals in the Lightweight 8, Lightweight 4, and Freshman 8. Crew Captain Jack Newman '12 commented that the "race plans were executed very well. Now we just have to train harder and get ready for the spring."
Just what does this mean for the rest of the season? I sat down with Senior Zach Marshall '12 to have a chat about just that.
Bartlett: What did you expect going into this Regatta?
Marshall: We set expectations that we would blow every crew out of the water (no pun intended). We trained hard, and our coach expected us to win by boat lengths. Last year we finished out in second place, and this will be our last year to participate (in the Heart of Texas Regatta). We came back this year to make up for that result. We had to train really, really hard this winter in order to prove to everyone at this race that we were the best.
Bartlett: How pleased were you with the result?

Marshall: We beat everyone in the Varsity 8, and the Varsity 4, both by open lengths. It's the same with the freshmen. At one point in the race, our freshmen's oars were stuck in the water, stopping their boat, but they still pulled out a huge victory. Our Lightweights started out with a little bit of trouble, but after a few races they really stepped up and performed well. We walked away with a few gold medals, and some 2nd place and 3rd place medals.
Bartlett: So what will you take from this race going forward in the season?
Marshall: We have learned not to be complacent with this victory. We still need to train harder and get faster. There are very competitive schools in California we will be facing after spring break that we need to prepare for.