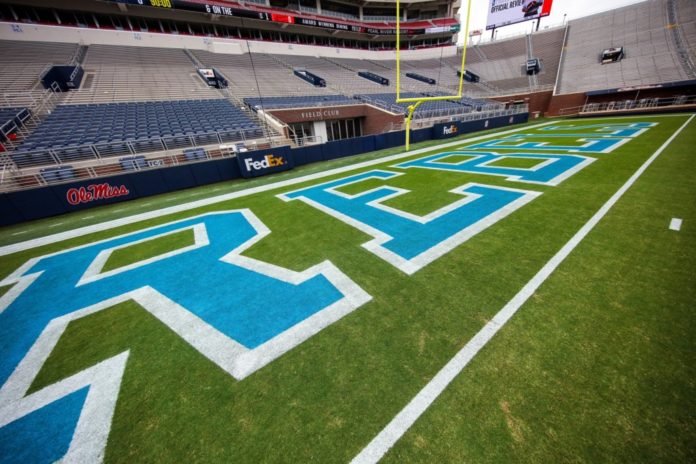 Would I consider myself an avid fan of College Football…mmm sure? Would I go out of my way to watch football all Saturday…mmm probably not. So when I say I would rewatch every game that was played this Saturday (9/26), you know I'm being serious. I don't think I've ever been so excited to watch football this weekend. With the SEC conference games starting, there was going to be some high expectations, and there is no doubt in my mind that everyone's expectations were met if not blown away! In all honesty, just writing this article is making my heart pound just as hard as it was while I watched the following games:
Florida(5) @ Ole Miss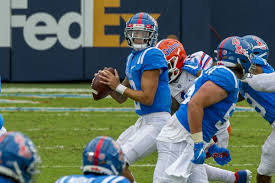 There were some high expectations for Florida this weekend and the Gators surely didn't disappoint playing the Rebels in the Vaught. Although Ole Miss revealed some pretty clean powder-blue unis for this game, it wasn't enough to stop the behemoth of an offensive power Florida. Led by quarterback Kyle Trask, the Gators collected an astounding 642 yards. This was the most offensive yards in school history, passing the 640 offensive yards from the 2001 Mississippi State game. Kyle Trask joined Joe Borrow as the only two quarterbacks to throw six touchdowns in an SEC conference opener.
On the other hand, the Rebels performance was in a sense…disappointing. Being behind the Gators all four quarters, the Rebels were less successful in all aspects of the game. Unlike last year, the new head coach, Lane Kiffen, decided to start quarterback Matt Corral over the electric sophomore John Rhys Plumlee. Hopefully, next week (23) Kentucky will play out better for Lane Kiffen and his Rebels.
Kansas State @Oklahoma(3)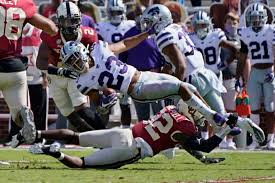 Some call it a miracle, I call it poor offense by a subpar, overrated team. Being the second year in a row an unranked Kansas State beat Oklahoma, it definitely raises some questions over the rationale of Oklahoma's rating. In Oklahoma's defense, they lead the Wildcats for three quarters, even being up 21 points at the end of the 3rd!
That being said, the fourth quarter Oklahoma team was nothing short of abominable. Not being able to score for the entire fourth and the supposed "Next Heisman Quarterback" Spenser Rattler throwing a total of 3 interceptions, any true Sooners fan must've looked away in disgust. As a Longhorns fan, I have to admit that I was more than giddy to see the sorry Sooners lose- once again- to a less than impressive opponent. Knowing the audacity of the ranking board, though, this embarrassing loss will probably have no effect on the long term outcome of this Oklahoma team.
Mississippi State @ LSU(6)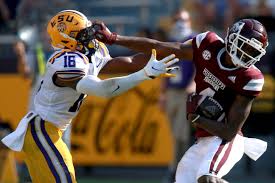 Someone better call Joe Borrow because Baton Rouge is struggling without him. Unlike his Egg Bowl rival, Mississippi State's new head coach, Mike Leach, flexed his proven "Air Raid" offensive prowess this Saturday against the tigers. In a stunning victory, the unranked Bulldogs upset the title defending LSU tigers away in Louisiana 44-34, making it the first time a defending national champ has lost on an opening day game since 1998. This thrilling game also saw the development of such players as Bulldog quarterback, KJ Costello, setting a single-game SEC record by throwing 623 yards! In all honesty, I don't think the Tigers did that bad, it was just that Mississippi did so good. It will be extremely exciting to see how this new Bulldogs team will hold up in the following weeks!
Texas(8) @ Texas Tech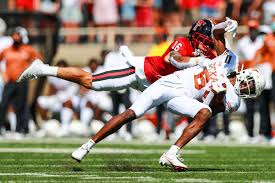 Oh boy, talk about a game of constant ups and downs. Up until halftime, the longhorns were dominating as usual. However, in the third quarter, with the tremendous effort of the Red Raider's QB, Alan Bowman, Texas Tech scored an astounding 21 points! Texas, led by the sensational Sam Ehlinger, refused to go down without a fight, bringing the game into overtime by scoring in the final minutes of the forth. Through fast play and decisive playcalling, the Longhorns were able to swiftly put down the Red Raiders in overtime, ending the game 63-56. Personally, I think this game was beneficial for both teams. Not only did it show Texas can handle adversity and struggle, but it also showed that unranked Texas Tech has the potential to play and compete against the best in the nation.
Weekend Takeaways:
If the games that were played this weekend are any indicator of what the rest of the season holds, we are in luck. From the upsets to broken records and winning streaks, I can't recall any opening weekend quite like this one. All in all, I'm excited!
Stay tuned to The Roundup for more College Football updates!