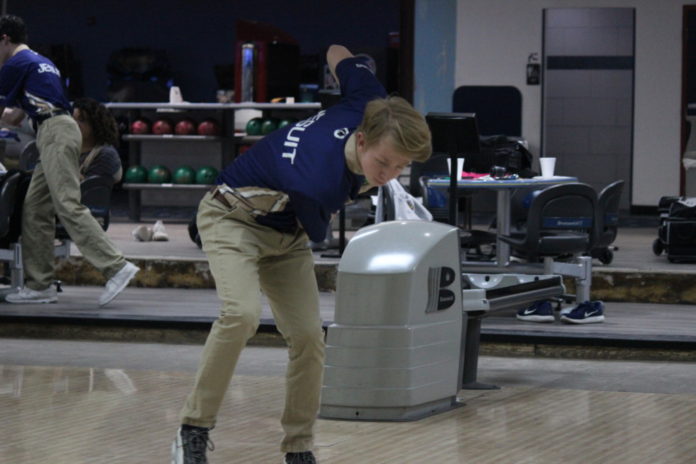 There are no "off days" with the Jesuit bowling team. Every Monday and Wednesday during the school year, they're always on the lanes after school putting in countless hours of work to hone their craft. Then every Tuesday, you can always find the team lifting in the weight room, always staying after to complete a few more reps and add a little more weight to further their physical gains.
This hard work paid off this weekend, as both the Jesuit varsity and JV teams took on Irving Nimitz at AMF Spare Times Lanes Arlington, with both teams rolling away with their first wins of the season.
Varsity
The varsity team won 14-1, winning four of their individual matches and all three of the baker games, as well as capturing the point differentials in both categories. Team captain and The Roundup's own Jack Corrales '20 led the team with a 196 average over both games, as well as a team high 203 pin game in his individual match, winning 387-189. Fellow captain Austin Montpas '19 lost his match 309-450, despite a strong 165 game.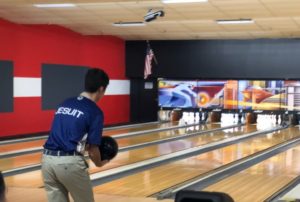 In his first Jesuit bowling match, Hayden Montpas '22 won his match 297-226, with his strongest game at 155. Then, the split match between Jack Holloran '20 and Parker Liening '19 ended with a 232-161 victory. Bryce Clark '19, concluding for the Rangers, won his match 283-228.
Heading into the baker games the Rangers were up 6-1. They proceeded to win all three games with scores of 156-125, 179-143, and 145-144, shutting out Nimitz.
Coach Howell
After thinking about the match, Coach Ken Howell said "the team bowled really well, as whenever we needed a spare or big strike the guys came through."
"The team worked to keep each other's spirits up and this was one of the best team wins we have had in a while," Howell added.
However, there is always room for improvement, as Howell noticed "the team seemed a little nervous with this being our first match, and so getting that out of the way will help us build focus as the year progresses."
Thinking of last year's varsity team, Howell mentioned how "the guys this year are a more focused team, and if they keep that up I see them going far this year."
Austin Montpas
Austin Montpas said that "our individual games were pretty good, and while our overall spare conversion could have been better, we adjusted well to the new environment."
Reflecting over the baker games, Montpas mentioned "The guys bonded together well, even with new additions to the lineup, and being able to win all 3 baker games showed great improvement from last year."
Austin concluded by saying "Considering Nimitz was one of the top teams in the district last year, and that we won 14-1, I believe this team has some amazing potential, and I look forward to see what the rest of the year holds."
Junior Varsity
The JV team also came ready to play against Nimitz, sweeping them with a 15-0 victory. The Nimitz team only had 3 players on their JV squad, leading to a forfeited match, but regardless, the teams played on. Matthew Vincent '20 led the JV with a high 155 game, with the rest of the bowlers averaging around a 120 in their matches.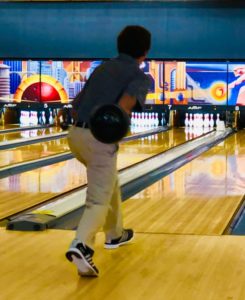 JV Reflection
Matthew Vincent, thinking about the match, said "it was an up and down struggle at the beginning of the match as the oil pattern was very different to what were used to bowling on, but I soon made an adjustment and was able to dial in, bowling a game in the 150s, which is a good 20 pins above my average last year."
Continuing, Vincent mentioned how "the team as a whole performed well considering for most of them it was their first tournament and they posted career highs, bowling over 100."
A stern advocate for improvement, Vincent pointedly noted "There could be major improvements on our baker games as we struggled to convert our spares and seemed to fall apart, struggling to consistently hit over 100."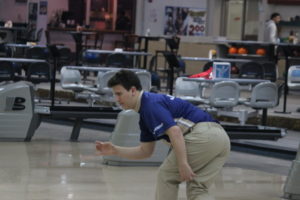 However on a more positive note, Vincent also noticed that "many of the underclassmen showed great strides in their form and skill, and all of them proved to be quick learners."
Concluding his remarks, Vincent stated that "the upperclassmen proved that Coach Howell will have a hard time setting the varsity lineup each week with the large depth the JV team provided, with some JV members out-performing the varsity this week."
With a strong first performance in the books, both Jesuit bowling teams proved they will be forces to be reckoned with and have potential to have a fantastic season. Their next match takes place on November 6th against Flower Mound Marcus at their home alley, USA Bowl, at 6:30 P.M.
Check back to the Roundup for more bowling and other sport news!