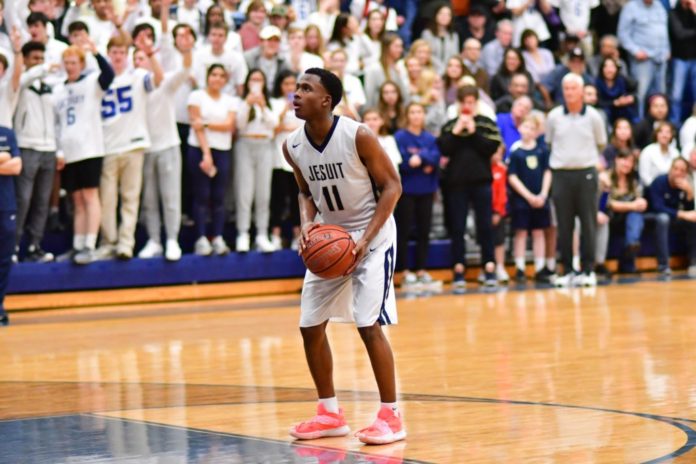 With standing room only, the Jesuit vs. Allen game was bound to be a battle for the ages. This gigantic matchup, including the top teams in UIL District 9-6A, would decide who was the top dog in all of high school hoops.
On Friday, January 25, the Rangers proved that they can go far into the playoffs by thoroughly defeating the Allen Eagles for the second time in the season. With outstanding performances by multiple players, the future looks bright for the Jesuit Basketball Team.
Max Abmas '19 scored a game-high 27 points to help the Rangers defeat the Eagles 77-58. Julius Marble '19 also added on 24 points, going 8 for 9 from the field.
After a somewhat slow start, the Rangers picked up steam in the second quarter and through the second half, fueled by a clutch buzzer beater by Abmas to propel the Rangers to a four point lead at half.
This game also illustrated the giant advantage of playing at home, as the Rangers seem unstoppable at Walsh Gym. Even Ibifiri, a popular filmmaker for high school sports in the Metroplex, commented on the amazing student section of Jesuit:
confirmed. best home court advantage in the state. https://t.co/YCxvOmGmVp

— ibifiri (new account) (@ibifirimp4) January 26, 2019
With all these things going right for the Rangers, it will be very hard to stop them once the postseason arrives.
Stay tuned to The Roundup for more basketball news!