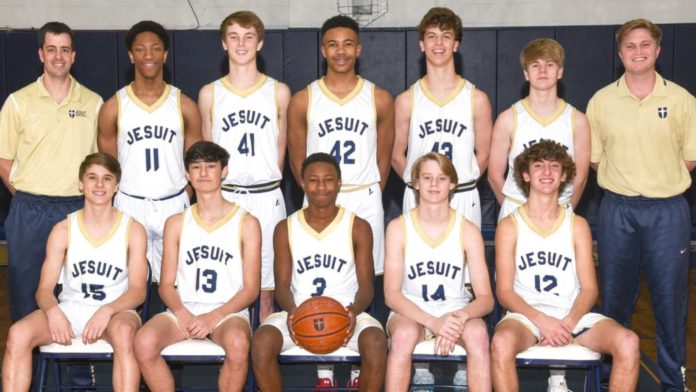 The freshman basketball season recently ended, leaving the two teams with experience and unity. The players, along with their coaches, worked tirelessly, practicing day and night to maximize their potential. Not only did these teams succeed, but they also gained friendships that can be carried throughout their whole lives.
Freshman Gold
This team finished off their season with an astounding win against McKinney Boyd, finishing off a streak of six wins, with a season record with 22 wins and six losses. Starting on November 18, 2019, and ending their season on February 18, 2020, the Freshman Gold team has maintained a consistent win percentage of 78.6% all year long. Working as a team, they were able to finish off their first season playing for Jesuit as a major success.
In the Plano East Tournament, which lasted from November 21 to November 23, 2019, Freshman Gold had a record of 2-1. They won against North Crowley and Frisco Memorial, but lost to Bishop Lynch.
In the Creekview 9th/JV Tournament, which lasted from December 12 to December 14, 2019, Freshman Gold again kept a 2-1 record, winning against Richardson and Creekview, but lost to Prosper.
Finally, in the Jesuit Christmas Tournament, which lasted from December 27 to December 28, Freshman Gold once again succeeded with a 2-1 record, winning against,
Freshman player Charlie Needham '23 stated, "I thought the season brought a ton of growth, not only to me but for our team as a whole. As time went on, we progressed as a unit and took every moment we had to get better. I'm really looking forward to what we can bring to the table for the years to come."
Freshman Blue
This freshman team also performed well in their first season playing for Jesuit. With a 14-10 record, this team succeeded in coming together in their passion for the sport. Starting off their season on November 19, 2019 and ending on February 18, 2020, this team pulled off an impressive 58.3% win percentage. With a home record of 8 wins and 4 losses and an away record of six wins and one loss, the team practiced effortlessly to become the best basketball team possible.
Although this team lost in the Plano East and Mesquite Tournaments, they were able to improve and win against W.T. White in the Jesuit Christmas Tournament.
Freshman Blue Player Zach Asche '23 remarked, "My basketball experience was truly superb. I felt the coaching staff developing my personal skills as a center were exemplary. I personally adored the basketball season, and I will do my best to be a part of the team perennially."
Freshman Blue player Van Alex Ramey '23 also described his experience in his first year of playing for Jesuit. "I felt like it was a very open experience where everyone grew together as players and people. Many times I felt that I turned to my teammates for help just because of the relationships I made on the court. Honestly, the program develops the players in all aspects of life, not just basketball; I am so glad I got to be a part of it."
Conclusion
Basketball is a sport designed for the body and mind. From the physical strength required to the strategies and tactics, only when a person masters both fundamental areas of basketball will a person truly become great at the sport. While working towards this goal, the relationships and bonds that come with it can not only prosper on the court but away from it as well.
Check Back to the Roundup for more coverage of freshman basketball like this!