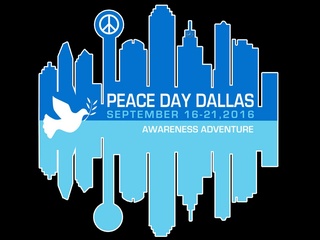 "Lean on me, when you're not strong…"
Jesuit Men's Chorus was strong, however, when they accepted the invitation to sing at The Peace Day Dallas closing ceremonies, an event that took place on The International Day of Peace which has been observed across the world since 1982. Our Men's Chorus performed "Lean On Me" by Bill Withers as their musical offering at the Meyerson.
Background on the Jesuit Men's Chorus
Though the Jesuit Men's Chorus is a bit chaotic at times, the leadership is the finest there is to offer. Mr. Crownover and Ms. Morton keep even the rowdiest chorus freshmen in line. The boys that are in the chorus come either as an actual class in seventh period, or come sometime in the week during lunch. Crownover mentioned, "Despite only having a few weeks to practice leading up to the event, our young men performed at a high musical level and with an infectious spirit of joy." 
Rehearsals for the concert began only 2 weeks in advance on September 6th. The chorus rehearses in separate sections throughout school days and only rehearsed together as a whole during dress rehearsal the day of the concert. On top of preparing for this concert the members of the Men's Chorus also had to prepare for performances at school masses, with the marching band, and at community service projects. Mr. Crownover emphasized that he was "extraordinarily proud" of the way the boys handled the whole situation and pulled out a great performance.
The Day of the Concert
On the day of the concert, the tension was a bit higher than usual. Crazily, the chorus gathered and did a dress rehearsal for the first time all together. As the final bell rang, the boys all gathered once more in the choir hall. The chorus put on their blue ties and got in the zone for the bus ride to downtown Dallas. Everything seemed to ease as the bus pulled to a stop in front of the Meyerson doors.
"It was intimidating at first," Michael Miramontes '18 said, "especially considering the history of professional music that has come before us… We still sang nonetheless, and the grandios[ity] of the setting just added to the experience." 
The Jesuit Men's Chorus set the tone of the whole concert with their stunning performance of the simple, yet meaningful, arrangement of "Lean On Me." Ms. Morton added that "they could not have done better! We are very proud of them."
After Jesuit's jaw dropping performance, there were other arrangements of equally beautiful tunes. For Miramontes, "The Meyerson was a really great experience, as it reminded me that there's more to high school than a hectic schedule, and to enjoy the simple things."
All in all, the Peace Day Performance was a success.