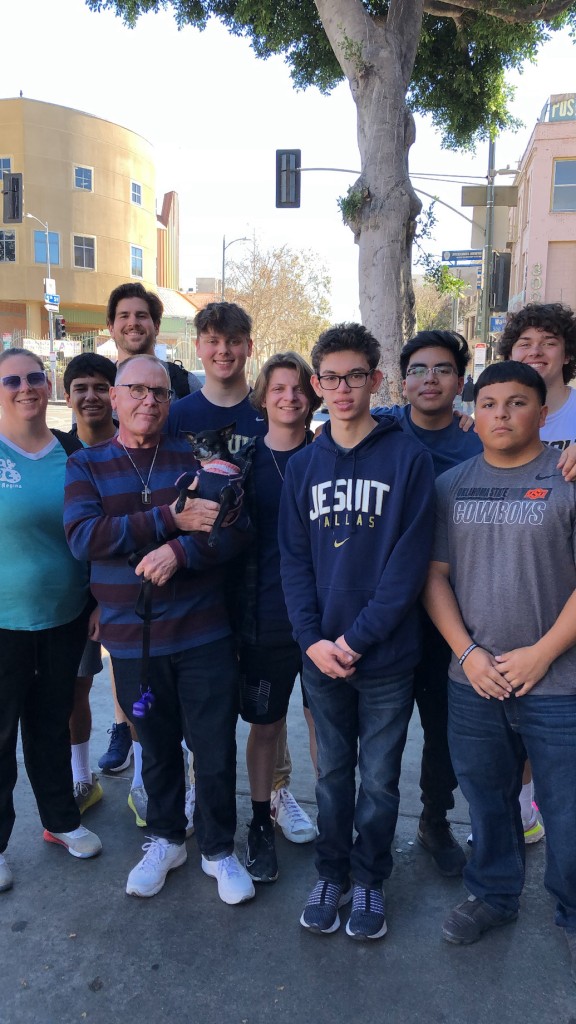 We all stepped out of the LAX airport Thursday morning knowing there was no turning back. We'd be spending the next five days immersing ourselves in the impoverished neighborhood known as Skid Row, serving its community to the best of our abilities. Each member of the team had an idea of what to expect, but none of us were prepared for what was to come.
Homeboy Industries
After getting our rental cars and groceries, we took a few hours to tour Homeboy Industries, a gang rehabilitation center founded by Fr. Greg Boyle, author of Tattoos on the Heart. I was amazed at the different services offered at Homeboy, which included tattoo removal, alcohol, and drug rehab. They also reconnected families, and supplied jobs at their bakery, shop, and café. They aimed to assist those who were once incarcerated or who were gang members to find their path. The eye-opening tour was led by a man who'd been in the Homeboy program for many years, and who now helps those currently in recovery.
After we finished up there, we settled into our condo located in China Town. We walked around, looking at all of the hole-in-the-wall stores, and all the niche shops that embraced the Chinese culture. That night, we discussed what the next day would be like and went to bed with nervous anticipation.
Union Rescue Mission
That Friday morning, we split into two groups. My group consisted of myself, Mrs. Progar, Mr. Eikenberg, Jorge Rios, Jack Giltner, and Anthony Flores. We served at Union Rescue Mission, a place that helps men, women, and children escape the streets of Skid Row through food, shelter, education, counseling, and long-term recovery programs. We prepared and served breakfast, lunch, and dinner to the homeless, and throughout the day got to know the volunteers and some Skid Row residents.
I gained a wide perspective on the different range of people at Skid Row. There are those who are extremely grateful for what they are able to obtain at Union Rescue, those who want to give back by volunteering, and then, unfortunately, those who clearly have given up on themselves. As the day ended, everyone met at the condo and reflected on some of our takeaways.
Tour of Skid Row
On Saturday, we met up with a man named Kevin – an ex-homeless who told us his story. He began his life like many Jesuit students; enrolled in a Catholic middle school with a loving family. But soon he turned his life towards drinking, partying, and other things that plunged his life into a pit. He told us about his journey through recovery, relapsing, and doing it over and over again until he finally became clean.
He now works and lives in Los Angeles and often interacts with those on the streets. He gave us a tour of Skid Row, and to say the least, it is nothing like the homeless population in Dallas. There were people just lying in the road, meandering about without a purpose, living in utter filth. The saddest part is that most of them will die there. Mental illness, addiction, and many other circumstances put and keep them there.
Hippie Kitchen
We also visited the Hippie Kitchen that day, which is a local organization in Skid Row that feeds the homeless daily. It also gives them a place to rest and the ability to get off the streets for a few hours. Something interesting about the staff is that they are quite literal hippies. They are pacifists, who will put their own freedom on the line to do what they believe is right.
Delores Mission
Along with Hippie Kitchen, we visited Delores' Mission. This is a Jesuit church in the Flats of LA. It provides a welcoming environment for those experiencing grief, trauma, homelessness, or any other issues. This organization uniquely grew from within the community, rather than being put in place with one mission. Delores' mission fits the changing needs of the community without aid from the government or the police, making it a beacon of hope within that part of LA.
From there we ate at Yang Chow, a restaurant in Chinatown with phenomenal food and amazing staff. I highly recommend eating there if you ever end up in LA. We reflected that night, and just like the others, got ready for the next.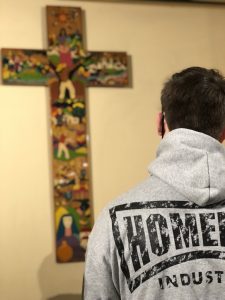 Midnight Mission
On Sunday, the two groups switched service sites. My group now spent the day at Midnight Mission, which is very similar to Union Rescue Mission. However, it's in a rougher spot in Skid Row. For most of my time, I was preparing food in the kitchen, but come dinner it was my time to serve out on the streets. I helped hand out food and drinks to the endless line of homeless people.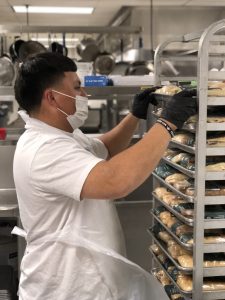 Once again the same spectrum of people came before me; those who are extremely grateful, those who are indifferent to life, mentally ill people, and those who are purely angry at the world. My group experienced gratitude and disrespects; nevertheless, what matters is that we served those who couldn't serve themselves.
That was our last day of service, and we got together that night. Then, we went over the flight times and itinerary, and rather than reflecting with our group, we went by ourselves and reflected.
The Return Home
Monday morning, we cleaned our condo, ate, packed up, and had one last group reflection. Something that stood out to me from that final reflection was that many of those in Skid Row could've started out like you and me. And, they probably weren't much older. Everyone's path is controlled by themselves, and it clearly doesn't take much to spiral down the wrong one, as exhibited by Kevin's story. We took off from the airport around 7 pm LA time and landed around 11 pm Dallas time. We all said our goodbyes and went home.
The Skid Row trip is an amazing experience. The true realities of homelessness and the severity of it outside of our local community was eye-opening to say the least. It's intense and competitive out in the L.A. area, and it's sad to know that many of those in Skid Row will never make it out.
Serving along with CJ Jackson, Jorge Rios, Alejandro Landry, Anthony Flores, Diego Murillo, Jack Giltner, Mrs. Progar, Mr. Riemer, and Mr. Eikenberg was a blessing, and I couldn't have asked for better colleagues. I highly encourage any upcoming seniors to take this opportunity to give back to the community and have this experience.