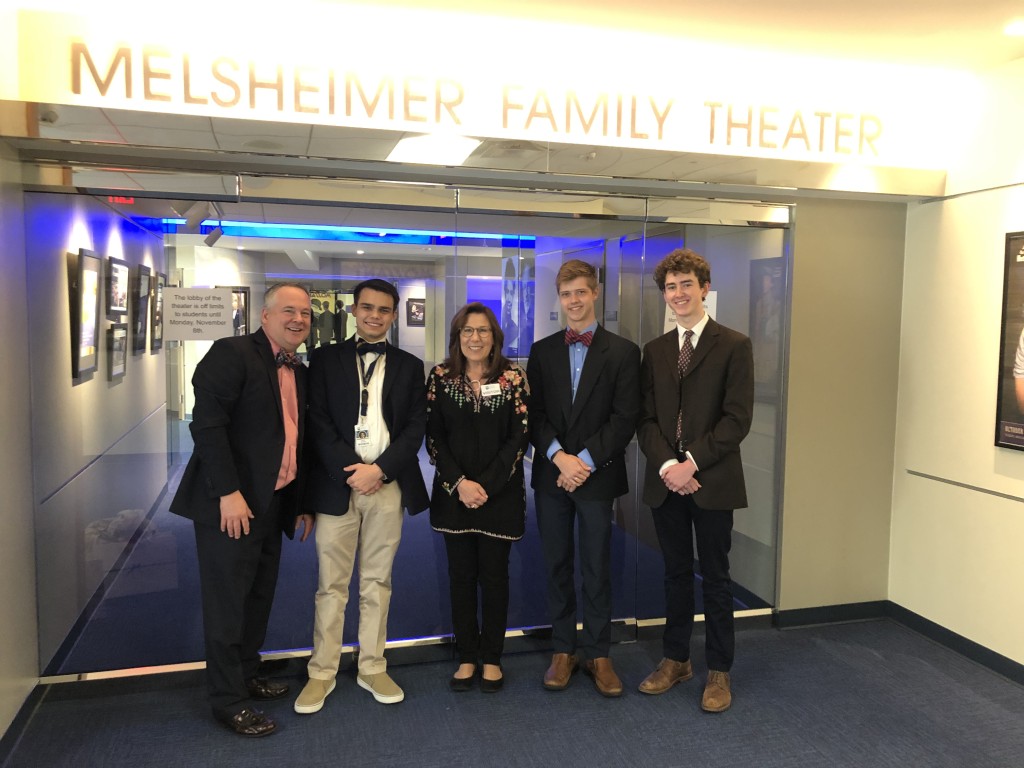 Recently, The Roundup had the privilege to sit down with Mrs. Miki Bone Melsheimer. A teacher, theatre arts pundit, and mother of two Jesuit Dallas alumni, she also inspired the new Melsheimer Family Theatre.
Along with Owen Brown '22 and Nathan Carley '22, two performers in Jesuit Dallas' most recent production, Of Mice and Men, I asked Mrs. Melsheimer about her experience in theatre arts and why she pushed for renovating our theatre.
What sparked your interest in theater arts?
"In school, I attended St. Monica. There was a very lovely woman there by the name of Eleanor Flynn, who sparked my interest in doing speech tournaments and duet acting. It took place all over the city; schools competed against each other. It was a class that started in school, and I loved it."
Out of acting, writing, directing, and producing, what is your favorite role?
"I began as all people do – either onstage or building scenery, then one thing led to another. Over time, I fell in love with directing. I love the analysis, research, and dramaturgy," which is implementing dramatic methods in plays. 
"For instance, Of Mice and Men, doing a deep dive on your background – directing the character analysis for all the characters. Then understanding the author's intent and the time period which the literature first appeared, and taking a look at when it's cropped up, especially pieces that were written long ago.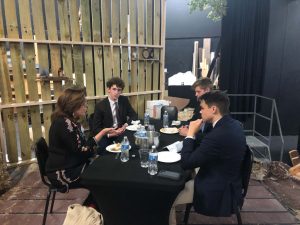 Directing eventually led to producing. You are able to be at the helm of bringing in lots of different artistic designers and directors. My favorite thing is to sit around a table and work with a costume designer, set designer, sound designer, lighting designer, and come to some agreement. It's truly a collaborative art, and you appreciate what the addition of this adds to that moment. When you get to rehearse on stage, the set in place, you appreciate when you can feel the whole sensory experience for the audience. 
My most favorite thing to do is to stand at the back of the audience as both a director and a producer, listening to the exchange between the actors and the audience. That is what makes it magic. That can't happen in a digital form during a pandemic. That's the missing link. If you get to a point when you're directing, stand at the back and listen to the audience and how they're responding; I think that is the most exciting part of it all.
The writing is something that really happened by accident. I haven't written much, but this one little piece I did write ended up taking on a life of its own without me. And it was fun to watch what happened in other people's hands, but I don't consider myself a writer."
What was the process in creating your play Division Avenue?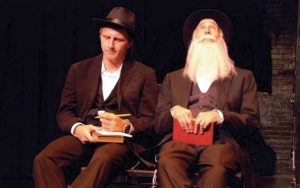 "They say to write about what you know, and that is a play about an Orthodox Jewish leaving the life of orthodoxy behind, and to do that you have to leave your family, your community, and basically come out into the secular world.
That was based on a lot of research, and it really started as a graduate school project; I started taking some classes at UTD because I missed school. The humanities program was a huge eye opener that allowed me to break out of my North Dallas bubble and see other cultures. I do credit that education as it opened my eyes about a lot of things.
I was mentored by a really good professor and was allowed to workshop the play. Since it focuses on Jewish orthodoxy, and I am a Catholic mom, I had to do a lot of research. Every week, I'd have to bring in new writing; it would be read, juried, and I'd throw away some, come back, and write some more. So it was a great learning experience. I developed a great respect for all my editors and have to include my husband for being a really good reader and willing to tell me the truth about what's not working within the script.
Eventually, I decided to start entering into new play-work places and landed on the Midtown International Theater Festival. I didn't have to work hard or long, but it was just one of those things, like I said, that kind of took on a life of its own."
Now that the theatre is complete in all aspects, what are you most excited about?
"It's not the building.
The building is gorgeous, but it's about seeing you guys up here, working together, collaborating, and creating the magic. The building is just a placeholder for you guys to create the magic, the community, the memories, and the life skills. It's learning how to collaborate that you're going to carry on."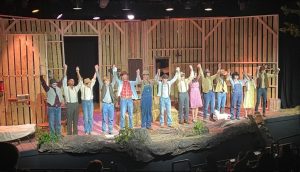 What is your mission in establishing the theatre?
"Education is my big mission" along with "community and bringing people together. And as a career right now, especially through the pandemic, theatre was hit very hard – decimated. It will take years for it to recover. Commercial theatre in New York is starting back, but even that is limping back. If you had extra money to give, you would probably be giving it to the Red Cross or humanitarian things; the arts when it comes to receiving donations are further down the line.
But theatre as an educational vehicle is very important, because it's a different way to do your critical analysis, your character analysis, your dramaturgy, but it's also a collaborative thing, bringing all different talents – some onstage, some backstage, some visual arts – and letting them work on something together. That simple process is something that you repeat time and time again in the work world.
I've taught so many kids who are now lawyers. Some of those people came over to Ursuline to work a little bit, and they make for great teachers. It's a helpful tool – learning how to stand up in front of people. More importantly, I think people should realize it's a great way to teach literature."
If Jesuit Dallas were to produce your favorite plays, what would they be?
"I'll start with some of my favorite playwrights: Molière, who sort of lived on the edges of society. So a lot of his plays are satire making fun of society, sort of how we view how things are viewed, and how people really come off.
Hamlet, Macbeth. There's so many . . . it's like your children. How do you pick?
I love to laugh. Theater is great for sending a message commenting on society, but I do think people like to laugh. So after Of Mice and Men – which is great for this time period – hopefully Jesuit will work in the near future on a comedy that makes people laugh.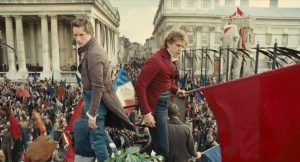 In contemporary work, I also love musicals, so I love Les Misérables.
There is a play that I love called The Immigrant by Mark Harlech. It deals with a Russian Jewish couple coming to the United States and the difficulty which follows. It's a really sweet piece. Anything that has a more universal thing that audiences can identify with, I like."
What would you say in regards to choosing theatre and other performing arts as extracurriculars?
"I am so excited to see that Jesuit has an outlet. Back in the seventies, it was more of a sports school. The arts weren't that big of a deal. What I've loved and watched over the years is the recognition that you can be in the band, you can be in debate, you can be in journalism; there's so many people here with so many different talents. 
For example, teaching stagecraft is a really good idea because someday you'll need to know how to operate power tools. Contrary to woodshop, which has generally been phased out of education, stagecraft has a practical application by enhancing a performance.
And it's also in its own way, just like football is, community building. It brings people together. I would come watch the shows here and I wasn't even watching my kids, but I just liked seeing what they did with the show. It brings people together. But most of all, I think this is where the memories are made."
Conclusion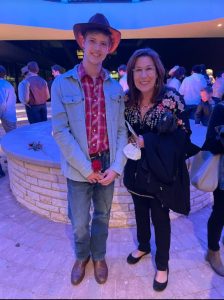 Interviewing Mrs. Melsheimer was a delight and a great opportunity to understand her insight on performing arts. Jesuit Dallas looks forward to seeing how the finished theatre will promote community and academic excellence among its students.
Special thanks to everyone who facilitated this interview, especially Mrs. Melsheimer.