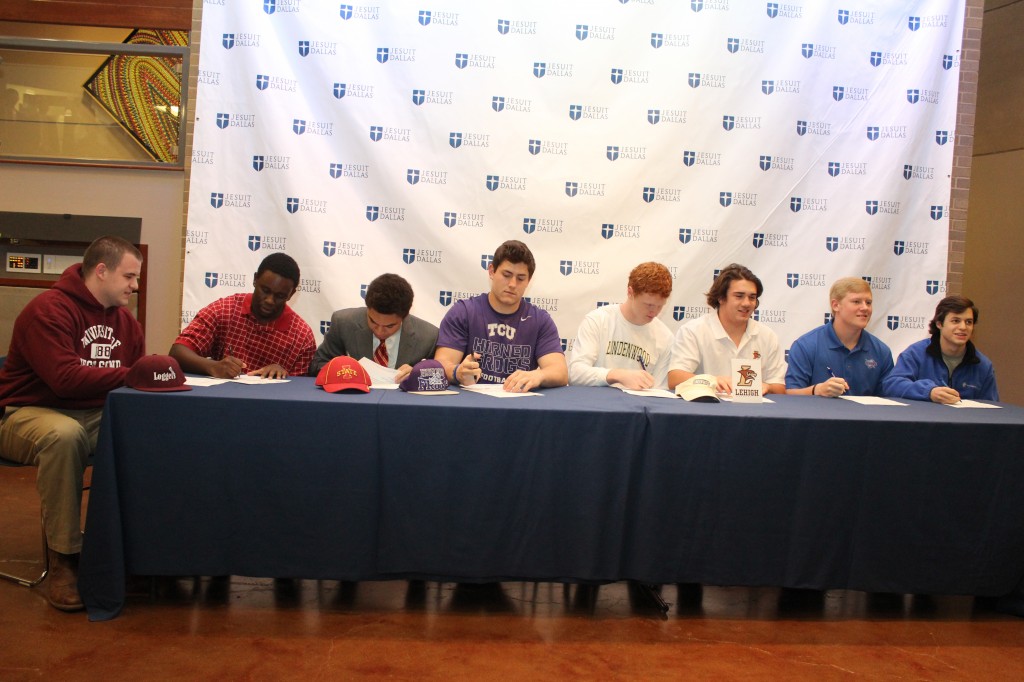 National Signing Day, as it is known in the world of college football, marked the culmination of a lifelong dream for a few of Jesuit's senior gridiron stars, as well as for some of its notable lacrosse athletes. For many athletes who committed this past week, signing a letter of intent to play college athletics was a dream come true. It is a fantasy that implanted itself in their mind when they were children sitting in front of the television and watching player after player put on the hat of their future alma mater. It is an image that paints itself when they are practicing in the backyard with their dad. It is a vision that drives them on the long, blistering days on the practice field under the Texas sun. But finally, on February 5th, that dream, that fantasy, that image, that vision, became a reality.
The signing process provided memories and lessons for those seniors involved, Lee Belland (Lacrosse-Lehigh), Trey Elliot  (Football-TCU), Will Kane (Lacrosse-University of Detroit Mercy), Hank Likes (Lacrosse-Lindenwood University), Jason Myers  (Lacrosse-Washington and Lee), Justin Rotich (Football-St. Joseph's), Orion Salters  (Football-Iowa State) and Jack Summers (Football-University of Puget Sound). 
Wide Receiver Orion Salters, who has played varsity ball since his sophomore year, received the most recruiting scrutiny and speculation of any Jesuit athlete this year.  After his junior season, Iowa State offered Salters a scholarship. Though Salters was excited for the honor, he was "skeptical" as well, for he did not know if he truly wanted to play for Cyclones of Iowa State, so he chose to delay his decision.
Soon after the end of his junior season, Salters  injured his shoulder and needed surgery. Other schools had been recruiting him but showed no interest after the injury, but Iowa State was still interested. After seeing the remarkable loyalty the coaching staff of Iowa State displayed to Salters, he chose to commit. "They stuck with me through the whole thing, which I thought was pretty cool, because they could have easily yanked it like a lot of other [schools] did," said Salters. And if the Cyclones' loyalty did not seal the deal, visiting Iowa State's campus and speaking with current Cyclones football player, and Jesuit alum, J.D. Waggoner, certainly did.
Salters commented that visiting with J.D. "was big … because he [was emphasizing] how great it was" in Ames. According to Salters, the fact that "it felt like a family" was the primary factor in his feeling like Iowa State was "definitely where he wanted to go." Now, having signed, all Salters can do is wait, and he can barely do that. When asked about his future at Iowa State, he described himself as simply being "Ready to go," an understandable sentiment seeing how this has been his dream since he was a young boy. "Ever since I was little, playing Pee Wee football, I've always wanted to go play [Division I] college football … and I'm happy [that] I'm able to."
Lacrosse Defensemen and Long Stick Midfielder Hank Likes has spent the past three years of his Jesuit athletic career going to camps, tournaments, even traveling as far away as Maryland, in hope of receiving recognition from college recruiters. And finally, after playing in a high school all-star game, Likes was approached by a coach from Lindenwood University in St. Charles, Missouri.  After several phone calls, he verbally committed. It was just weeks later, due to the signing day for lacrosse being November 13, that Likes sat down on his couch, surrounded by his family, and officially signed his name to play college lacrosse. "That was really cool because I got to just be with my family," said Likes about signing on his couch. As for his choice to attend Lindenwood near St. Louis, Likes stated that his decision was based on his desire to "represent a Southern school." The Northeast, the epicenter of lacrosse, year after year attracts the nation's top recruits from everywhere from Canada to Texas. And while Likes does not seem to have a particular bone to pick with northeastern lacrosse, he would like to "show that there is still a little something down here and bring more attention" to the South.
Likes does not know what the future holds for him as a collegiate lacrosse player, but he says that he is willing to do whatever it takes to help his team win: "I'm not going to go up there and demand to play … I'll go up there and be a role player if I have to … As long as we win games and get into the tournament, it does not matter to me … I could sit on the bench for four years …I just want to go up there and help win games. If that means that in practice I have to get my butt kicked and have to be a dummy that's fine." 
Likes' Jesuit teammate, Jason Myers, will also play collegiately, but his path was not as direct. "My recruitment process was probably a lot different than most people, considering how it happened," said Myers. "It started basically right after my sophomore year ended. I went to a camp, and then the Naval Academy started to recruit me a little bit. Originally, I thought [the Naval Academy] was where I going to go. Then it ended up not panning out." Things not panning out was something that Myers would become very familiar with, not because of his lack of talent, but because of the way some college coaches conduct their recruitment.
In addition to being recruited by Navy, Myers was recruited by a number of Division I schools, most notably Boston University, Drexel University, Providence College, and Jacksonville University. Myers regularly communicated and eventually visited these universities. Then curiously, after his visit, despite hearing  praise from numerous coaches, they stopped any contact and, if they did respond, it was to tell him that they had filled the spot. "College coaches are not very honest during the recruitment process," commented Myers, but "you kind of have to deal with it" if you want to go on to play collegiately.
Following that disappointing experience with Division I coaches, Myers began, during his senior year, to consider schools he would like to attend for academic purposes, as well as athletic ones. Those schools were Tufts University, Amherst College, and Washington and Lee University, all premier academic institutions.  When Myers' top choice, Washington and Lee, offered him a spot on their team, he committed. After a long bout with less than transparent college recruiters and their programs, on National Signing Day, Myers sat in front of the cameras and smiled, knowing he was going to a quality institution that appreciated him. "It had been a pretty long process and seeing it all come together for that moment was pretty cool."
Football defensive end Justin Rotich was not even recruited until roughly two months before signing day. Not receiving much playing time his junior year, Rotich was not able to gain much attention from college coaches. But having a stellar senior season, in which he anchored a dominant Jesuit defense and after which he was named to the All Region Team, sparked interest from a number of schools. For Rotich, that fact that he was named to the All Region Team played a major role in his recruitment. "For college coaches to see a different name other than someone from [a traditional power, like] Skyline, I feel like that peaked their interest," he said.
After receiving interest from Austin College, Angelo State, and Midwestern State, Rotich ultimately choose to play for the Pumas of St. Joseph's College in Indiana. Rotich decided on St. Joseph's because of its quality "education and the fact that it is a Catholic private school," he commented. "I have gone to Catholic private schools all my life. So going to another Catholic [school enables me to go to as place] … that really fits the ideals that I look for in a school." One of those ideals Rotich values is perseverance. "Don't give up and keep pursuing," said Rotich. "My recruiting started late; I never thought I was going to get recruited after last year, considering I did not play, but I did not give up. I just worked hard over the summer and that's what it comes down to. Hard work."
Whether the athletes that signed on February 5 have been stars their whole lives or just recently caught the eye of collegiate power at be, whether they have had a jagged road to realizing their dream or a smoother one, they, now, can all call themselves collegiate athletes, a title few can claim.