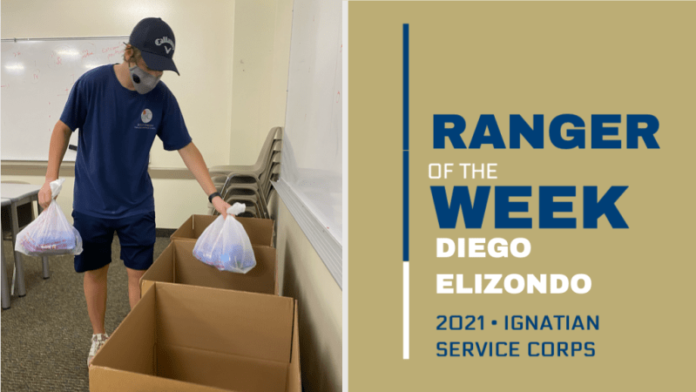 Diego Elizondo, a student leader in our Ignatian Service Corps, has devoted his summer to facilitating our new AIDS Services Supper Club Program. For example, his leadership in online orientations with students, meal kit assembly and communications with student meal teams have taught students to serve with empathy while bringing dignity and healing to the residence at Hillcrest House, the Ewing Community, and Revlon Apartments in Oak Cliff.  Through caring for the most vulnerable, Diego has demonstrated what it means to live his faith in service to others.  Under his leadership, more than 960 meals have been prepared and delivered to our friends and neighbors. Finally, we are deeply grateful for his commitment to engaging his peers in meeting this vital need.
Diego was the Ranger of the Week from Aug. 25 – Sept. 1 2020. 
I was able to conduct an interview with Diego Elizondo to highlight his exceptional work here at Jesuit. To learn more about Diego and his remarkable accomplishments, listen to the audio file attached below. And as always, check back to The Roundup for more coverage of Jesuit student life!