Toto, I've a feeling we're not in Dallas anymore.
At least, it doesn't feel like Dallas after a tornado wrought havoc on the DFW metroplex this past Sunday, October 20.
What Happened
According to Fox 4 News, the National Weather Service has confirmed a total of nine tornadoes hit North Texas on Sunday evening.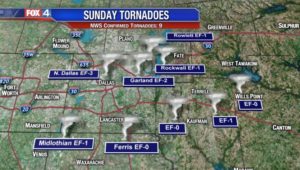 The tornadoes confirmed across the DFW Metroplex include:
EF-3 tornado in North Dallas (Preston-Royal area)
EF-2 in southwest Garland (135 mph winds)
EF-1 in Rockwall (90 mph winds)
EF-1 in Midlothian
EF-1 in Kaufman County
EF-0 in Kaufman County
EF-1 in Rowlett
EZ-0 in Ferris
On the Enhanced Fujita (EF) scale, the strength of these storms translates to the following wind speeds:
EF SCALE
EF Rating
3 Second Gust (mph)
0
65-85
1
86-110
2
111-135
3
136-165
4
166-200
5
Over 200
Tornado Path
The intensity of the tornado ebbed and flowed as it travelled northeast from North Dallas to South Garland, as depicted with the dark orange line in the map below.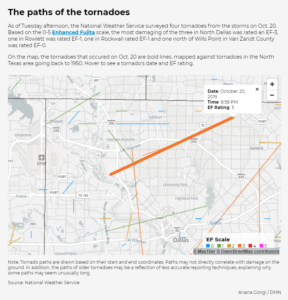 In its path, it completely totaled the Home Depot on Forest and 75.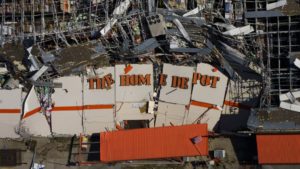 North Dallas Tornado
The EF-3 North Dallas tornado ravaged over nearly 16 miles of North Dallas, destroying 104 homes, businesses, schools, and city buildings, severely damaging another 290, and inflicting minor damage on 500 more. Below is an image of the Preston-Royal shopping center.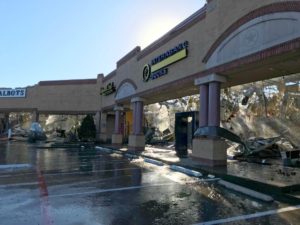 Texas Governor Greg Abbott declared the aftermath of these tornadoes a disaster in 16 counties to expedite recovery efforts to North Texas, disposing state resources to local governments in Dallas, Collin, Rockwall, and Tarrant counties.
Aftermath
Traffic
Though the city has hired outside contractors to help clear storm debris, traffic lights and gas meters across North Dallas remain shut off.
Senior Nick Boyd '20 explains how its affected his commute to and from school:
"I live around 15 minutes south of [Jesuit], near Northwest Highway and Preston. I tried getting to school without the tollway on Monday, and ended up getting caught in traffic for a total of three hours. At that point, I just decided it wasn't worth it and drove back home. Even when I do take the tollway, it takes three time as long to get to and from school every day, which is why I'm glad Jesuit has adjusted their schedule to accommodate the longer commute."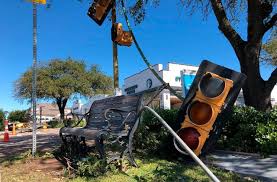 Power Outages
Oncor revealed 16,600 people were still without power as of Tuesday night, a drastic reduction from the 100,000 directly after the storm hit.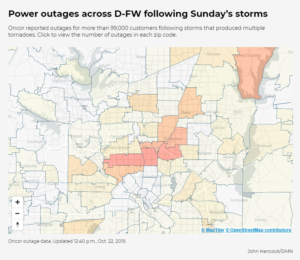 Senior Christian Allocco '20 explained his experience with the outage:
"Our power was out from Sunday night to [Wednesday] morning. By this morning, the food in our fridge had spoiled and the entire house smelled. The water in all of our faucets were cold, which made showering less enjoyable. Being in the dark made doing homework and anything else difficult, but it could've been a lot worse. I'm just grateful it's back on now."
Schools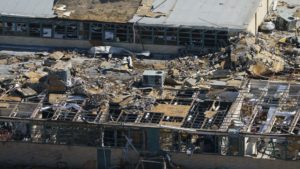 The Dallas ISD canceled Wednesday classes at the following campuses due to power outages:
• Cary Middle School
• Dealey Montessori
• Franklin Middle School
• Hillcrest High School
• Kramer Elementary School
• Jose "Joe" May Elementary School
• Francisco Medrano Middle School
Ursuline Academy is still without power, so its students are doing an remote learning system until power is restored. Ursuline Senior Sholape Fashemo '20 commented on the E-learning experience:
"I think Ursuline's E-learning is a good compromise, considering we can't resume classes until the power comes back on. That being said, I'd equate our online workload to a full day of school. We still have a ton of homework and other assignments due, which is difficult for families without power."
Because St. Marks suffered more severe damage, classes have been cancelled indefinitely.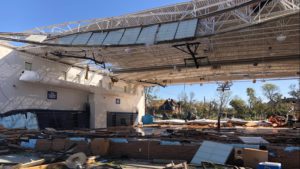 For Jesuit
Many Jesuit families were affected by the storm. Another article in this series will focus exclusively on the horror stories of Jesuit families.
While Jesuit has not taken any time off of school, teachers and administration have been very flexible throughout the recovery process. On Monday, October 21, Jesuit instituted an adjusted schedule to account for the traffic and circumstances surrounding the area just south of Jesuit.
Stay tuned to The Roundup for the second article in the tornado series!
Sources
https://www.fox4news.com/news/nine-tornadoes-confirmed-from-sunday-night-outbreak-across-north-texas
https://www.dallasnews.com/news/weather/2019/10/22/4th-tornado-confirmed-as-power-gets-restored-to-thousands-across-dallas-fort-worth/
https://www.nbcdfw.com/weather/stories/Thousands-Remain-in-the-Dark-Wednesday-School-Cancellations-Continue-After-Tornado-Outbreak-563691571.html
https://www.cbsnews.com/news/tornado-in-dallas-widespread-damage-texas-electricity-outages-radar-schools-closed-today-2019-10-21/
https://www.dallasnews.com/news/weather/2019/10/21/3-tornadoes-tear-through-dallas-leveling-homes-and-leaving-thousands-in-north-texas-without-power/
https://www.nbcdfw.com/weather/stories/North-Texans-Ramp-Up-Cleanup-and-Recovery-Efforts-After-Tornado-Outbreak-563613901.html