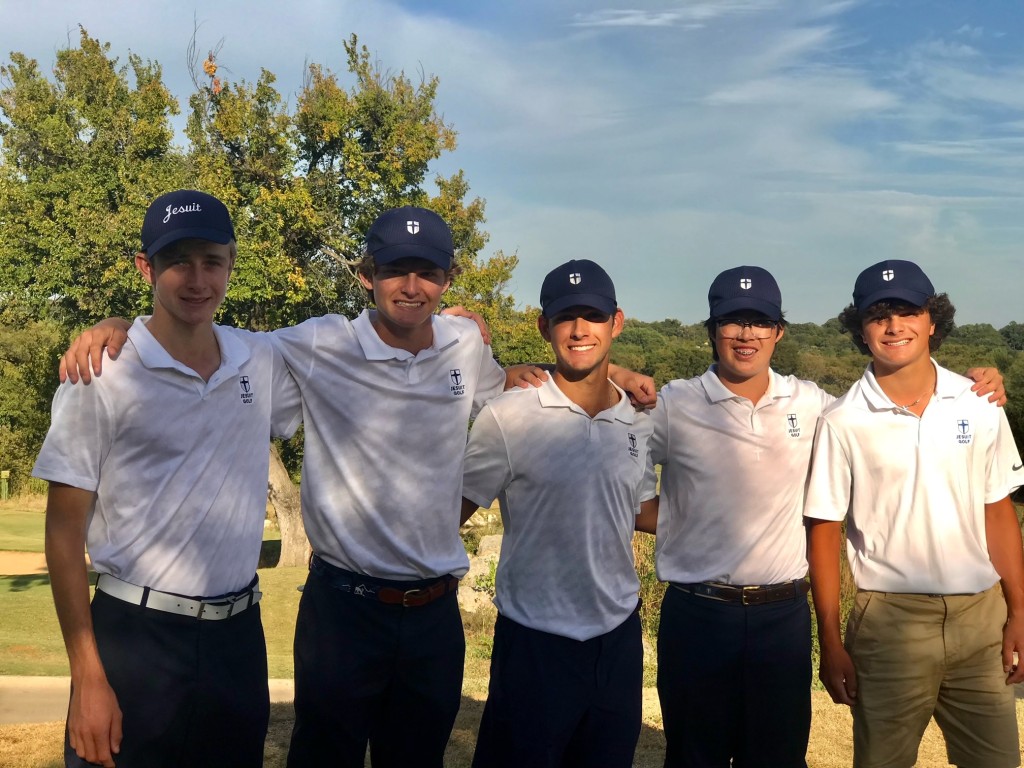 The golfer steadies himself as he readies to swing his club and hit the golf ball into the hole. The tense crowd watches as he patiently practices and readies for the final swing. As the ball swishes through the air, it finally reaches the green, swaying field, and the ball wades through the blades of grass as it finally falls into the hole.
Varsity – Bart Granger Memorial Tournament
This match was played during September 17-18, 2021 at Pecan Valley GC.
Jesuit performed well at this varsity competition, placing 11th in the competition of 26 teams. Their total score was 295/295/296 – 886.
In individual results, Ben DeLaRosa placed 9th with 70/72/67 – 209, AJ Adams place 56th with 78/74/73 – 225, Max Chan placed 68th with 78/74/73 – 225, Reese Roberts placed 102nd with 76/76/78 – 230, and Michael Lohner placed 170th with 84/77/82 – 243.
Varsity – Leopard Invitational
This match was played on September 20, 2021 at Watters Creek GC.
Jesuit performed exceptionally at this varsity competition, placing 2nd in the competition out of 20 teams. The team's total score was 316.
In individual results, Oliver Naumann placed 2nd with 74, Sean Mello in 3rd with 82, Zac Crosby with 82, William Jackson with 85, Hayden Montpas with 86, and Josh Estes with 91.
Junior Varsity – Jaguar Invitational
This match was played on September 22, 2021 at Lake Park GC.
Jesuit placed 1st in the match with a score of 294, defeating the 13 other teams in the competition.
In individual results, Harrison Carter placed 1st with 70, Andrew Reichert 2nd with 71, Nicholas Norris 3rd with 72, Connor Chisum with 76, Tim Sparks with 76, and Tate Williams with 78.
Varsity – Dragon Fall Cup at Waterchase
This match was played on September 22, 2021 in Forth Worth, Texas.
This tournament was in Maxwell format, where the entire team's score is combined and the four lowest scores on each hole makes up the score for that round.
Jesuit's score was 290 and 282 for a combined score of 572.
AJ Adams Interview
I interviewed AJ Adams about how he felt about the tournaments.
He said: "I feel ok about my performance in the tournament and my results, it was an awesome tournament and I was just glad to be a part of it."
When asked about working with teammates, he stated that "It was awesome working with my teammates, we built each other up and whenever one of us had a bad hole or shot, we tried to encourage them."
Finally, after asking how he improved by participating in these tournaments, he noted that "I improved in the tournament by knowing that a good majority of my shots that had bad results were caused by either bad luck or bad course management. I told myself that if I kept doing the same things that my score would improve."
Overall
The Jesuit golf team performed exceptionally well in these opening tournaments and have even more chances in the future to improve and grow together.
Stay tuned to the Roundup for more golf coverage.