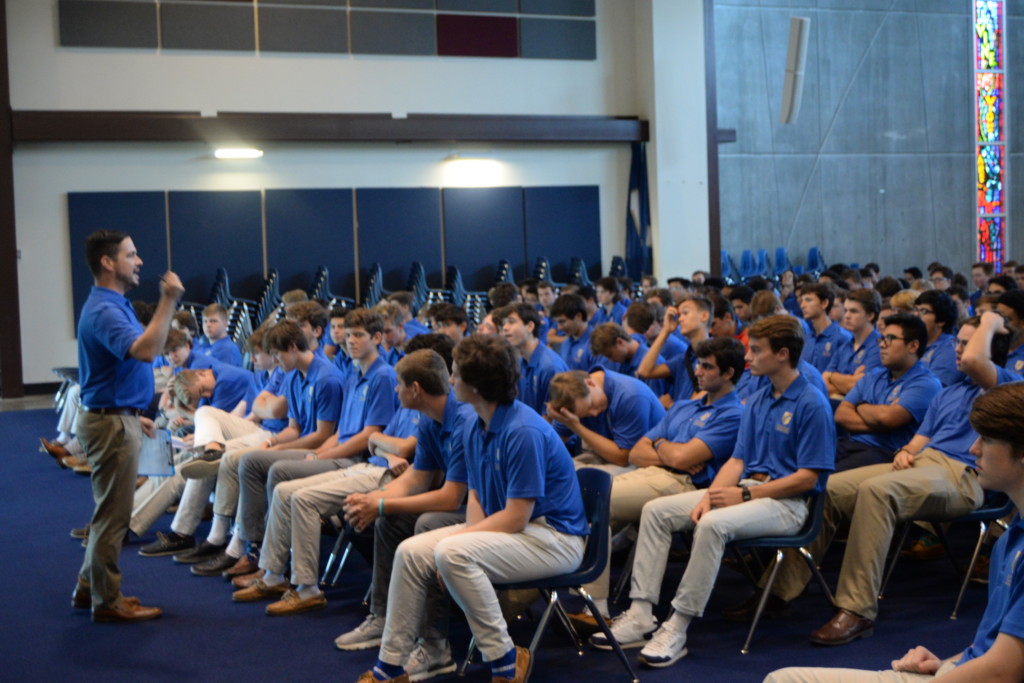 It's Wednesday morning, September 4, and all seniors arrive at Jesuit wearing their blue shirts, dress pants, and dress shoes. Shortly after arriving, they eat a nutritious breakfast to start off their wonderful day, packed with new and enlightening experiences. After finishing their meal, they all put their plates up, clean their table, and proceed to meet in Hughes Hall. Seniors recite their service prayer to prepare themselves for a new experience and leave towards their service site. After arriving at their service site, seniors check-in with the site supervisor and immediately dive into the action. Here are some quotes from seniors about their first week of service.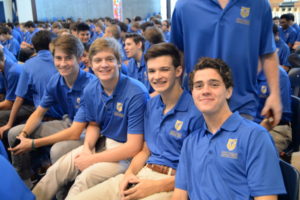 Expectations
At Greenwood Hills Elementary, they focus on spending time in the classroom with children who are mentally challenged by helping them with work, playing games, and just spending time with the kids. Sam Sudderth '20, the service site leader, ardently proclaimed how "[he is] very excited for [his] service experience this year because it puts [him] out of [his] comfort zone a little bit in terms of the service activities [he] usually participate in."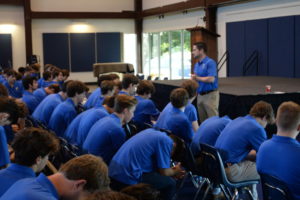 Texas Winds is a different service site where JURB members showcase their instruments and melodically play for the elderly in retirement centers. Ben Rodenbaugh '20, the JURB Brass Captain, passionately proclaimed how "[he is] very excited to be able to bring the joy of music to these people so they can experience what the music can bring to life once again."
At Notre Dame School of Dallas, Jesuit seniors serve little kids with special needs, assisting them in their learning experience and help to prepare them for life after school. Wilson Rasco '20, one of many seniors serving at Notre Dame, jubilantly proclaimed how "[he is] ecstatic to really get started because of how much fun [he has] had getting to know some of these kids prior to the year. [He] truly [loves] working with the children at Notre Dame and [he] can't wait to see what the year has in store!"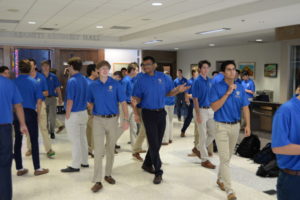 Pet Pals is a service site where Jesuit seniors bring their dogs to retirement communities and a mental illness ward to entertain the elderly. John Victor Corrales '20, the Roundup's Managing Editor, exultantly proclaimed how "while talking to the people, [he] found out how excited the home was for the dogs, and [he is] looking forward to bringing [his] dog next week and introducing the community to Bosco."
Friends place is an adult day-care service for older folks with Alzheimer's, where seniors go serve and attend the needs of the elderly. Joseph Ferri '20, one of the seniors serving at this site, vehemently proclaimed how "[his] first day of service at Friend's Place was great. [He] got to jump right into service and started familiarizing [himself] with the people and place. [He is] looking forward to forming new bonds with those people [he serves] this year"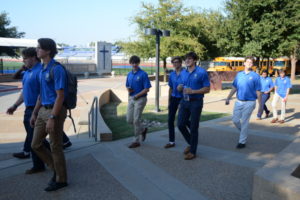 At Chance's Pie and Coffee Shop, seniors manifest their cooking skills and prepare coffees, beverages, and multiple pies for their community. Ryan Boyle '20, one of the few seniors working at this site, excitedly proclaimed how "it's a great way to gain experience in an occupational setting while serving others. Starting September 15th, head on over to support the Shop's mission to provide job training for people with disabilities while 'mastering the art of hospitality'."
Stay tuned to the Roundup for more updates on senior service!