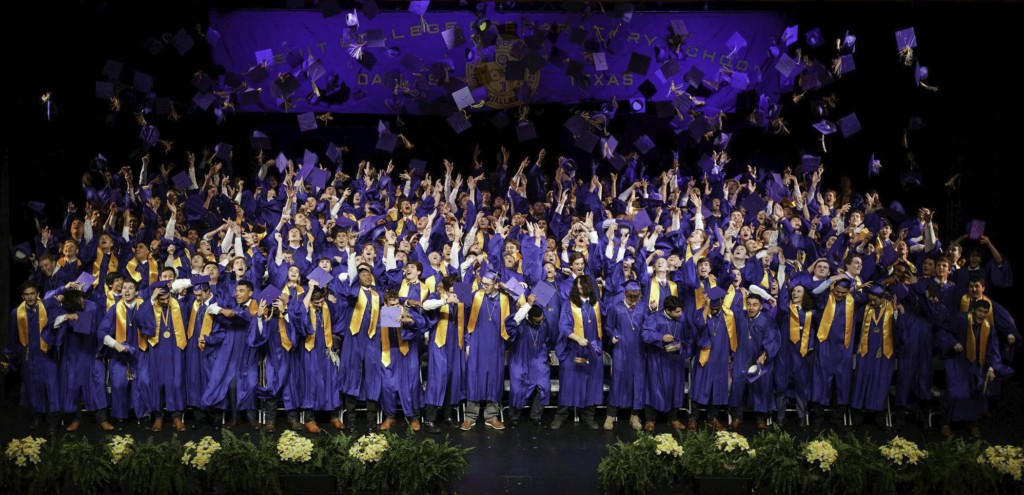 After four years within the Jesuit student body, the class of 2019 prepares to face the next chapter of their lives in college. Taking with them the many talents, lessons, and virtues developed during their time as a Jesuit Ranger, these young men will soon scatter throughout the nation, pursuing each unique vocation with passion and faith. Before they go, the seniors congregate once more to say goodbye to their classmates, teachers, and the school.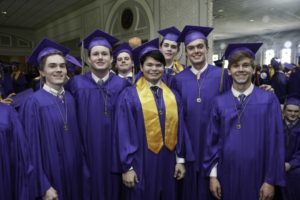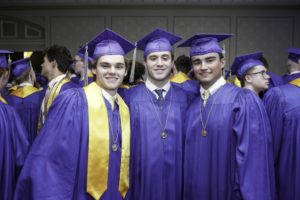 Celebrating the 77th graduating class of Jesuit, the entire community of students, faculty, and parents, joined by The Most Rev. Edward Burns, assembled at McFarlin Auditorium, courtesy of Southern Methodist University. Recognizing seniors for both academic and extracurricular excellence, the event bolstered brotherhood and displayed communal pride in the achievements of the graduates. If you weren't able to make the ceremony in person, check out this link to access the live stream.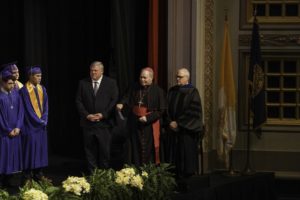 After the procession of the students and teachers, Rev. Burns said a blessing over the seniors. "A day of new beginnings" he called it, his prayer reassured that the occasion did not mark the end of their time as Jesuit Rangers. Instead, he called upon the Holy Spirit to continue to guide the students as they uphold Jesuit's values into the future.
Mr. Garrison, principal of Jesuit, began by introducing the Jesuit faculty, expressing gratitude for their service to the school. "Each of these educators is committed to the Jesuit ideal of the formation of the total student, which is evidenced in their dedication beyond the classroom."
Awards
Honors Recognition
Next, Dr. Kirby, assistant principal of academics, acclaimed eighty seniors as honor roll recipients. These students have excelled in their courses during all four years at Jesuit, maintaining a GPA of eighty-eight or above for each semester.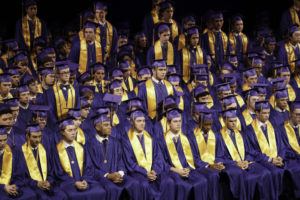 The Honors Program also recognized students that participated in various honors or advanced placement courses each year. These seniors, earning an honors diploma, have upheld a cumulative GPA of ninety or higher, while never receiving a semester grade of below eighty in any of their classes. Congratulations to the following students:
Andrew Brannon          Joseph Buskmiller
Marco Campioli             Ryan Chiang
Kevin Currier               Nicholas Farrell
Stephen Fessenden      Chandler Fong
Max Ford                     Robert Freimuth
William Gasper             Jack Griffiths
Emmet Halm                Matthew Harkness
Nicholas Hernandez      Matthew Herrin
Riler Holcombe            Ethan Jackson
Christopher Jordan       Hector Juarez
Patrick Keyes               Logan Kim
Ryan Knox                   Aidan Koch
Jorge Lopez                 Brennan Louviere
Noah Santoni              Maxwell Schutze
Chase Sims                 Jack Strubel
Ian SymSmith             Christopher Tran
John Weigman             Reed Zimmermann
Scholarships
196 seniors earned scholarships to the various universities of the United States and the United Kingdom, totaling over twenty-seven million dollars.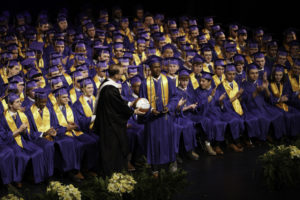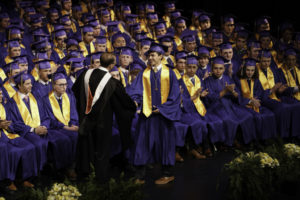 Salutatorian / Valedictorian Reveal
The Salutatorian Award is presented to the graduating senior with the second-highest scholastic average after his four years at Jesuit. The 2019 Salutatorian Award is merited by Emmet Halm, who prepares to attend Harvard University this fall.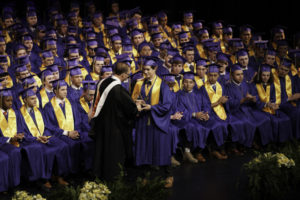 The Valedictorian Award is presented to the graduating senior with the highest scholastic average after his four years at Jesuit. The 2019 Valedictorian Award was given to Kota Ueshima, who will be attending The University of Southern California with a full scholarship.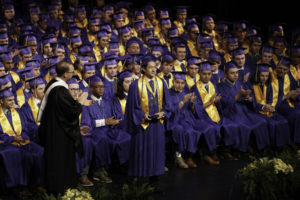 Graduation Speech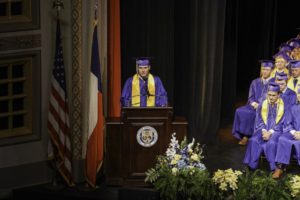 The Bishop Lynch Award, the highest honor for a graduating senior, signifies the student that most embodies the traits of the Jesuit Profile. The particular student meriting this year's Bishop Lynch Award displays his commitment to Jesuit every day, traveling nearly 100 miles roundtrip from his home in North Texas. A four-year member of both the football and wrestling team, he also uses his strength to aid his hometown fire department. He also puts a major emphasis on his faith life, utilizing his gifts to help others by leading class retreats and helping underclassmen finish up homework after school. Moreover, he has earned a place on the honor roll all four years and prepares to continue his academic excellence next year at the United States Naval Academy. The 2019 Bishop Lynch Award is presented to David Reichert! David's graduation speech is 1:21:50 in the livestream, and its transcript can be found below.
Bishop Burns, Mr. Earsing, Mr. Garrison, Reverend Fathers, Faculty, Parents, Guests, and my brothers of the class of 2019…

When giving a speech on an occasion such as this, the temptation for the idealist is to want to change people or touch their hearts. To inspire people to go off and do great things. However, its unlikely my words will have that effect. While Words have power to move people, if Jesuit has shown me anything, it is that they are of little importance when compared to the power of relationships to transform and inspire people. I remember discussing high school options with my parents, and my father exclaiming that I should go to Jesuit because "it's not what you know, it's who you know" He was right. The traditional sense of that quote is more about what people can do for your career, but at Jesuit, I have found that it takes a whole new meaning.

 If you find that my Classmates and friends are of the highest caliber of individual you have come across, know that is a result of many relationships. Had you engaged in the Jesuit experience, and I say experience because it is far more than just an education, it would be impossible to escape having relationships with your brothers, your teachers, coaches, and staff members. If the graduate engaged fully at Jesuit, he couldn't sneak by through the halls, for surely someone would point him out and say hi and give him a high five or maybe a nod. This is because there is an infectious energy throughout our halls and fields that cannot be avoided. It pulls you into relationship, fraternity and comradery. And these relationships are what transform a middle schooler into a man who exhibits the profile of the graduate and is ready to tackle college with finesse and success.

 These traits serve as both a goal, and a guide to spotting Jesuit students. Of course, a rigorous college preparatory school will form their graduates to be intellectually competent, but that's only the first of our school's goals. The Jesuit Graduate is also Religious, Loving, physically fit, committed to working for justice, and open to growth. I would like to focus on two of these characteristics that have a particular importance to me – being Loving and Open to growth.

 We are taught most importantly to be loving at Jesuit. There's a great quote on love from G.K. Chesterton that says, "love is not blind…love is bound". It's not blind, we don't overlook each other's faults. Instead it's bound. I am bound to my brothers. And what that means is that when they see me struggling, or they see a fault in me, they are going to challenge me to be a Jesuit man. They are bound to me and I to them, so we pick each other up and push each other on to success. I remember distinctly a rough day during a football summer workout. We ran sprints. Long sprints and lots of them. If any man failed to stand up and be at the goal line to start, we would run more. Picking each other up took a very literal turn. We physically carried each other to that starting line. No man was left on the ground, we challenged each other, but we were also bound to hold other up until each one of us finished together. Many of us heard about this when Dr. Knize told a story at our senior class breakfast last week when he spoke about his niece pulling the other beside her with a tennis racket. Good leadership, leadership that seeks to inspire others to walk with us side by side, begins with love. Enduring the challenge of these past four years has led me to so many loving relationships, where people did exactly that for me and I was able to do that for others. That is precisely because we struggled as many bound together into one.

I would also like to talk about being open to growth because it is the trait I lacked most entering freshman year and have grown the most in my time at Jesuit. How can you teach someone to be open to growth? For me, being open to growth comes from a humility that acknowledged that I need to change and how I need to change. This happened to me sophomore year, at the very beginning of our JV football season. I seriously injured my shoulder in our second game, and because of that would spend the next eight months recovering and in rehab. I would miss the majority of the football season, and all of my wrestling season. Not only that, but this loss affected me academically when I missed almost a week for the surgery, and then came back to realize I had 8 quizzes and tests to make up, and I was failing three classes. I had all A's freshman year and had great experiences playing football and wrestling, with great expectations for the next season. Now I was failing and couldn't move my left arm for two months. Not only that, but I had to sleep in a recliner for 8 weeks, and because of the pain I couldn't sleep more than a few hours most nights. Yet, I consider that year to be a great one, and potentially my most successful year. I hold this to be true because I was humbled by the experience. I was forced to ask for help in classes from teachers, from my parents, and from coaches. I was pushed out of my prideful comfort zone and into an area where I could actually grow. I learned more that year than any other year of my life. I discovered how to push myself past self-perceived limits and excel in classes under pressure. I learned how to ask for help, when my pride would have rather failed than admit that I couldn't handle my situation. I learned how to rehab a shoulder and work through the frustration and anger an injury brings. It became clear that I was only able to be open to this growth with the realization that unless I change, I could never succeed in the face of life's difficulties.

As Mr. Garrison said, I am often known as the guy who lives very far away, and it's often a cause for the question, why do you drive that far to come to Jesuit? I drive at least an hour each way to get to school. Freshmen year when I couldn't drive, my parents made that 51 mile drive up to four times in a day when carpool didn't work out. Why did I spend so much time and energy just getting to school? I hope that today I have explained just why I did that, and why every second I spent in my truck rather than my bed was worth it. Every second. And so I need to thank all the people who made this experience worth that drive and much more. I believe I speak for the class of 2019 in saying thank you.

First to the staff who work tirelessly behind the scenes. Those who do the little tasks that make this school run, thank you. Next to the teachers and faculty who helped to form me and my brothers in a direct way, and who formed the relationships that made us the men we are today, thank you. To my family, especially my Aunt Laura, My great-Grandparents, Mamo and Papa, and both of my parents who have made significant sacrifices to make it possible for me to attend Jesuit, thank you. And finally, to my brothers, who pushed me to perform to the best of my ability through encouragement, and then helped me to endure through humor and friendship and love throughout every single day I have attended Jesuit, Thank you, and congratulations to the class of 2019.
Senior Sentiment
The graduation ceremony can be daunting, mixed emotions surfacing while students reflect on their Jesuit experience. "Sitting up on that stage with your class one last time really puts the last four years into perspective. All the late nights and after school reviews were for this moment, and it was one I'll never forget," said Witt Chambers '19.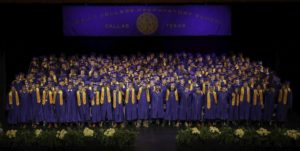 At the end of the event, the seniors locked arms once again, singing the Jesuit Alma Mater for the final time as a class. Collin Kenny '19 commented: "Seeing all our caps fly into the air as the curtains closed, our final Jesuit experience made me realize how much this school has meant to me and how much I love my brothers.
Afterward, students, faculty, family, and friends conversed outdoors, theology teacher Mr. DuRoss noting the comfortable atmosphere. "The weather outside after graduation was the nicest it's been in ten years which allowed people to gather and chat afterward."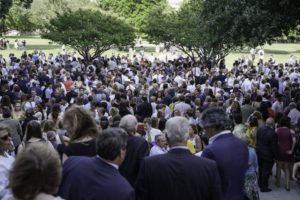 Conclusion
Altogether, the 2019 graduation was a huge success, leaving the community proud and the students satisfied. "Graduation was the perfect experience to cap off my time at Jesuit," said Will Roberts '19.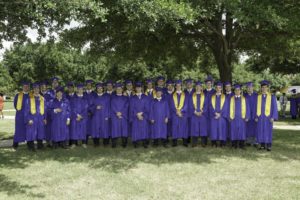 Following four years of bonding and communal growth, the seniors cherished their class pride and pondered a promising future. Michael Musso '19 shared, "The graduation ceremony was a great way to close out our time together at Jesuit, but we know our brotherhood will continue on for life."
The Roundup and the entire Jesuit community wish the graduating seniors the best of luck as they dive into the next stage of their lives. #OnceARangerAlwaysARanger
Sure the seniors deserve lots of love, but let's not forget about our underclassmen! Stay tuned to The Roundup for upcoming news about events, immersion trips, and more.