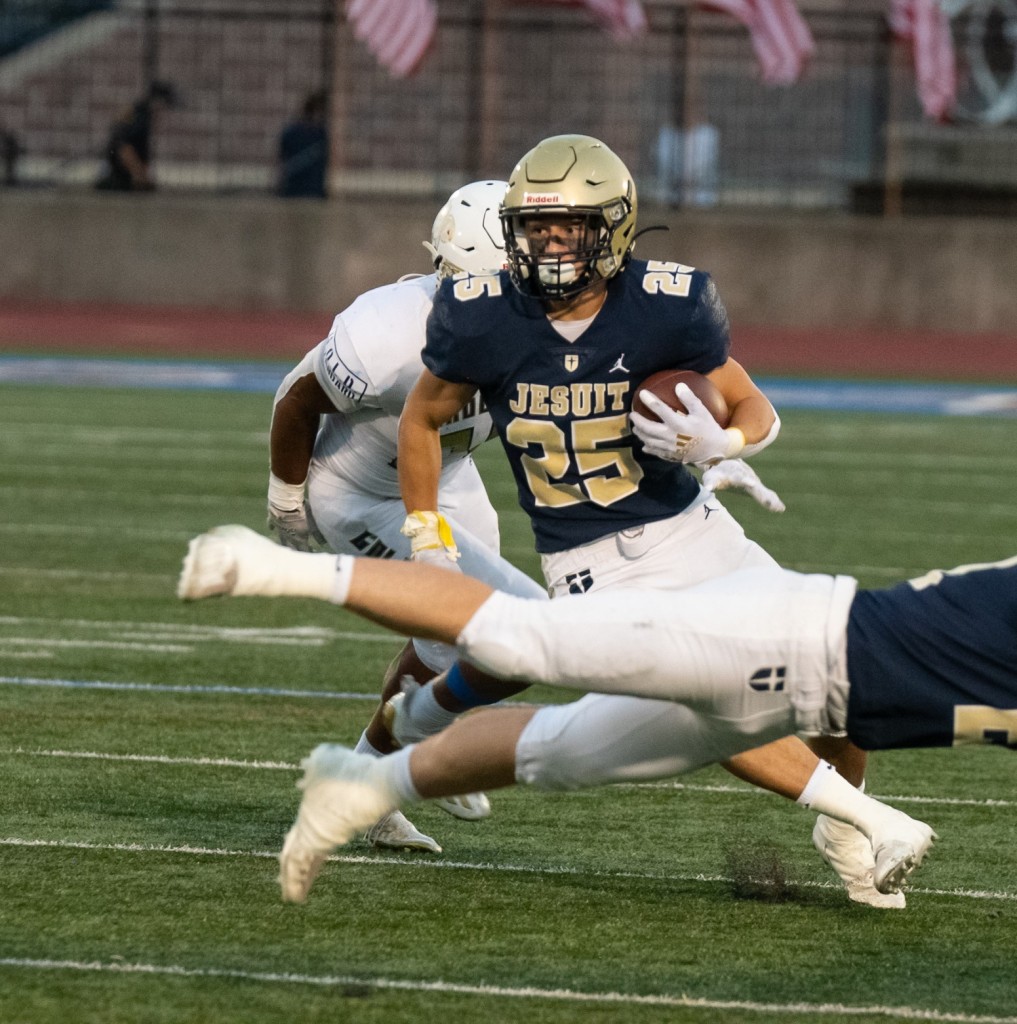 Jesuit came into one of the most anticipated games of the season fresh off a dominant win over JJ Pearce and they were looking to move to 2-0 in district play with a hugely important win over a talented Lake Highlands team. And while the first half did not get off to the greatest of starts, as the Rangers fell behind early and struggled to match Lake Highlands' high-powered offense, Jesuit regrouped and managed to trim the lead heading into the halftime break. But hey, I'm explaining too much in the intro paragraph, let's get into the actual recap.
First Half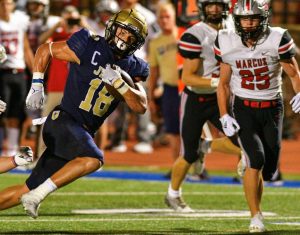 As I stated, the Rangers' first half did not get off to a fantastic start, as LH quickly launched a 49-yard touchdown bomb over the top of the Jesuit secondary to take a quick 7-0 lead. And after Gage Roy '22 and company could not answer offensively, the Wildcats marched down the field and got to Jesuit's 23-yard line, and they promptly ran it in for a 23-yard touchdown scamper to increase their lead. However, Jesuit finally got a chance to respond and took it, as Robert Fitzgerald '22 ran it in from 3 yards out and Cade Jordan '22 capped it off with the PAT kick, cutting the lead to 14-7.
However, Lake Highlands stormed right back down the field and tacked on their second rushing touchdown of the first quarter, and they took a 21-7 lead heading into the second quarter. Jesuit came out with a bang in the second, however, as Roy hit Cameron Martin '23 for a 29-yard touchdown to cut the lead down to seven again. However, Lake Highlands struck back not once but twice in a row, as they added a field goal and another touchdown to their total, taking a 31-14 lead and leaving Jesuit scrambling to get back in the game with about a minute left in the half. However, Roy executed a masterful two-minute drill and managed to hit his star receiver Hunter Krepp '22 for a late TD to cut the lead to ten heading into the half.
Second Half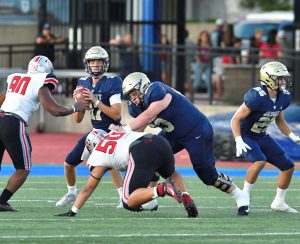 The second half was stuffed chock-full of action, as the teams traded blows back and forth to make way for an electrifying finish. Right out of the gate, Cameron Martin caught a 20-yard touchdown pass from Roy to cut the Wildcats' lead to three. And after LH could not respond on offense, the Rangers drove down the field again and Fitzgerald jammed it down the defense's throats for a 1-yard touchdown run to give Jesuit the lead.
Eventually, Lake Highlands took it right back to end the third, as they connected on a 31-yard touchdown pass to retake a three-point lead heading into the final quarter. Jesuit received the ball to start the quarter after the late LH touchdown, and Fitzgerald continued his dominance, hauling in a 14-yard touchdown pass from Roy to help the Rangers retake the lead. However, the Wildcats struck right back, as a long 52-yard bomb for a TD helped them retake the lead right back. However, from there, it was all Jesuit, as Robert Fitzgerald activated another level of dominance in the final two minutes, first with a 13-yard touchdown run that gave Jesuit the lead yet again and then with a late interception that iced the game away for the Rangers.
My Thoughts
Great win for the Rangers. A massively anticipated and hyped-up showdown like this one deserves all the scoring and highlights it can get, and it certainly lived up to the hype this time around. And also, while I'm still on the topic of Robert Fitzgerald, he absolutely demolished the defense of Lake Highlands, rushing for a ridiculous 159 yards and three rushing touchdowns, and not to mention his only caught pass for the night was a key touchdown late in the fourth. I'm not super jazzed about the defense's little….habit….of giving up a ton of points in nearly all their games. Like I said in the Marcus piece, this D can't make the bet of giving up 40-50 points every week and expecting their offense to keep up blow for blow every time.
However, I was impressed by their ability to make big plays when it mattered the most, judging by Fitzgerald's late INT that sealed the game for Jesuit and Matt Craycraft '22's huge third-down sack in the third quarter that eventually led to a go-ahead score that ended up being Jesuit's first lead all game. I'm starting to think that our games are almost always going to be high-scoring shootouts, because, remember, this is Texas high school football, that's kind of how it works. So the defense gets kind of a pass, but it can't be overlooked that they made several big plays when they needed to and that's what matters in the end. And for the offense I have virtually zero complaints, so, I'll leave that there.
That's all for this piece, but stay tuned to The Roundup for more Jesuit football and sports news!