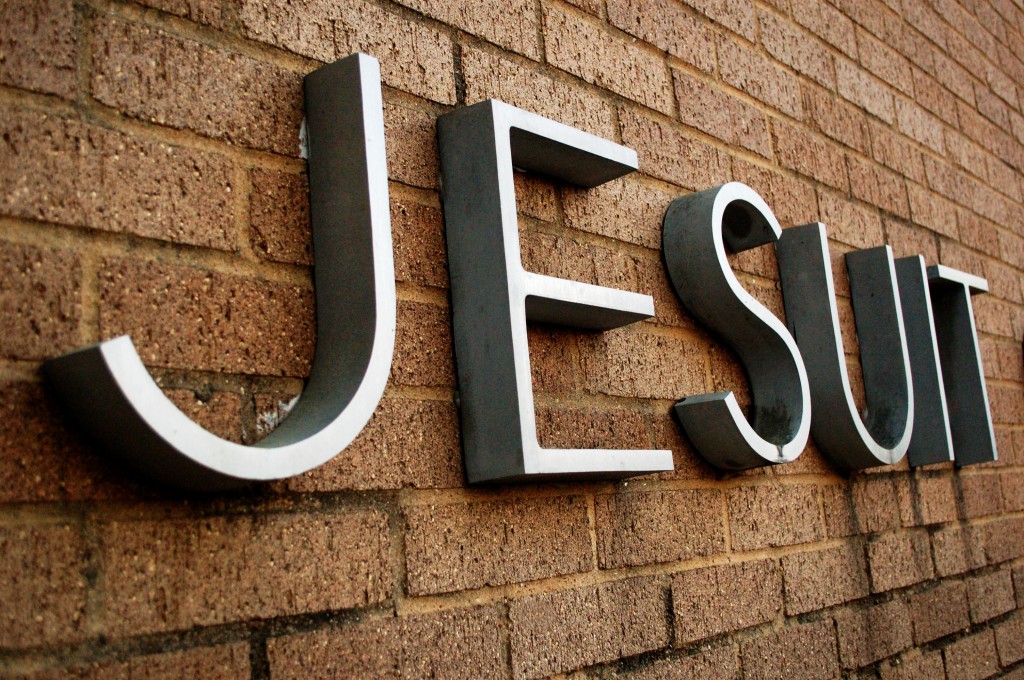 This past Wednesday, September 2, The Roundup held the first news conference with Mr. Garrison and Mrs. Williams for the new school year. This one was especially unique as new Assistant Principal Michelle Williams was interviewed as well. In this long conference, Garrison and Williams spoke much about the upcoming school year, Jesuit in the public eye, and much more.
First, Mr. Garrison discussed the renovations that were done to the school. In the upper B Hallway, there have been many renovations done to the science classrooms. Construction on the lecture hall is still currently going on, with the end goal being soon. Later, when Blake DeLong '16 guessed that the cafeteria would be the next renovation, Mr. Garrison responded, stating, "that would be my guess too," six words that will excite every Jesuit student.
In the next topic, Mr. Garrison spoke about how Jesuit decides to programs, and whether or not the department heads pitch the ideas to them. Mr. Garrison ultimately stated that, "the resource go where the students go." For instance, the film making program was created as more and more students have shown interest in film making, and, so far, it has been a big success.
Later on, Mrs. Williams explained about technology and the new technology committee that was formed. There have been subtle changes to the iPads, most recently allowing juniors to receive new iPad airs. When asked about any potential changes to the technology such as a switch to another tablet, Mrs. Williams stated, "there have been many conversations within the committee about potentially switching, but we've come back to the idea that we want to serve the entire population not just a few and providing iPads for everyone is the method we want to stick with."
Another interesting topic discussed by both Garrison and Williams is the new theme for the faculty for this year: Open to Growth and how it is attainable through communication. Williams stated that her and the rest of the administration are "looking at how we communicate with the department chairs and other faculty on campus and looking how we can be more efficient in our own communication." There is a large focus on communication within the faculty this year to discover the best way to communicate with parents, or disciplinary matters, etc.
Mr. Garrison spoke about the necessity to keep up to date with the latest ways of communication, as the world is changing significantly in terms of social media and communication. Garrison stated that the difficulty for administration is that they are "trying to operate in a couple different worlds" meaning that the students' generation is used to communicating much differently than the faculties.
This past year, Jesuit's very own Jordan Spieth emerged, giving Jesuit much notoriety and publicity. Despite this, Mr. Garrison stated that the "admissions pace been very steady over the past five or six years" and that he does not expect an increase this year. Mr. Garrison also spoke about the magnitude of Spieth's success and why it is so inspiring, adding that "there's a natural inclination for all people to want to be the best at something, and to have someone who has actually become the best at something on such a global scale gives many people motivation." Garrison also spoke about how Jesuit is now in the public eye a lot and the realization of how much anyone associated with Jesuit says matters.
Finally, Mr. Garrison and Mrs. Williams concluded with a discussion about the significant number of new teachers and the various changes in the faculty. For starters, Jesuit added a teacher in both the social studies and science departments, as there is a bigger need for smaller classes in those departments. Also, four teachers retired from Jesuit, requiring people in their positions as well as several teachers who left for various other reasons. Now, Mrs. Williams is a key part in dealing with faculty matters and there clearly are big things to come.
As always, this was a very enjoyable news conference and The Roundup thanks Mr. Garrison and Mrs. Williams for their willingness to share.