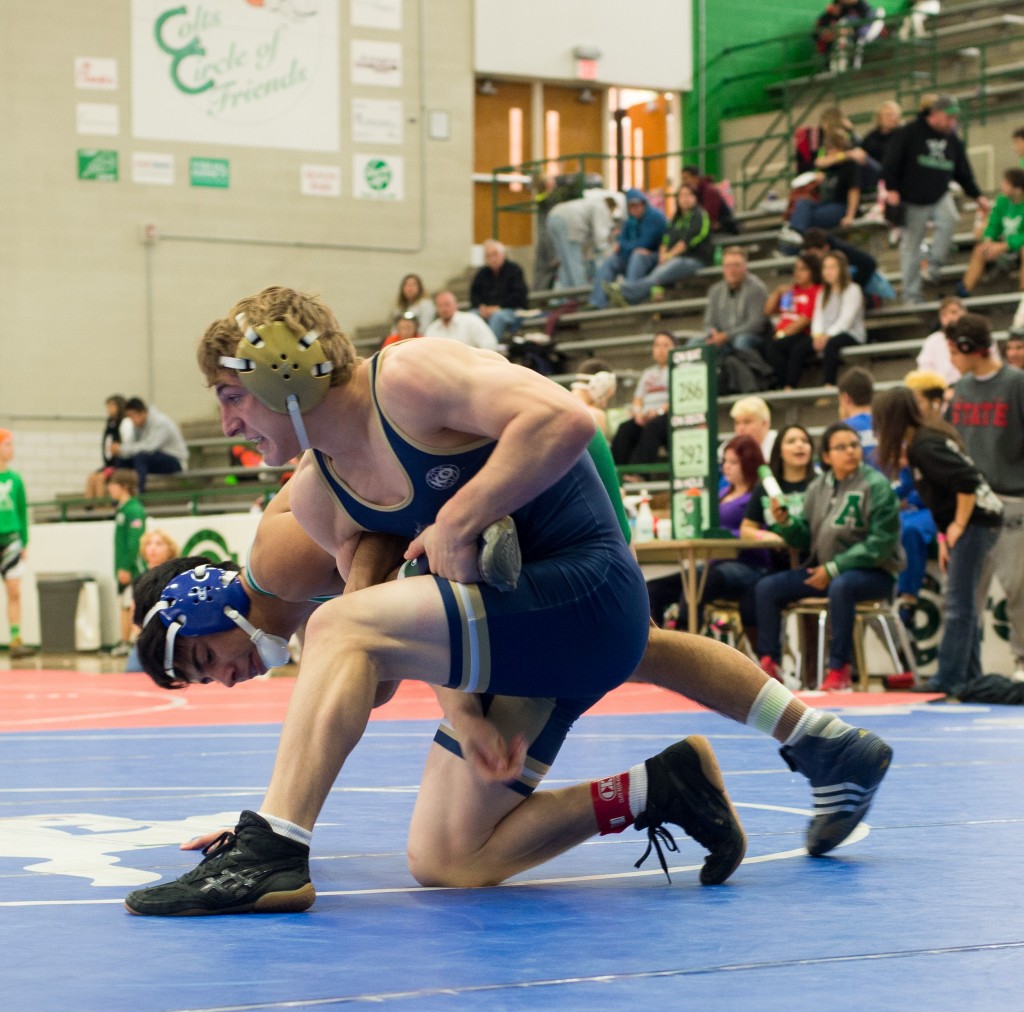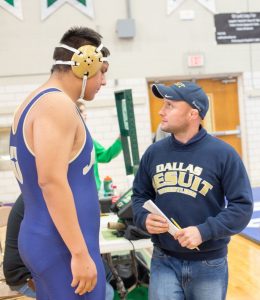 The Ranger Wrestling team experienced a few ups and downs during the week before Thanksgiving Break, crushing Boyd in a weeknight dual but experiencing misfortune at the Heath Invitational in Rockwall.
The varsity and junior varsity teams opened up the week with very strong performances in their dual against McKinney Boyd on Wednesday. Despite only wrestling six matches total, the varsity Rangers found a great deal of success, with five out of these six wrestlers winning dominant  victories by either technical fault or pins, some notching their first dual victories of the season. Match winners included Reagan Mathes '15, Michael Ingram '15, Ryan Black '16, Antonio Hernandez '15, and Team Captain Shane Ross '15, who easily defeated his opponent 16-1. "It was a great night," head coach Ryan Menard exclaimed. "When you win 85% of the matches you compete in that's really good night. We would be very competitive if we had more weight classes and some more wrestlers. "
The Junior Varsity squad also put in an admirable performance against Boyd. Notable match winners included experienced JV wrestler Matt Schonberg '16 and newcomer Phillip Villalba '18, who came away with his first career victory in just his second week participating in the sport. However, the team could not replicate the relative ease with which it defeated Boyd on the grander stage at the Heath Invitational. Facing stout competition, arguably more talented than the competition seen at the Arlington Invitational the week before, the Rangers finished 15th out of 18 teams in the tournament, ending up 138.5 points behind first-place Frisco Liberty, who racked up 166 throughout the course of the two day tournament.
While this lackluster point total can be partially attributed to the team's lack of numbers and subsequent forfeited weight classes, the Varsity wrestlers unfortunately did not perform to the best of their ability, only placing one wrestler, captain Shane Ross. Even so, Ross was defeated late in the tournament by last year's 4th-place State winner in the 132-pound weight class from Rockwall, failing to secure first place honors like he did at Arlington. Menard boiled down the team's unexceptional performance into one simple statement: "We didn't wrestle to our seeds." Michael Ingram, the top-seeded wrestler coming into the tournament, lost both of his matches. Furthermore, Reagan Mathes, seeded third in his weight division, failed to place. "If they had competed at or above their seeds, it would have been a great tournament, but when you don't compete to your seed, then it's a little disappointing." Ingram commented on his performance, disclosing, "Honestly, I don't think I wrestled my best at all at the Heath tournament." While he expressed some frustration with his showing in the tournament, he was confident that the team would resurrect itself in the next one. "We did have some good competition, though, and we have been working hard and focusing more on technique during practice. I think we are going to bounce back this weekend at Tri-State, we just have to stick with the basics." Ross also communicated some dissatisfaction with his unfortunate loss, saying he was "disappointed" that he "didn't compete to [his] potential," but cited the team's short memory as something that would benefit it in future tournaments: "We are not going to let our past failures phase us, as we are maintaining a positive attitude and are hungry to succeed in the Tri-State Tournament."
Despite the outcome of the invitational, Menard was quick to commend the varsity's dedication and gradual development, citing the high level of competition as another uncontrollable factor that may have diminished his team's results, especially considering that most of his wrestlers have never placed in tournaments like the Heath Invitational in their careers. "I see the kids improving, I just think that the level of competition can sometimes determine how well you don't do. If you don't step up to that level of competition, then it's difficult to compete."
Things were substantially better on the JV side of the tournament. Jesuit had three JV co-champions: Matthew Schonberg '16, Ryan Black '16, and Ethan Arthur '18. Establishing themselves as reliable JV wrestlers, Schonberg and Black repeated as tournament champions from the previous week's Arlington Invitational, while Arthur improved from a second-place finish. Additionally, novices Blake Heckel '17 and Grayson Godfrey '18 placed third and fourth, respectively. Arthur, expressing enthusiasm over his strong performance, described how his success has become a source of motivation, saying, "I am ecstatic to be a JV co-champion. Every single morning I look at that medal and think to myself, 'I need to train harder from now on,'" When asked if the younger guys were beginning to step up and become accustomed to the sport, Menard responded, "Definitely. They're getting much better."
The Rangers hope to continue their hot dual streak in Wednesday night's match against Richardson, as well as redeem their recent sub-par tournament showing in the Tri-State Tournament at Lake Highlands this weekend. "It's always a very competitive tournament. There's a lot of schools, so as far as comparative to other tournaments, it will be right up there as one of the best that we compete in," divulged Coach Menard. "We've had a pretty good start. Going into the break, we were rolling pretty good but now we will have to see how we come out of that break and compete this weekend and tomorrow night," he said, anxious to see how his boys rebound from the Thanksgiving holiday.