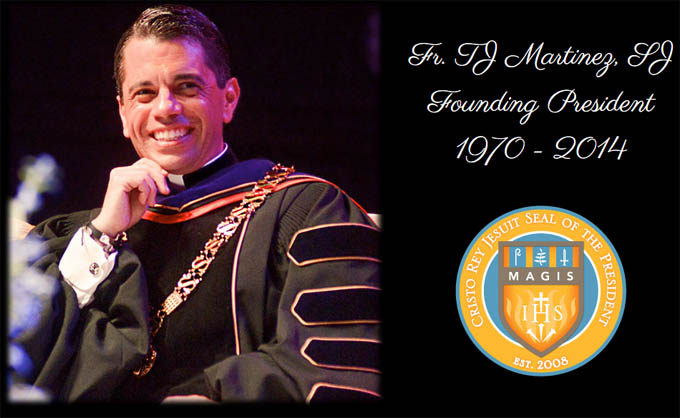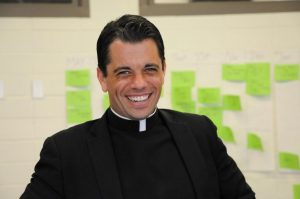 A few months ago, senior Social Justice and Public Policy (SJPP) classes spent their lunch periods watching a Skype interview between Father Jay Hooks, SJ, and the founder of Cristo Rey Jesuit in Houston, Father TJ Martinez, SJ.
Father Martinez had been battling stage IV stomach cancer for seven months. Having worked at Jesuit Dallas during his formation, he was eager to share his experience with suffering with the senior class, especially in the wake of brain cancer victim Brittany Maynard's highly-publicized decision to die using Oregon's controversial Death with Dignity Act.
Unfortunately, Father Martinez finally lost his fight with cancer on Friday morning, November 28. Though he may be gone from the Jesuit community, his impact will never be forgotten.
Born in Brownsville, Texas, Father Martinez attended Boston College before joining the priesthood. As a Jesuit, he showed a passion for education and earned five graduate degrees. Later, Father Martinez shared his own passion for education by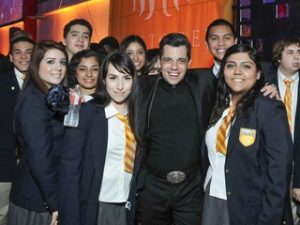 founding Cristo Rey High School in August 2009, a college preparatory school designed for children whose families live at or below the poverty line. Cristo Rey had every member of its first graduating class get accepted to college in 2013.
Jesuit Theology teacher Mrs. Elchlepp, who worked with Martinez during his time at Jesuit, remembered him as someone who "loved working with people and was just a fabulous human being…Very charismatic, very out-going, just a good-hearted man who did everything he could do to serve God." She also remembered his positive outlook, commenting that "He did what was asked of him, and he always appeared to do it with an open heart and a lot of love. If there was anything that bothered him, we didn't see it." Mrs. Elchlepp was always impressed by how "He grabbed life and held onto it, and he did it with grace and with gusto."
During his time at Jesuit, Father Martinez worked with both the community service and theology departments. Regardless of the job at hand, Father Martinez always brought new ideas and a sense of enthusiasm. "When he took over community service, he revitalized it and brought it into a whole different attitude," said Mrs. Elchlepp.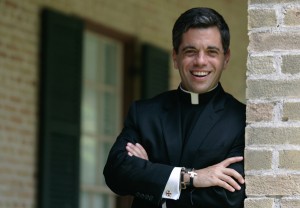 Current Jesuit Community Service director Mr. Rich Perry also appreciated his time working alongside Martinez: "As my mentor early in my teaching career, he taught me the value of creating a vision for successful service programs. I think that we can all learn from his passion for justice, compassion, and attitude of gratitude."
When asked to describe Father Martinez in one word, Perry immediately responded with "Courageous. Father TJ, SJ was a man of deep faith and passion for justice. He is an example of courage over fear. This is exemplified both in the way that he lived his life as a community leader as well as during his final chapter when he lived every moment with a profound sense of gratitude."
Perry helped organize Martinez's video presentation to the Jesuit senior class, a presentation that left many seniors filled with respect for and admiration of the charismatic priest.
Harrison Folk '15 noted that "what impressed me most was his happiness. In his interview, I witnessed a man that was one month away from death, but still talked and interacted with such joy and fervor. He didn't care about how he was doing, he just wanted to choose life and help inform students like us."
Similarly, Jason Joy '15 "admired his perseverance and his strength through such hardship that was presented in front of him, and this aspect of his character only adds to the great legacy he has left behind, which will never be forgotten."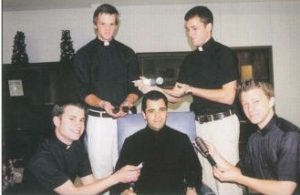 In his conversation, Father Martinez talked about how his suffering has strengthened his relationship with God in a way that no other experience could. Though only weeks away from death, he expressed his desire to continue living each day to the fullest.
"Seeing him talk with such enthusiasm kind of opened my eyes," said Dustin Bagayna '15. "Through all that suffering he still kept a smile on his face. The one line I took to heart was, 'Through suffering you find reverence…perseverance makes us strong.'"
Unfortunately, none of the current Jesuit students were at Jesuit while Father Martinez worked there. Drew Curran '15 lamented that he "never met him but [wishes he] could have. He had all of the dignity that you could expect or want from someone and he was fully accepting his fate and never once lost faith or considered an alternative [to his natural suffering and death]."
Martinez's legacy lives on in the people whose lives he touched. One such person was Jesuit Principal Mr. Tom Garrison. Mr. Garrison remembered Father Martinez as "a dynamo. He was always going and he made everybody feel welcome and cared for and loved. Just everyone who encountered him felt that." However, what really stood out to Garrison was how Martinez "thought about others always, even when he was suffering…that's a good lesson for us [as a community]."
Jesuit Father Jay Hooks, SJ, had the privilege of knowing Father Martinez through various functions/events with their shared province. Reflecting on Martinez's death, Hooks highlighted that "a brother of ours has gone to the Lord. And that is significant for us. We are guardians of this mystery that people encounter when they encounter their own limitations and death. And that's what being Christian is: point toward the fact that death is not the last word. TJ proclaimed that to the end of his life despite all of his troubles."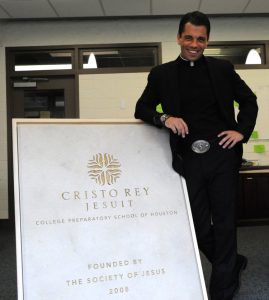 Hooks also explained a lesson to be learned from Father Martinez's death: "As a young person you think all the doors are open. Father Martinez shows us that time passes quickly for everyone, even for the young."
Jesuit seniors definitely caught on to Martinez's message. "Fr. Martinez's view on death and dignity taught me to really appreciate what I have," said Jon Birondo '15. He continued: "Normally, we take our lives for granted. But Fr. Martinez's outlook on life, despite his terminal prognosis, was a truly inspiring introduction to a great person. His words have inspired me to really live in the moment, and to appreciate the gifts that God has given me. As a senior who is about to leave the Jesuit community, living in the moment, and taking each day for what it is, has been incredibly beneficial to my outlook on life as I continue to grow up and move on to the next chapter in my life."
Father Martinez will always be remembered as a leader–a leader in faith, a leader through service, and a leader by example. Father Hooks described him as "embodying three virtues: courage, joy, and faith. You have a thousand reasons not to believe, but [with Father Martinez] you saw that faith and God increase and become more explicit as he neared his death and became more and more sure that this was going to be the end."
A service was held Tuesday at the Cathedral of the Sacred Heart for people to pay their respects to Father Martinez one last time. There will be a private service for Martinez with his loved ones before he will finally be laid to rest at the St. Charles Borromeo Jesuit Cemetery in Grand Coteau, Louisiana.