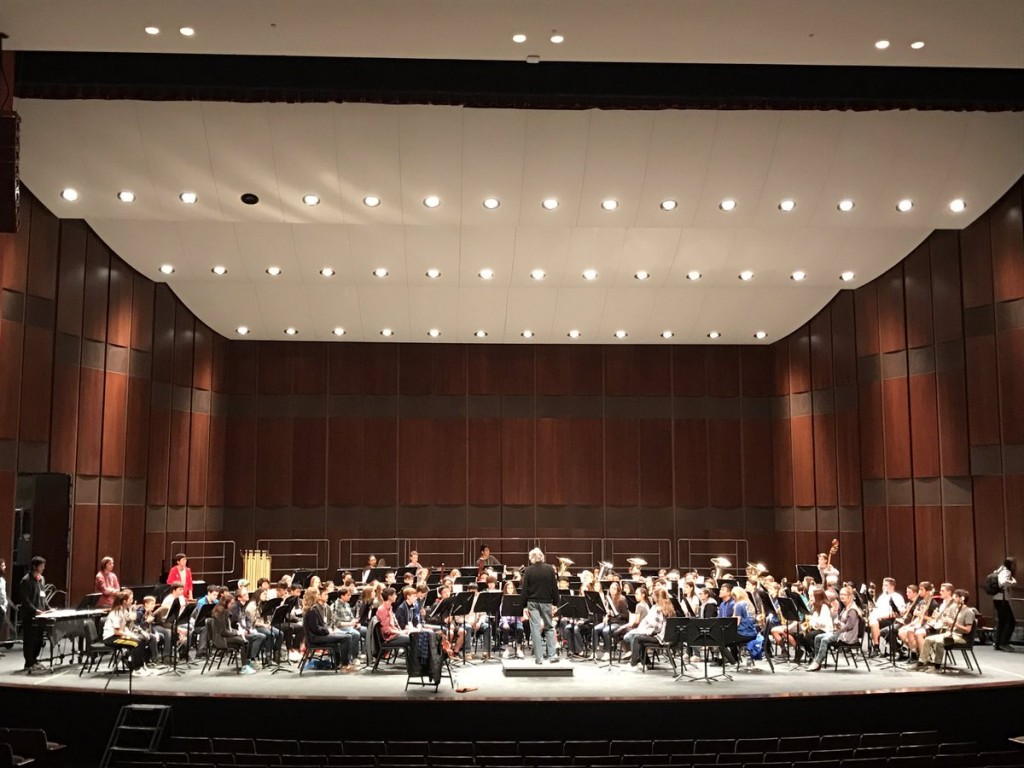 Practice. Repeat. Exercise. Repeat. More Practice. Familiar to most, to become great at something requires dedication, hard work, time, and effort. Jesuit students particularly are aware of this, for most athletic practices of any sport consist of repeating drills and plays over and over, and then learning something new to be repeated. It's this type of determination that creates amazing players, and is this type of perseverance that produces state championships. But this method of reinforcement isn't limited to the field, for such development was used by several of our own Jesuit students to achieve another state title that you probably didn't know: The TPSMEA All-State Band.
Texas Private School Music Educators Association (TPSMEA) is an organization consisting of private or parochial schools in Texas to facilitate the improvement of student musicians. Every year, TPSMEA holds auditions for Choir, Orchestra, Jazz Band, and Concert Band ensembles. Applicants are required to submit recordings of themselves performing various selections of challenging musical literature, with only the "best of the best" being chosen, as Band Director Mr. Crownover described it. If accepted, the students participate in a clinic in Dallas lasting Thursday through Friday, spending upwards of 8 hours a day practicing with other gifted musicians on newly-received music. Saturday, the ensembles put their music to the stage as they perform their music to crowds of people attending the concert at the magnificent Eisenmann Center.
Performing on the weekend of January 27th among some of the top youth musicians in Texas, 8 Jesuit students were selected to participate in the All-State Band. The Jesuit students who were accepted into the 2017 All-State Band were:
Daniel Ritter '17, Bassoon
Zach Watts '17, Bb Clarinet
John Knowles '17, Contra-Bass Clarinet
Evan Hargrave '18, Percussion
Anirudh Kantareddy '18, Alto Clarinet
Michael Miramontes '18, Bb Clarinet
Ben Miller '18, Bass Clarinet
Noble Allen '19, Tuba
*Sadly, due to conflicts and sicknesses, Ritter '17, Knowles '17, and Watts '17 weren't able to make it to All-State.
Arriving at the clinic on Thursday, the All-State students began with rigorous auditions for their official chairs. After practicing hours upon hours with the newly-formed ensemble and new music, the band perfected the songs for the concert on Saturday. "Before I even walked in, I knew it was going to be good!" exclaimed audience member Reed Zimmerman '19. "Each section had a very developed sound and skilled soloists. One of my favorite parts was when the bass drummer got more into it than the conductor and slammed the drum as hard as he could. I felt it from the second tier of seats!" With over hundreds of attendees in the hall, it's safe to say the concert was a huge success!
When asked about their thoughts on their experience, a few of the students gave these responses:
Hargrove '18: "Initially, I was really nervous because [the practices] were very hectic and I had no idea what was going on. Then I was in awe at how good the ensemble sounded on our first runs of songs. It's made me want to move out of my comfort zone more and play more percussion instruments."
Allen '17: "I decided to audition because I wanted the opportunity to collaborate with several extremely talented people all across the state and play a part in the creation of something amazing… from the beginning, I thought the ensemble sounded great… little did I know that as the weekend would progress, the chemistry within the ensemble would actually increase and make us sound even better together."
Along with this year's All-State concert brings some important news. Recently, changes have been made to TPSMEA that introduces an All-Region concert program. Crownover explains the new addition, saying "TPSMEA voted to start an All-Region band, similar to what some of the public schools do, where it's not just one shot to get in… now they're going to have All-Region groups across the state." With the changes, Jesuit musicians Patrick Rodenbaugh '18 and William Gasper '17 will now qualify for the Dallas All-Region band, and get the opportunity to play with even more gifted musicians. All in all, the All-State Band remains a cornerstone in the development of participating musicians everywhere, and continues to influence more people.
Tune into The Roundup for Jesuit fine arts coverage, and be on the lookout for an All-Region concert happening late-February at Greenhill's Performing Arts Center!